Jeb Wallace-brodeur
Matt Spaulding
For many of us, the word "coral" may bring to mind the bony white fragments found in ocean-themed bathrooms and on specimen-laden windowsills more than anything resembling a living, breathing animal. But for Matt Spaulding, 35, coral is a love and a livelihood, a passion project that he's managed to grow into a profitable business — in the rocky, landlocked soil of Vermont, no less.
A vaguely tropical teal paint job and a neon fish sign do little to prepare visitors for the treasure in store behind Green Mountain Coral's humble façade. Just north of the main drag of Waterbury Center, Spaulding's storefront is a portal to another world filled with popping psychedelic patterns, gently undulating fronds, hidden mangroves and "Earl the Frogfish."
Anyone who's ever soothed a hangover or heartbreak among the fishes at PetSmart, or craved escape during a long Vermont winter: Green Mountain Coral is for you. It's also, incidentally, the most extensive provider of saltwater aquarium supplies for miles, a fact to which Spaulding attributes much of his success. "There really isn't much competition," he said, noting that the closest comparable supplier is in the Boston area.
Those who spend time with Spaulding in his domain will discover another factor behind Green Mountain Coral's endurance: the fervor with which he approaches his vocation. The energetic Montpelier native positively fizzes over with excitement when he talks about his work. He comes across as part mad scientist, part artist and part collector.
"It's like a living piece of art," Spaulding said of coral. "These are all my pieces," he added, gesturing at the 150-gallon tank that is his shop's centerpiece — and his "zone," as he put it. "A lot of [corals] go by the moon; every night it looks different in here."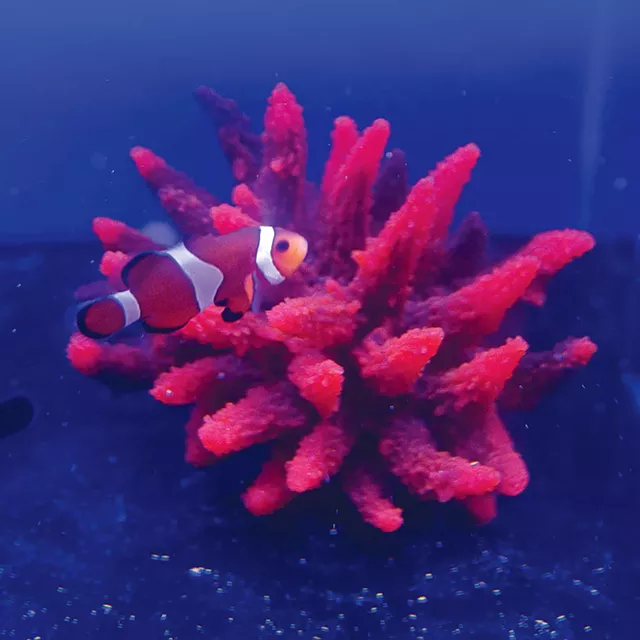 Jeb Wallace-brodeur
Coral at Green Mountain Coral
Nighttime or no, the corals enchant. Against one wall toward the front of the shop, Spaulding has arranged his smallest pieces like delicate candies in a confectionery, boasting concentric rings of neon purple, orange and green, or rich blue bulbs that seem to erupt into tiny orange tentacles. Some look like Technicolor-hued brains, others like provocative avant-garde sculptures in miniature. For colors like this, coral needs to be alive — and live coral needs tending.
Spaulding opened Green Mountain Coral in February 2015, at "the beginning of the modern reef-keeping age," he said.
"The technology of water filtration has just progressed so much," he explained. "I wanted to be able to give that to people."
With the right water composition, Spaulding can grow a small piece of coral into one that's large enough to divide into pieces and sell to multiple clients.
Spaulding's family always had an aquarium of some sort when he was growing up, he said. As an adult, he gravitated toward the saltwater tanks at pet stores, including the Pet Advantage in South Burlington. He recalled wondering, What's on the other side of there? "It was always glowing," he said. "The fresh water is nice, but it doesn't have that glow to it."
So, in 2009, Spaulding began tending his own 150-gallon saltwater tank in the living room of his Bolton townhouse. He expressed his gratitude to Tyler and Madeleine Dawson, then owners of Pet Advantage, as well as to staffer Jason Boczar, for helping him get started. "They were a huge help to me," he said.
In 2013, Spaulding and his girlfriend drove to Connecticut, where he attended his first "frag farmers market" — essentially a convention where reef keepers can mingle, talk shop, purchase new fragments ("frags") of coral, and even meet celebrity divers who find and market their own "designer corals." Pointing to an 8- or 9-inch-circumference Space Invader mycedium purchased from Jason Fox, a purveyor of rare "signature" corals, Spaulding said, "I paid $200 for that piece, and it was the size of a freaking booger."
What began as a hobby became an obsession. "Coral just kind of does well for me," Spaulding said. "I have a blue thumb."
In 2015, he took the plunge into starting his own small business. "I've done a lot of different odd jobs," he said. "I'm determined; I'm a hard worker. I was tired of doing hard work for other people."
Green Mountain Coral's first location was in Richmond above a credit card company. The anxiety of being responsible for hundreds of gallons of saltwater a floor's width away from computers and financial documents got to Spaulding, so he moved the business to its current location. He now lives in an aquarium-free apartment above the shop. "I've lost a couple bets," he joked, "for saying I'll always have an aquarium in my house."
Jeb Wallace-brodeur
Coral at Green Mountain Coral
Spaulding estimates that he has roughly 50 regular customers who visit him from as far as Derby, southern Vermont and Plattsburgh, N.Y. His business is not limited to retail sales, however; he also travels to service and install new tanks. Most recently, Spaulding worked on his largest installation to date, a 187-gallon peninsula aquarium for the lobby of the new Burlington Emergency & Veterinary Specialists office in Williston.
Among Spaulding's regulars is Pam Alexander, who lives off the grid with her partner in Huntington. When she was diagnosed with breast cancer in October 2016, her aquarium took on new significance. "I could just sit there and just stare at it and kind of go away," she said. "It just got me out of my head, [away from] the fears and things that you face."
Alexander credits Spaulding with keeping her therapeutic escape alive — literally. "To me, [Matt] was my savior in that I could keep my tank, and keep it healthy and escape into it during those times," she said. "I will be forever grateful to him. He would just show up ... [and] he would always bring me something special to add to the tank."
The surviving and thriving of the organisms in his care is of paramount importance to Spaulding. "They'll outlive us," he said, referencing both the prodigious life span of coral reefs and the 30 to 50 years that some species of tropical fish can enjoy. If you're careful, Spaulding said, you can pass your aquatic critters on to your children.
For new customers, Spaulding will help set up their reef tank and then, he said, visit once a week for the first two months or so. A checkup includes testing the water's pH, salinity, nitrate and nutrient levels. Tank owners observe Spaulding to learn the ropes. "Once I hand the reins over," he said, "they can just keep it going."
Spaulding's reverence and enthusiasm for tropical aquariums is so infectious, it's easy to see how he's made a go of it for the past three years. Visitors are welcome to his watery lair, whether or not they intend to buy; he said he loves people to come just to enjoy the fruits of his labor.
"You build something good," Spaulding said, "people will come."