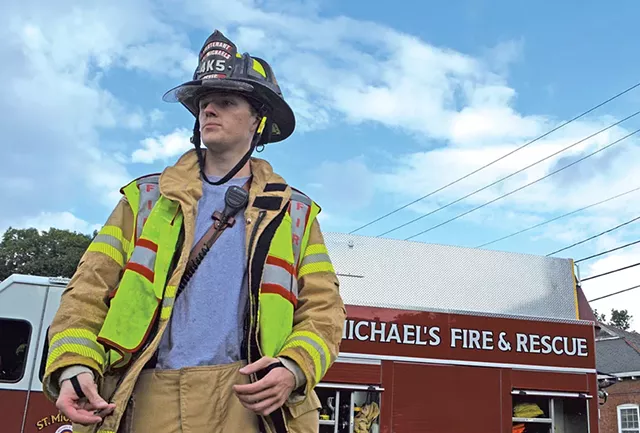 Molly Walsh
Jamie Schwab
Saint Michael's College junior Jamie Schwab drives flashy red wheels around campus that attract plenty of attention. Especially when he turns on the siren.
The 21-year-old business major from Cleveland, Ohio, is a volunteer first lieutenant with St. Michael's Fire and Rescue. When he isn't studying accounting, he sprays water at burning buildings, administers Narcan to overdosing heroin addicts and steers a $500,000 fire truck — a pumper known as Engine 9 — to emergencies throughout Chittenden County.
"It's every little kid's dream to drive the fire truck," explained Schwab, who was dressed in a shiny black helmet, red suspenders and a two-piece firefighter suit for a training exercise on September 8. "It's awesome when you're just driving down the road and you pull on the siren, and it's one of those, Wow, I'm actually doing it moments."
Even in a rural state with plenty of volunteer fire and rescue departments, St. Michael's looks different. That's because the volunteers who fill the barnlike emergency building across from the main campus on Route 15 in Colchester are so young. The 50 regulars are undergraduates between the ages of 18 and 22. Yet they respond to very adult situations: structure fires, car crashes, suicides, overdoses and heart attacks.
Some of the calls hit close to home emotionally. When an apparent heart attack took the life of Rev. Michael Cronogue on campus last year, students who knew the Edmundite priest and campus minister were among the first responders.
Most of the squads' emergency runs are in a service area that encompasses Colchester, Winooski, St. George and Hinesburg. The volunteers also respond to other departments' calls for auxiliary aid. For example, a St. Michael's crew helped put out a blaze at a University of Vermont building in August. The rescue squad was involved but did not play a crucial role in the wrong-way car crash in Williston in 2016 that took the lives of five teens.
The two St. Michael's squads respond to a total of about 3,150 calls annually — 2,400 for the rescue unit and 750 for the fire unit.
"I think that it's a stigma that the students overcome every single day — that an 18-, 19- 20-year-old can show up to potentially save your life, or put out the fire at your house, or render an unsafe situation to no longer be an emergency," said Leslie Lindquist, who serves as the rescue chief and is one of only two paid staffers on the squads. "So they are constantly trying to be proficient in everything that they do, so that the public doesn't, you know, make that judgment on them."
In their first year, volunteers start "rookie" training. Over four years, they can acquire two levels of firefighting certifications, EMT certification and training to drive emergency vehicles. The students pay to take the EMT classes at UVM — which also has a student-staffed rescue squad — and St. Michael's reimburses them. Firefighting certifications, meanwhile, are through the Vermont Fire Academy.
Most students are on one squad or the other, while three students are members of both the fire and rescue departments. Three women are firefighters, compared to 13 men, while the rescue squad boasts 20 women and 12 men.
The volunteers, who earn school credit for their work, are required to put in about 24 hours a week. Between calls during overnight shifts, they study or sleep in one of the tidy bunk rooms at the emergency building, where each has a cubby. A significant number of them go on to medical school, nursing or full-time work as EMTs or firefighters.
The squad was founded after a campus tragedy in 1969.
"We are in our 48th year of service, and it started because a student died on an athletic field," said Lindquist, who graduated from St. Michael's in 2005. "At the time, there was only an ambulance in Burlington."
In response, college officials and donors raised funds for a shoestring campus rescue operation that initially used a St. Michael's security van for transport. "We were really kind of born out of just a need for better first aid training and care," said Lindquist.
Molly Walsh
Student firefighters at a training
Today, the nonprofit organization has an annual budget of $700,000, two ambulances and two fire trucks. Ambulance fees and donations cover the budget, which does not get direct support from the college or municipalities. Colchester does pitch in with some equipment funding because the college fire unit operates as a battalion of the Colchester Center Volunteer Fire Fighters' Association. Under this partnership, the St. Michael's fire crew is dispatched to all fire calls in Colchester.
While many colleges operate student-run ambulances, few have student-run fire units with the level of responsibility that the St. Michael's squad has, according to Lindquist. The rescue building, which also houses campus police, runs shifts 24-7, every day of the year.
For a training exercise on September 8, the fire team of mostly sophomores, juniors and seniors assembled in a parking lot on the north side of Fort Ethan Allen. With Schwab calling out directions, they practiced attaching hoses to a fire hydrant, then to a tanker trunk that carries water to places without hydrants. The goal was to get the water running as quickly as possible.
That evening, back at the station, the fire crew cleaned the trucks, and rescue crew members ran through a list of chores, from washing the ambulances to cleaning the emergency building kitchen and common room. They listened to radios and intercoms connected to local 911 dispatchers and every so often jumped up at the hint of action, ready to roll.
Or not. A report of smoke on East Spring Street in Winooski turned out to be a minor cooking mishap. Around 6:30 p.m., the rescue crew drove the ambulance to pick up takeout chicken wings in South Burlington.
The previous Friday had been a different story. Student Nick Ferrigno, a 21-year-old senior biochemistry major from Bridgewater, Mass., was on duty when dispatch reported a driver slumped over the wheel, stopped in busy rush-hour traffic on nearby Lime Kiln Road. The squad rushed over. "His respiration was very low," said Ferrigno, recalling the scene. Suspecting an overdose, he helped spray the drug Narcan into the patient's nostrils, reviving the man, Ferrigno said.
Police arrested the man, who was cooperative with rescue workers, Ferrigno said. Not all overdose calls go that well — some addicts don't make it, and others become combative after treatment, he added.
Sometimes calls are relatively simple, if sad: helping an elderly person off the floor, or checking on an intoxicated student. Responders often perform CPR and successfully revive people.
Almost all the volunteers, though, have seen someone die. For Schwab, it happened last Christmas morning. He had stayed at the college during the break and was pulling a shift when a dispatcher relayed a 911 call about a woman who had collapsed. The fire and ambulance team sped to the scene, but the man died of cardiac arrest. "It's one of those tough things," Schwab said. "You have to kind of tip your helmet down a little bit and sometimes look away. It happens."
"There's a cardiac arrest probably once or twice a month," said Lindquist. "So that's somewhat of the nature of what we do."
Violent death is also part of the drill. Ferrigno was on duty when the squad responded to a police-involved shooting in Winooski last September. The victim, 29-year-old Jesse Beshaw, was bleeding profusely when they arrived. "We got dispatched ... He was shot in the chest. We assessed the situation and determined there was nothing that could be done to save him," said Ferrigno.
Such harrowing moments are difficult but essential training, said Ferrigno, who plans to apply to medical school for admission next fall. The EMT experience certainly is a résumé builder, but it's more than that for Ferrigno. "I think it's good that I've been exposed to all these things. Medicine is all about high stakes," he said.
Working on the squad has also taught him that treatment is part psychological and that bedside manner is important. "If the back of the ambulance is quiet, that's a bad thing, in my opinion," Ferrigno said.
Once in a while, a student drops out of the squad because he or she can't handle the life-and-death situations, Lindquist said, but most stick with it.
The squad discusses traumatic incidents as a group or with a counselor. The student volunteers "see so many things that a lot of people will never see in their life," Lindquist said, noting that these young adults are also dealing with the stress of academics, work, friends and relationships.
On the flip side, the emergency crew members seem to have a special bond. Schwab said he'd cherish the life experiences and friendships he's made while on the squad, whether he ends up in business or becoming a firefighter.
After he responded to the Christmas morning death last year, other volunteers on the squad quickly reached out to console him.
"Everybody who knew about it was like, 'Hey, are you OK? Are you good? Do you need the night off?'" Schwab recalled.
The team is a little family, he added: "We're always there for each other."