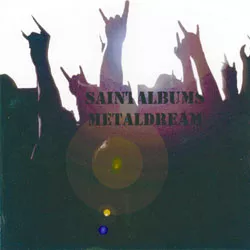 The last we saw Ben Campbell, he was gracing regional stages as Orpheus, the male lead in Anaïs Mitchell's folk opera Hadestown. But it appears his considerable talents range well beyond the theatric. Since 2006, the dynamic vocalist has written, performed and recorded seven full albums of material under the pseudonym Saint Albums for the Jamaica, Vt.-based imprint Lonely Hiway Records. Continuing a prolific streak that would make Ryan Adams delirious, the multitalented songwriter returns with his second effort this year, the strikingly diverse MetalDream.
The record opens with "Hello Rainbow." It's a suspect start, as we find Campbell greeting the day — and the listener — with the line, "Hello, flower. Hello, rainbow." The singer's cutesy, borderline hokey lyrical ruminations resemble what might best be described as a musical sequel to the classic children's book Goodnight Moon — calling Anaïs? But be warned: It's a setup. Campbell proves to be one sly tunesmith as the song cleverly morphs into a driving, metal-edged rocker with just the right balance of bite ("I can hear a dial tone / I don't want to die alone") and irony (big, hook-laden and harmony-heavy falsetto choruses).
"What Went Wrong" follows and reveals Campbell employing lazy vocal fuzzery, à la The Strokes' Julian Casablancas. However, he dispenses with the bait-and-switch lyrical trickery of the previous cut and delivers a straight-up slacker scorcher with a delicious sneer.
"In My Glory, I Found Her" is next and offers further evidence that Campbell is a songwriting chameleon. The tune vacillates between sawdust-encrusted roadhouse blues and hookier-than-thou pop choruses that will leave the listener bloodied, bruised and smiling.
MetalDream continues in astonishingly broad, reaching fashion. From dreamy electro-pop charmer "O Burning Sun" to the crunching, slow burn of "For King and Country" to the wistful, harmony-fueled "What Will the Children Say?" and "Kings Will Die," to the Lucksmith-ian pop lilt of "Blue as the Morning," Campbell seemingly leaves no melodic stone unturned.
He closes the album with "The Old Mother and the Sparrow." True to form, Campbell surprises — if we can really be surprised at this point — with a blissful pop nugget that seems to encapsulate his various talents in a single tune. Engaging, witty and catchy as hell, it's a fine finish to a brilliant effort.
If history is any indicator, we won't have to wait long for Cambpell's next offering. In the meantime, Saint Albums' full canon — including MetalDream — is available for free download at www.lonelyhiway.com.