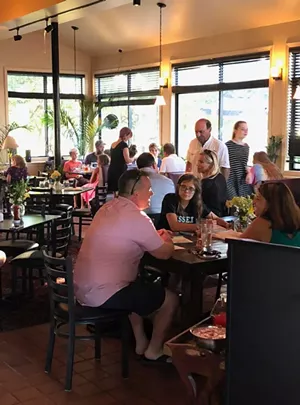 Courtesy Of Sven Kvinlaug
Pickled Perch opening weekend
Hungry boaters and others seeking sustenance on Malletts Bay in Colchester can now sit down for a meal at the Pickled Perch. The restaurant opened in the former Bayview Bar and Grill location at 97 Blakely Road on Saturday.
The restaurant's owners include general manager and pastry chef Elizabeth Keller, chef Kevin Sokal — most recently of Hatchet Tap & Table — and front-of-house manager Summer Batdorf. Batdorf has 20 years of restaurant experience, including at Barkeaters in Shelburne and several other Burlington-area restaurants.
On Sokal's menu are salads such as a burrata Caprese and an avocado iceberg wedge, as well as snacks that include crab dip and mussels. Among the entrées are fried chicken, beer-battered fish and chips, maple-hoisin-glazed ribs, and a brisket sandwich.
From the bar, visitors can order summery cocktails (think mai tai, passionfruit margarita, dark and stormy) along with six beers on draft and an array of wines. To finish, there are butterscotch boudino and homemade chocolate cake.
97 Blakely Rd.
Chittenden County
Colchester, VT
802-497-1647
American (New)
Investor Sven Kvinlaug, the Pickled Perch's majority owner and business manager, said the restaurant resulted from a "right-place, right-time" scenario. "My idea was to bring the team together in this beautiful location on Malletts Bay," he said. "A lot of things just lined up perfectly, and the timing was right."
The goal? To provide approachable, well-crafted food that locals can eat on the reg, Kvinlaug said. "I wanted to keep [entrée] prices below $20 so that locals can afford to bring their kids and their family down and sit outside."
The Pickled Perch is now open for dinner Wednesday through Sunday, with plans to start serving lunch in the next week or so.