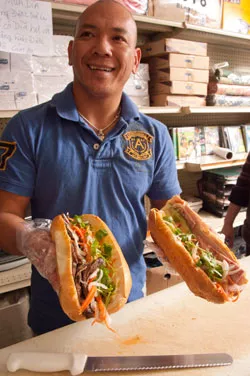 Matthew Thorsen
Preparing banh mi at 99 Asian Market Eatery
h3 {font-weight:600; font-size:1.25em;}
h4 {font-weight:600; font-size:1.1em;}
h4 a {font-weight:600; color:#394E81;}
Colonialism isn't cool. But when conquerors take over, the resulting blend of cuisines can be a delicious legacy. Maybe it's Pollyannaish to say so, but if France hadn't occupied Vietnam for nearly 100 years, there would be no banh mi.
What is a banh mi, you ask? The perfect marriage of Gallic and Indochinese tastes, starting with a baguette. It's a sandwich that looks like European street food but doesn't taste like it.
Sometimes the bread is made with wheat flour; other times, the Eastern influence seeps in with rice. The French kiss continues with a spread of butter, pâté, mayonnaise or a combination thereof.
The resemblance to a continental country sandwich ends there. One of the hallmarks of a banh mi is the bracing mix of pickled daikon and carrots. Cucumbers are another common filling, along with jalapeños or bird's-eye chilis for spice. The protein, which can range from pork roll to tofu, comes with a sprinkling of fish sauce.
Given Greater Burlington's proliferation of Vietnamese restaurants — there are currently eight — it's no surprise we're seeing more of these wonderfully balanced sandwiches. But the banh mi craze is national. The subs got extra attention in recent months when Nom Nom Truck, a Los Angeles-based purveyor of banh mi and "Vietnamese tacos," was a finalist on the Food Network show "The Great Food Truck Race." A Google search reveals that the New York Times has devoted no less than a half-dozen articles to the subject of banh mi.
It was only a matter of time before the succulent sandwiches attained cult status here in Vermont, too. But, while only three Burlington-area restaurants currently offer banh mi, the range of choices and fillings can be daunting. To help you navigate them, Seven Days food writer Alice Levitt and circulation manager Steve Hadeka tasted two sandwiches from each of the local purveyors.
We also tried a couple of the wackiest drinks from each place, in search of the perfect pairing. Bon appétit and chúc ngon miêng!
Brothers Tom, Khoi and Alex Nguyen oversee a mini food empire, which also includes My H2O, a bubble-tea stop in the Burlington Town Center, and an American-style sandwich shop in Colchester, Café Window. M-Saigon, their most formal restaurant, remains their base of operations. It's there that Khoi bakes bacon-and-cheese rolls and pork buns for My H20 and crisp baguettes for M-Saigon's newly minted banh mi counter.
According to our designated sandwich courier, Steve Hadeka, "These banh mi were the most expensive and sluggishly prepared." English was a challenge for the sandwich maker, making special orders difficult. Are the $3.50 sandwiches worth it?
Banh mi #1: Vietnamese BBQ pork
Alice Levitt: The brown paper bag in which these sandwiches were packed was almost translucent by the time it arrived at the Seven Days office. I love lube as much as the next gal, but it prevented me from pretending these veggie-filled sandwiches are healthy.
I assumed that "barbecue pork" would mean grilled slices of loin or shoulder. What we got was Vietnamese bologna. Served hot, it was a dead ringer for a hot dog. Since the sandwich was drenched in mayo that squeezed out of it with each bite like toothpaste from a tube, it was hard to notice the thick-cut pickled carrots and daikon. There was cilantro, too, but not nearly enough to cut the greasy proceedings.
Steve Hadeka: Though devoid of barbecue sauce, this pork was my favorite meat of the bunch. More like a "honey ham," it worked especially well against the pickled ingredients. It also just seemed like a higher-quality pork product than the others.
Banh mi #2: Lemongrass chicken
AL: The lighter application of mayo allowed me to taste the sweet-and-sour veggies more clearly. Nice, but the carrots were more like sticks than the fine julienne I expect. The chicken was grilled to order, but, lacking in lemongrass, it disappeared in both flavor and texture. It was enveloped in the wonderfully chewy but overwhelmingly thick bread.
SH: I barely got any lemongrass from this, or chicken, for that matter. I would still eat this almost any day.
Beverages #1 and #2: Bubble tea (papaya and soursop flavors, both with mango "popping bubbles")
AL: Papaya bubble tea is pretty much what one would imagine — milky papaya flavor. I was surprised that its maker threw in the unconventional "popping bubbles" rather than typical tapioca. It was a nice touch, like eating bath beads, something I've wanted to do since I was a toddler. The soursop drink was a lovely, aromatic surprise — like drinking deodorant without the whole death-from-dehydration aspect.
SH: I defer to Alice, but what I loved most was the huge straw, which accommodates the "bubbles."
In September, owner Niem Duong's delicacy-packed market added tables and flat-screen TVs that play Vietnamese variety shows. At least once a week, Duong heads to Boston for Vietnam's best produce, baked goods and meats. Along one wall, huge drink cases hold a mix of American sodas and exotic Asian treasures.
Because the market sells crispy duck and fish by the pound, it's easy to ask for those on your sub, but we stuck with the standard beef and pork. Steve found the gentleman who prepared our order welcoming and accommodating. The cilantro, from the store's produce aisle, looked "stout and proud." At $3 each, would the sandwiches be as good?
Banh mi #1: Grilled beef
AL: This was easily the best balanced of the bunch. A nest of raw onions dominated at first. Once I removed them, cilantro, carrot, daikon, thin slices of bird's-eye chili, a slick of mayo and a splash of soy sauce cohabited easily with the toothsome slices of grilled, marinated beef. The bun came from a bag, but it was toasted to order and tasted fresh. A shower of sugared fish sauce could have been lighter; the bread was soaked and sickly sweet in places.
SH: As a former prep cook, I appreciate a well-julienned vegetable as much as anyone. Case in point: the pickled carrot and daikon in 99's banh mis. This pickling was not as sweet as the others, but the sweetened fish sauce that graced this sandwich balanced the taste. The beef was just chewy enough and lightly marinated, which I think was a good call.
Banh mi #2: Pork roll
AL: Pork-roll banh mis are a triple sensation with bologna-like pork roll, pâte and headcheese, but this one struck a particularly harmonious chord. Love the pâté! Cinnamon and anise lent delightful complexity to the meaty spread, which amped up the taste of the other two pork products. The ample cilantro cut through the fatty, creamy flavors, but I would have appreciated it if the veggies had been pickled just a little longer, for more acid.
SH: This is a serious sandwich, but not in the way that an Audi A8 is a serious car. This sammy could make a young boy grow a goatee. This thing is a force to be reckoned with. I would rather not reckon. I skip right through the usual steps of denial, anger, bargaining and reckoning and go straight to acceptance, into my belly.
AL: I ordered Steve to get me this specifically. I love this stuff. It's like natural bubble tea, with pulpy little seeds floating in a lightly-basil-scented juice. Remember Orbitz? Now that it's gone, this is all I have left.
SH: There's a reason you've never heard of this stuff. Picture juvenile tadpoles suspended in some sort of slimy, flowery lube, with a squeeze of Dial soap.
AL: Imagine mint tea that sat in a cup until it grew musty. That's the taste. The texture? What it sounds like, kind of like sucking on the Creature From the Black Lagoon. Would I drink it again? Sure.
SH: OK, I admit, I was going for the exotic here. I was asking for it; guilty as charged. This stuff is like a mixture of coffee and tea and soy sauce with these strange gelatinous cubes.
Thai Phat Market
This place is an institution. According to one employee, Thai Phat Market has been selling banh mi for more than a decade. It's a straight-up grocery store with no eat-in element; don't expect a "dining experience." Sandwiches reside in a glass refrigerator case, so there's no way to "Have It Your Way."
Nonetheless, Steve says he was happy with Thai Phat's customer service. "The cashier was cheery and helpful and 'got' that I was new to this whole banh mi thing," he says.
In clear English, she led him through the drink selections. She even recommended a can of chilled lotus, bean and congee to end the meal. Alice describes it as "a caveman dessert," but we give Thai Phat an A for effort.
Banh mi #1: Beef
AL: The layer of char on the beef transported me to Saigon, where an old man cooked the meat just for me on his tiny, dirty grill. I liked the pickling best on these thinly sliced veggies, and the thick spears of cucumber had the best taste. The chilis were also strongest on this sandwich. The downside: It all came on something that resembled soggy Wonder Bread.
SH: Nice chewy beef, with a good marinade. My first bite included an orange bird's-eye chili. This chili hit me with a nice wave of heat, though, oddly enough, subsequent bites were devoid of any heat at all. I found myself wishing the chili had been either part of the sauce, or chopped finer to be in each bite.
Banh mi #2: Pork roll
AL: I love a good headcheese, but this stuff was like cartilaginous cardboard, so stiff it flew out of the sandwich when I bit down. I could barely stand to give the pork roll and pâte a chance. Nightmarish.
SH: Most Americans, even those raised on things like hot dogs and Spam, like me, would find headcheese a pretty exotic meat experience. This deeply marbled, variegated meat product contains all kinds of connective tissue, fat and generally cheap meat. Slightly smoky, it has a toothy texture more notable than its flavor. However, when you put it next to fresh, cold pickled carrots and daikon, and especially cilantro, it totally works.
The bread at Thai Phat will not be making it into this week's letter home to Mom. But who cares — this is street food! We're not looking for Gérard's or Red Hen here; we want spongy French bread. I take it down with glee!
Beverage #1: Hawaiian blue ramune
AL: Sealed with a marble, the bottle takes experience to open, but I have it. I grew up on the brand-name version of this Japanese soda, a lemon-lime concoction named for lemonade; unfortunately, this knockoff version tasted sort of ... wrong.
SH: This electric-blue concoction was not nearly as sickly sweet as expected. The coolest part of these drinks is definitely the complicated glass-marble/plastic sealing mechanism.
AL: Love the taste of the pool at the Y? This deep green juice tasted like black tea with heavy notes of chlorine. I don't object.
SH: I don't know why anyone would drink this over, say, Nantucket Nectars' lemon tea. It's like tea with sugar and soy sauce. I mean, seriously, it's just weird.