Courtesy of Sage Magazine
Sage Magazine
Sage magazine
has set up shop in Vermont. The ad-free biannual lifestyle publication is "centered around folks within the outdoors, activism platforms, and creative spaces," according to its website. It primarily features lengthy interviews with foragers, farmers, activists, gardeners, makers and artisans of all stripes, paired with crisp photography and colorful illustrations.
Founder and creative director Bella Brodsky, a 19-year-old first-year student at the University of Vermont, recently announced via email the magazine's new roots in the Green Mountain State.
To celebrate the launch of its seventh issue,
Sage
hosts an
in-person celebration
on Friday, March 18, at Swan Dojo in Burlington. Primarily a social mixer, the event will feature short video introductions from people profiled in the current issue as well as food and beverages from local companies like
Runamok Maple
and
Carrier Roasting
.
Sage
focuses on connection to community and nature.
[jump] "I grew up in a lot of different organic farming spaces," Brodsky said via video chat. "It just felt really grounded having my hands in the soil and being part of the processes of growing food."
Brodsky explained that
Sage
grew out of a handprinted zine she made when she was still in high school in Connecticut. She said her readership enthusiastically demanded more content. With its fifth issue,
Sage
evolved into a hardbound, glossy, coffee-table-style book. Its sixth issue clocks in at just over 200 pages.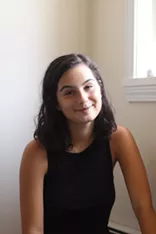 Courtesy of Sage Magazine
Bella Brodsky
Brodsky said
Sage
shows that nature and the outdoors should be something the average person can access.
"[In] a lot of outdoor media, there's this idea that to be outdoors you need to be summiting this crazy mountain, or skiing, or doing these really extravagant trips," she said. "The idea with
Sage
is that is just to show that there's so much diversity and variety with how people are connecting with the outdoors."
Issue 07 features interviews with Samara Almonte, host and creator of
Raíces Verdes
, a storytelling platform that focuses on "racialized peoples reconnecting with their 'green roots;''' environmental author and activist
Kamea Chayne
; artist
Burcu Köleli
; and many others. Now that
Sage
is Vermont-based, Brodsky said she's interested in featuring Vermonters while continuing to showcase entrepreneurs and creative people from all over.
Sage
is available in about 30 stores nationwide, from Connecticut to California. While physical copies of the magazine are not yet available in any Vermont shops, Brodsky said she hopes to have it in stock locally in the near future. The physical edition of
Sage
Issue 07 will be available for purchase at Friday's event.