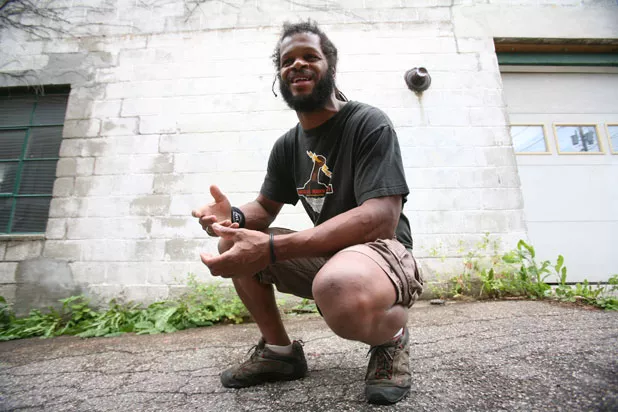 Mikey van Gulden, CEO of Chocolate Thunder Security
Mikey van Gulden arrives at the Seven Days offices on a mission. He must protect me on a walk down Burlington's lower Main Street. The 41-year-old Williston native shouldn't have much of a problem. Though he studied math in college and has a degree from Champlain College in communications, van Gulden has been a bouncer and security guard for 18 years.
Earlier this year he started his own company, Chocolate Thunder. It borrows its name from former NBA star Darryl Dawkins, but Van Gulden's brand of power is all his own. On our short walk, few cars pass without their occupants waving to the local celebrity, who's known for his cheerful well wishing at local concerts and festivals, and checking IDs at Higher Ground.
It's not just van Gulden's welcoming manner that makes people remember him. There aren't many tall, well-dressed black men with dreads and huge smiles walking around Burlington. Perhaps it's not surprising that van Gulden says his "dream job" would involve protecting a politician or celebrity.
With that in mind, he subtly shepherds me to his left as we take to the South Champlain Street sidewalk. "That way you wouldn't be susceptible if someone were to lunge or hurl something in your direction," he explains. "Also, it's a basic courtesy when you're walking with a lady."
We arrive at One Main Street, where van Gulden has worked events. In seconds, he has surveyed the upstairs space. He points out every exit and says that if Chocolate Thunder were protecting an event there, one of his 10 employees would be watching each.
On the outside deck, van Gulden calls my attention to the dangers of party drunkenness. "These railings could lead to someone falling over," he says. "Alcohol [relieves] people of common sense and magnifies their emotional state. I'd have one person standing near the partition railing and one person at the top of each stairway."
Though van Gulden calls Chocolate Thunder a security company, he prefers to focus on ensuring safety. Hence the tagline "Specializing in Safety" on the official T-shirts, which he designed and silk-screened himself. "My job is to make sure people have as much fun as possible," he says, "and feel like they're not being preyed upon."
SEVEN DAYS: Your background is in communications and marketing. How did you start in security?
MIKEY VAN GULDEN: I started working private parties for friends. I like to think I'm well-spoken and mellow. I have a minor background in tae kwon do. I never got past a white belt. I was captain of the high school wrestling team. Accomplishments like that carried me with the rumor mill. If people think you did more than you actually did, and you don't correct them…
SD: But it stuck! Why were you really suited to the job?
MVG: My size and demeanor have kept me out of trouble. People don't want to pick fights with large individuals. I'm 6'1"; I was 6'3" with an Afro. I use my ability not to shy away from people and [to] maintain eye contact. Communicate in a clear, concise manner. People think, This man has verbal skills; we should listen to this large man.
SD: Speaking of your appearance, do you think the dreads help or hinder you?
MVG: Having dreads definitely assists me. If I wear a hat, it gives me some hat head, so from the front it doesn't look like I have dreads. That way, I have a few different images. It's like changing your clothing.
SD: You followed the Grateful Dead and Phish when you were younger. It must be exciting to get paid to go to concerts.
MVG: You do get that taste of excitement. And you get to see free shows. The truth is, I only really see 15 or 20 percent of the music going on. There's a fine line between security and voyeurism. Now, I have a little more leeway with scheduling when I can be where I wanna be. But if the job's gonna get done, I can't be a glorified customer.
SD: At big concerts and festivals, who is it you're looking for?
MVG: I usually work … from the festival site to the perimeter. I prevent people from sneaking onto the property without a ticket. I also prevent people from selling beer, bootleg T-shirts or illicit drugs. They suck the energy, fun and freedom from a festival.
SD: You try to avoid physical confrontations. What do you do instead?
MVG: I was at an open-mic all-ages evening recently. A person under the age of 21 reached for someone's gin and tonic. When I explained to them the wrong they had committed, they decided to defend themselves with vulgarity and maintain a "he-man" persona.
I usually put an open palm on the small of their backs and lead them to the door. It's always followed by the individual saying, "Don't touch me." It ends up being a verbal ping-pong match. They've lost as soon as they expose themselves as someone who has violated our predetermined code of existence. This individual tried to shove me and said [he] had friends there. I bent around and picked [him] up like [I was] carrying a sack of flour, or a puppy.
If they're going to act like a child, I will treat them like a child. I gave [him] two or three spanks on the way out the door. Public humiliation often goes further than physical exertion.
SD: You're currently running for a Chittenden County senate seat. Why?
MVG: After years of providing security throughout many parts of Burlington and the USA, I decided to see what I can do to help provide security for the near- and long-term future of the county I grew up in. Of all the states I've lived and worked in over the last 20 years, I've always used Vermont to gauge other places' landscape, citizens' personality, cleanliness, community unity and economic opportunity. All of this combined, I've confirmed what I've always felt: that Vermont is a freakin' sweet place to have a family, work or go to school.