Courtesy Of Tracy Penfield
From the cover of A Curriculum of Courage: Making SafeArt
In the first chapter of A Curriculum of Courage: Making SafeArt, Chelsea artist, educator and advocate Tracy Penfield relates the story of the abusive relationship that dominated her life from ages 14 to 30. This cumulative trauma, combined with a lifetime of work in dance and textile arts, has informed her ongoing exploration of creative expression as healing. In 2000, Penfield founded SafeArt, a program whose mission is "creating community and healing through the expressive arts."
Now, 16 years later, the 60-year-old has channeled the essence of her work into a 179-page, 16-chapter curriculum guide that's chock-full of anecdotes, activity plans, poetry, artwork and resources. "It's been a long and organic process," she told Seven Days by phone.
SafeArt initially grew from Penfield's work as a volunteer in 1999 with Safeline, Orange County's sexual and domestic violence advocacy group. After organizing a performance to raise awareness of abuse, she worked closely with that organization to develop a grant-funded curriculum for local middle and high schools. Penfield toured variants of that program from 2000 to 2008.
SafeArt has grown to include a wide array of initiatives, from the Sexual Assault Survivor Youth group to Penfield's somatic "tracing" sessions. Currently in development is the Healing Arts Intensive Care Unit, which works with women living with mental illness who seek alternatives to psychiatric hospitalization. SafeArt's HQ is at Altus Healing Arts, a Chelsea yoga and wellness studio that Penfield opened in 2008.
Though SafeArt's facilitators and artists are not psychotherapists, Penfield explained by email, "We are frequently in communication with a participant's therapist and/or PCP, primarily for those in the HAICU."
Often, she said, health care providers "who grasp that what we offer is outside the box" will refer clients to the program.
The SafeArt curriculum embraces visual art, movement, writing, drama and music. "I use ['creative expression'] often instead of 'the arts' or 'art,'" Penfield said, "because for some people the word 'art' has a high and mighty connotation of something you see in a museum or concert hall."
Chapters 11 through 15 of her book are dedicated to specific "explorations" in these various disciplines, and include images of participants' artwork, poetry and performances.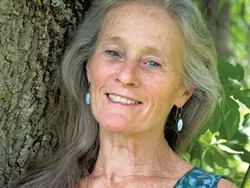 courtesy of Erica venuti
Tracy Penfield
Other chapters address self-care, mindfulness and group icebreakers. Most of the volume, however, clarifies the context of SafeArt's ethos and programming and prepares facilitators to work in settings that are inherently serious and fraught with emotion.
Chapter 3 recommends that facilitators cultivate the Zen Buddhist "beginner's mind and body" and discusses workshop content and form, confidentiality, and the threat of vicarious trauma. Chapter 4 introduces the triune brain theory, a debated model of the human brain first described by neuroscientist Paul D. MacLean in the 1960s. Penfield writes, "We use this model for its simplicity and ease of understanding everyday behavior in the framework of trauma."
"Most of what we do has qualitative outcomes rather than quantitative," Penfield said, indicating the difficulty of numerically measuring emotional and spiritual growth. "That's definitely an obstacle we've come up against, and we keep working around it, over it, through it." Within the guide, sections called "Scientific Check-Ins" aim to assuage any reader skepticism by citing doctors and researchers who testify to the impact that art therapy can have.
Chapters 5 and 6 describe types of abuse and sexual violence, including "relationship wheel" diagrams to help individuals identify abuse in their or others' lives.
"Since the election," Penfield said, "many people have said to me, 'Wow, Tracy, this is really timely.'" How does she think the SafeArt curriculum can address ongoing cultural divisiveness? Penfield wants to show people how to be "proactive bystanders" when they witness public harassment. "Every single one of us will have the opportunity at some point to be a proactive bystander," she explained. "I want people to know how to safely be proactive."
SafeArt survives on grants and donations, and Penfield readily acknowledged that funding is the organization's most immediate challenge. She's hopeful that sales of the curriculum guide will help support the program's viability. She's presented the book in several lectures in Orange County, as well as at Emerson College and the New Hampshire Behavioral Health Conference. Those experiences, she said, "buoyed my confidence that people in many different walks of life are going to be able to find something in this book."
For the moment, Penfield has suspended her work with individual clients to tour and promote the SafeArt curriculum. She hopes to present at the University of Vermont's Dismantling Rape Culture Conference next spring.
"Maybe if SafeArt had come to my high school when I was 15 years old," Penfield said, "I wouldn't have stayed unconscious for so long."