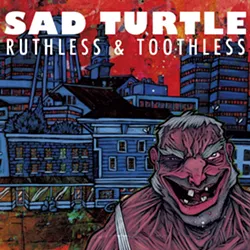 (Self-released, digital download)
Burlington's Sad Turtle describe their sound as "instrumental music for people who don't like instrumental music." As a lover of music that doesn't muck around with vocals, I'm not sure where that puts me on that spectrum. But Sad Turtle's new record, Ruthless & Toothless, is a lovely, pristine chunk of goodness equally characterized by its muscular drive and an atmospheric, glassy sheen. Its gossamer web of melodies and sonic colors spins out of the interplay between guitarist Justus Gaston — who also plays drums for local rockers the Mountain Says No — and keyboardist Mike Fried.
Much like post-rock outfits Battles and Ratatat, Sad Turtle's primary tack is finding a groove and pulling at it like taffy. The LP's opener, "Bidets and Confused," storms out of the gate with its chest jutted out. Gaston and Fried ride atop Jeremy Gartner's excellent drumwork to craft what almost could be some lost superhero theme song, reminiscent of one of the Police's great B-sides, "Omegaman."
Gartner partners up with his old Wave of the Future compatriot and bassist, Jake Styles, and the two have an easy rapport. They twist and turn, bob and weave, occasionally float around. More often than not, though, the duo drives like a bullet train. It's a formidable base from which to work. The guitars and keys use that foundation to venture forth, such as on "The Art of Vandalay," which features snarling call-and-response riffs from Gaston and Fried. When Sad Turtle settle into this mode, as they do throughout the album, the resulting music can seem like a conversation in an alien language, but one whose emotional intent is universally understandable.
The knock on instrumental rock is that it can occasionally be detached or, worse, the product of some dudes who learned weird time signatures and like to write songs about anime. At first glance, one might be forgiven for thinking that about Sad Turtle's debut studio offering — particularly given song titles such as "JFK Lady Lab" and "Johnny Razor's Totally Normal Candy Store." It isn't so, however. For one thing, every song title on the record is a "Seinfeld" reference. ("Feats of Strength," anyone?)
More importantly, the album fosters an emotionally resonant tone. There's an adventurous — one could even argue optimistic — drive that often lands the material firmly in the epic. Yes, tracks such as "Giddyup!" would be excellent bong-hit and video game soundtrack material. But even here, clear-eyed soul is at the core of the song, and emotional acuity helps the tune land its punch. The same could be said of much of the album.
Ruthless & Toothless continues a recent trend of excellent-sounding albums coming out of local studios. The band cut the record at Ryan Cohen's Robot Dog Studio, which also produced last year's well-received Black Rabbit LP, Red Flannel Hash, among other recent gems. Cohen expertly captures Sad Turtle's quirky power, and the band sounds laser-sharp on every track.
Ruthless & Toothless by Sad Turtle is available at sadturtleband.bandcamp.com. The band plays this Saturday, November 26, at ArtsRiot in Burlington with locals the Mangroves and the Snaz.