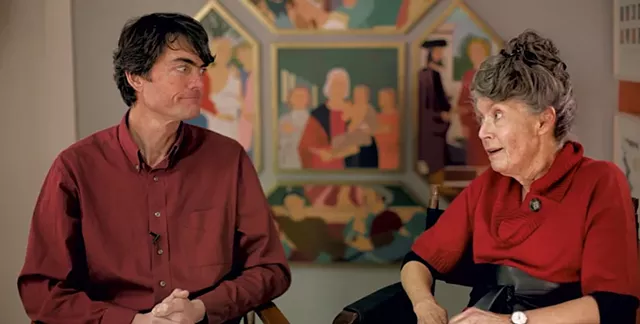 Paul Johnson and Sabra Field
The first contact between artist Sabra Field and filmmaker Bill Phillips was anything but auspicious. Phillips and his family had just moved to tiny East Barnard. On a spring morning in 1975, they were stunned when a dog ran onto their porch and shook their tiny kitten by the nape of its neck, killing it. Phillips gave chase, but the dog eluded him.
Field, the renowned Vermont artist and owner of the dog, immediately had the animal put down. Soon thereafter, when the Phillipses were away, she attached a bag of fiddleheads and a note of apology to their doorknob.
"We never really talked about it," says Phillips. "In fact, even though [East Barton] is a small town of 83, we never really got to be friends."
Four decades later, with the animals long buried and grievances forgotten, the two are connected not just by friendship but by a camera lens. Phillips' recent hourlong documentary, Sabra: The Life & Work of Printmaker Sabra Field, has been steadily making the rounds of film festivals and small local screening venues. Partly a celebration of Field's work, the film also has a point to make: that her art is more complex than you might think.
Field is primarily known for her boldly colored landscapes that draw their expressive power from Vermont's remarkable natural scenery. Those images of rolling hills, bright-red barns and snaky blue rivers have given her a lofty reputation in the printmaking field; their sales have allowed Field to make a living from her art.
Yet, as Sabra makes clear, the range and depth of her work are far more extensive than even her fans might realize. She has produced many abstract works, a figurative series based on mythology, Italian tableaux and even several works with a political slant. In the film, these and other lesser-known aspects of Field's artistic persona receive screen time equal to that of the landscapes.
Sabra's camera pays close, admiring attention to her print works, but the liveliest scenes are those in which the artist is interviewed on screen by her son, Paul. Paul wasn't a member of the film's crew, but, as Phillips observes, his presence enabled Field to relax and open up, revealing aspects of her personality — such as the grief that she suffered from the deaths of her husband and son — that are largely unknown even to her admirers. The film is true to its title: It really is about her life and her work.
It's no surprise that Phillips, 66, a longtime admirer of Field's art, was able to find a compelling story in her career. The writer of some 50 screenplays for film and television (including 1983's Stephen King adaptation Christine), he has long held the position of professor of film and media studies at his alma mater, Dartmouth College. In making Sabra, Phillips stepped behind the camera for the first time since directing the 1992 comedy There Goes the Neighborhood.
"When you write a fictional script," he says, "you are making things happen the way you want them to happen. [For Sabra], I let the material talk to me. Even when Sabra said, 'What are you going for here?,' I really avoided answering until the material started telling me where to go with it.
"I kind of burned out on screenwriting," Phillips adds. "After writing 50, I thought I didn't have anything else to write. Filmmaking is my first love, so I've gotten back into that."
Apparently he's done it well, as Sabra has earned local accolades, pulling in the audience favorite award in the 2015 Vermont International Film Festival's Vermont Filmmakers' Showcase category and earning a nomination for best feature at the 2015 Middlebury New Filmmakers Festival. Next up: a January 28 screening at AVA Gallery and Art Center in Lebanon, N.H. Though Phillips plans to continue to screen the film in the area, he's now concentrating on DVD sales and securing the film's broadcast on Vermont PBS.
Field has achieved success and acclaim with her art. But, as she observes in an email to Seven Days, being the subject of a documentary is another kind of honor, and one that has elicited a wide range of emotions in her.
"Having a film made is a big deal, for sure," she writes, "but it reawakens the old fears of not being good enough — the imposter blues ... It's an honor, but a big risk, too. Every time one sticks one's head above the trench, one runs risks."
Correction, January 1, 2016: An earlier version of this story misstated the town in which Sabra Field lives. It is East Barnard.