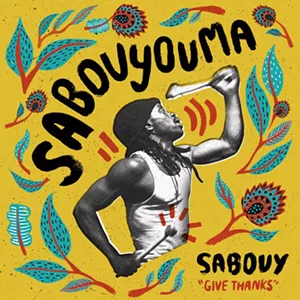 (Self-released, digital download)
Sabouyouma are a dynamite local Afro-funk septet built around the electric presence that is Ousmane Camara, a singer, balafon player and griot from Guinea. The band's debut album, Sabouy, is a ferociously tight workout that sounds flat-out amazing. This is more than just world music; it is world-class.
The band's name means "give thanks," which suits their soaring, sweaty and transcendent sound. The djembe of Assane Coly, a Senegalese musician long known in Vermont for his work with Jeh Kulu Dance and Drum Theater, propels a rhythm section full of gifted hands — including Adina Ford, Camara's wife. The drums lead the way on almost every track on the record except for the beautifully relaxed "Lamban," which features only an intermittent shaker to move the groove.
The group's melodic work is equally tasty and refined. The interplay between the choice guitar work of Graham Lambert and the understated melodica of Josh Morse is a surprisingly flexible combination. They evoke all kinds of textures and feels throughout Sabouy, and their dynamic control is impeccable. And when Lambert steps out front, he kills it. He nails the slippery cadence and light, legato feel of African guitar masters such as Mali's Djelimady Tounkara and South Africa's Ray Phiri.
Singing primarily in Susu, Camara's voice is strong, humble and full of joy. In fact, he really has two voices in Sabouyouma — his balafon is a remarkably expressive instrument, capable of burbling like a river or cutting like a knife. It can also blend seamlessly with other instruments, which might be even more impressive. Born into the balafon tradition, Camara has been training since the age of 7, and it shows.
Special mention must be made of the guests here, particularly those in the horn section. The trumpet work of Sean Smith and the saxophone of Sylvester Uzoma Onyejiaka II absolutely shine. On the aforementioned "Lamban," Burlington singer-songwriter chanteuse Francesca Blanchard joins Camara on vocals to spectacular effect. Their respective timbres are a perfect combination and, even on a knockout album, it's a highlight moment.
Camara pushes his crew at every turn, crafting complex, ambitious arrangements. (Help on the horn arrangements is credited to Smith.) Yet the technique never gets in the way of the music. These are unambiguously accessible, catchy songs that compel you to move something.
Sabouy sounds appropriately huge, thanks to the labor of many chefs in many kitchens. Dan Davine, Urian Hackney and Brooklyn engineer Vince Chiarito all had a hand in the mixing and mastering here. Despite that, the album sounds cohesive, a single journey in six songs.
How could it not? Between Camara's songwriting and composition talents and the countless hours his band spent honing this material in front of appreciative audiences, this project was destined to be a grand slam. It's powerful, universal stuff. I would strongly recommend Sabouy to any human who likes music, period. They will not be disappointed.
Sabouy is available at sabouyoumamusic.bandcamp.com. Sabouyouma perform on Saturday, June 8, opening for Toots & the Maytals at Burlington's Waterfront Park as part of the Burlington Discover Jazz Festival.