Ben Deflorio
Tin gai tod
"This food is not shy in any sense," Connor Morgan told Seven Days last spring, weeks before his family opened Saap, where he is the general manager. Located in a Queen Anne Victorian perched on a knoll on the outskirts of Randolph, the restaurant is Vermont's first to serve cuisine rooted in Thailand's northeastern region, Isan.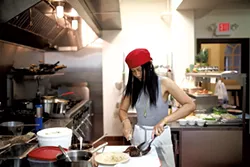 Ben Deflorio
Nisachon "Rung" Morgan
The chef is Nisachon "Rung" Morgan, whose homeland borders on Laos and Cambodia. It's a place where the food is spicy and the flavors bold, where fresh fruits and vegetables make merry with delicately spiced meats, pungent herbs and sauces, and lots of sticky rice.
Rung runs the kitchen with her husband, Steve Morgan, a former New England Culinary Institute instructor trained in classical French cookery. By day, he manages the galley at Gifford Medical Center. By night, he helps at the restaurant.
Connor Morgan, Steve's son, is a friendly fellow who spent a year learning the ropes at Café Shelburne. He holds down Saap's dining room in the parlor level of the stately 1880s house. The 10,000-square-foot manse is also home to the White River Craft Center, which offers gallery space, studios and coursework in arts including weaving, stained glass and film photography.
From the Saap dining room, the view nods west down Randolph Avenue, where the summer's evening sun sinks over the village.
But these assets — except, perhaps, the view — were irrelevant to my visits. As is often the case, I was just there for the food. And I arrived hopeful that Rung's cooking would be as "unapologetic in its bold flavors and fermented kind of funkiness" as Connor had predicted back in March.
On a busy Friday, my guests and I sat in the far corner of the long, open room. The space is modest in its utilitarian simplicity, and sound seems to ricochet off the walls. Still, the volume never rises above a sociable hum. Dinner began with a delivery of steaming white hand towels, a refreshing touch on a humid summer night.
Drinks are beer and wine only. Suds flow from 14th Star Brewing, Rock Art Brewery and, notably, from nearby Bent Hill Brewery, where Mike Czok is developing pairing swills for Saap's menu. Pale Thai lagers and East Coast craft brews round out the options.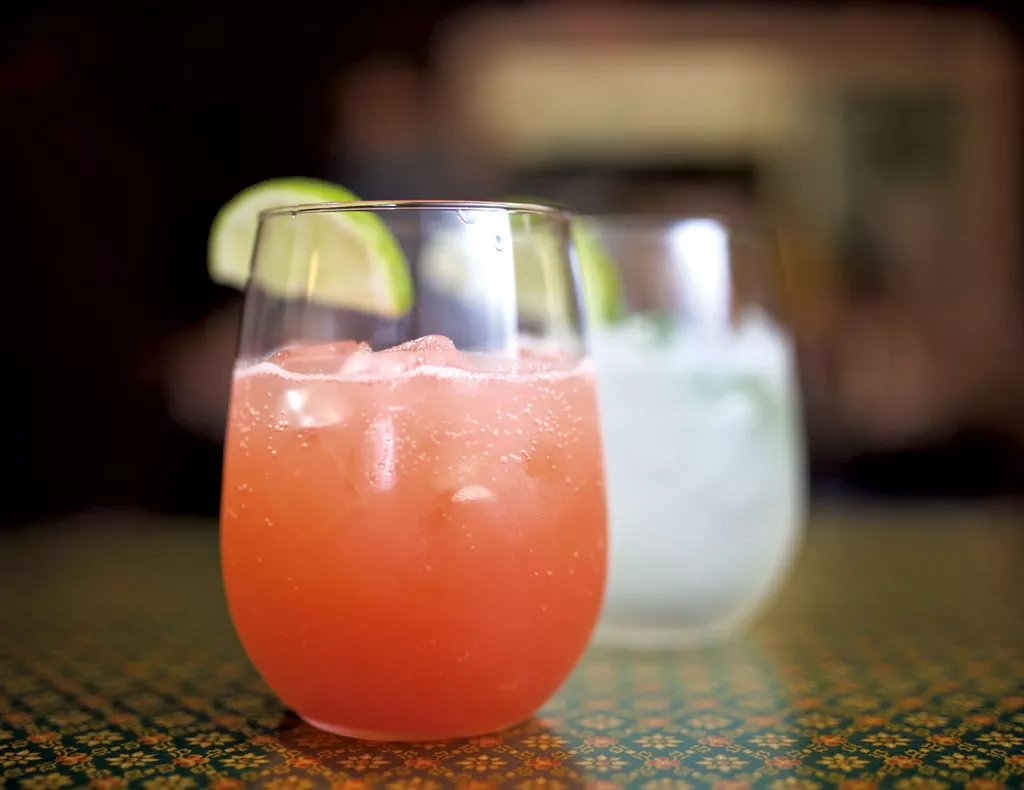 Ben Deflorio
Prosecco spritzers
The wine list is tailored to the food, which calls for bright, low-tannin sips that complement, rather than compete with, its potent herbs and spices. We kept to whites and pinks, including a tart German Riesling from the Mosel region and an off-dry, Provençal rosé, all white peach, citrus and stony strawberry. Another night, my friend sipped a pale, fine-bubbled Prosecco, which also added a splash of fizz to a fruity citrus spritzer.
When the weather heats up, tropical cultures often prescribe boiling soups loaded with chiles. Old wisdom says hot foods align one's system with the external environment; that heating a body from the inside out has a cooling effect. That effect is called sweat, and it's what happens when you order a scorching pot of tom yum po taek, no matter the weather.
"Po taek" is the Laotian surname for a lighter, cleaner version of tom yum, a punchy, fishy soup available throughout the Pacific Rim and common on American Thai menus. Rung's lemongrass-soaked broth arrived in a fire-lit crock, swimming with shrimp, mussels and tender coils of squid. Though not particularly regional, the aromatic soup became so the moment my table dunked gobs of sticky rice (borrowed from another dish) into the herbaceous broth.
Thailand's northeastern hip is remote, vast and rural, and its culinary traditions have developed largely uninterrupted for millennia. But several of its dishes — the fiery, herbed chopped-meat salads known as larb, larp, laab or laap, and the ubiquitous shredded papaya salad (som tum) have found their way into the international Thai food juggernaut.
Ben Deflorio
Spices and ingredients
Rung's som tum Isan uses less sugar than most and is seasoned with the funk of fermented freshwater crabs (boo kem), gleaned from Isan's rice paddies. The chef crushes these with chiles, alliums and dried shrimp — tiny, chewy curls that seem to distill the popcorn essence of shellfish — in a mortar and pestle with the papaya, sauces and herbs that carry the dish.
Sides of sticky rice and crisp veggies add starchy bulk and fresh, watery crunch, but they also nod to the basic format of a traditional Isan meal.
Eating a meat salad — perhaps nam tok moo, which is similar to larb but made with sliced rather than chopped meat — began with a shred of cool, umami-soaked pork, tinged with smoke from the grill and dressed in fish sauce and lime. Then, a sliver of shallot, mint or basil and a couple of bean sprouts. Finally, a lump of sticky rice finished a single, well-composed bite, or series of bites.
That format also applies to whole meals. At Saap, dinner tends to arrive as a barrage of proteins, sauces, soups and rice, and a look around the dining room revealed that most tables of four held 10 or more plates. These usually include at least one form of poultry, whether roasted, fried or grilled.
The Thai have an uncommon accord with birds, which they handle with a simplicity that can read as delicate or unabashed, depending on the dish.
Ben Deflorio
Pla rad prik
One night, the bird took the form of crispy fried duck heads, naked but for a thin coating of panko and a side of chile dipping sauce. These defied polite handling — the only option was to pry open their beaks and gnaw the fatty bits of meat, gelatinous cartilage and silky offal inside their faces. Once we'd picked the skulls clean, we turned to the beaks, which gave way with a good bit of cracking.
If crunching through duck brains isn't your jam, gai yang — a marinated half-chicken slow grilled for hours — is a more peaceable choice. Rung's sublime bird came with just sticky rice, chile sauce and nam jim jaew, a sour tamarind dipper reserved for grilled meats. The bird's golden, salty skin offered a warm entry to briny flesh that oozed juice with each puncture and pulled easily from the bone.
Another night, fried rice balls (khao tod) were tinged with curry, kaffir lime, shrimp and pork. The flavor was good, but something was missing. "Should these have ... a sauce, maybe?" my friend asked the waitress. The server scanned the table, then beelined for the kitchen. She returned moments later with the sauce, but by then we were floating the fried rice in our tom yum, and it was awesome.
That's kind of how things go at Saap, where the servers are pretty young things with can-do attitudes but varying degrees of skill. Still, the kitchen's errors are few (none during my visits), the food comes quickly and service is attentive enough to easily obtain a fresh drink.
While the menu may seem exotic to many diners, it offers a smattering of familiar, Bangkok-style dishes. These include a solid, coconut-rich daily curry and pad Thai sai kai, the peanut-studded noodle stir-fry sweetened with palm sugar and tamarind.
Ben Deflorio
Pad kee mao
Rung rolls this into a thin egg blanket, so it looks different than the standard. But its flavor is full, though mild, and it's an excellent introductory dish for diners new to Thai cookery. Pad kee mao, with sweet pork flambéed with whiskey and wide, chewy noodles scattered with glassy fried basil, is another safe choice.
Such dishes nod to the restaurant's place as the sole Thai eatery in Orange County, where many diners are more familiar with pub fare than food from pastoral Asia. And the menu reflects a kind of culinary flexibility that knows food doesn't exist in a vacuum. Rung is a modern chef building a living Isan menu that honors both her roots and her own evolution as a cook.
One night, that meant khao man gai tod — chicken and rice with origins on the tiny Chinese island of Hainan and an everyday street food in Thailand. Touched with a squeeze of lime, the flavors and textures emerged in layers: the toasty crunch of the panko; the juicy smoothness of the meat; the unctuous rice, long-simmered in fatty chicken stock. Then a lull of ginger, shallot and garlic. Finally, the fire of the ginger dip and funk of the bean paste, each piece adding new notes to savor.
Desserts are few but worth saving room for. I didn't, yet there I was, dipping airy banana fritters into chocolate ganache, or shamelessly spooning Champagne mango into my mouth.
The latter was so luscious it dissolved on my tongue. And when its honeyed ripeness pleaded for a bit of the salty-sweet rice that was its mate, despite being absurdly full, I heard myself murmur to my friend, "Lemme put some more sticky rice in my mouth."