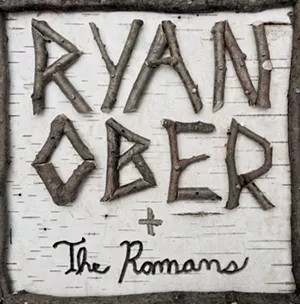 Ryan Ober + the Romans, Caveman Blues
(Self-released, digital download)
Ryan Ober rarely seeks the spotlight, so it's easy to take him for granted. But dating back to his days with alt-rockers Invisible Jet in the 1990s, he's been a fixture in the Burlington scene. That's been true whether he's solo, alongside friends such as Lowell Thompson or some cats from Swale, or donning disguises with cheeky rockers Led LO/CO. Ober is an excellent musician surrounded by excellent musicians, so one can be forgiven if the focus tends to dart around him.
His new record, Caveman Blues, should place him in the well-deserved spotlight. In nine tracks of jaunty yet gritty country-rock jams flavored by early rock and roll, Ober lays down a marker — and it should be heeded. Backed by an ultra-tight band, the Romans, it is borderline obscene how effortlessly he displays his songwriting chops. The album is all killer, no filler.
Ober sets the album's pace early on "Sit Right Down" — specifically, with the sole of a boot tapping steadily on wood floors. On occasion, he'll slow down for a reverie, as on the languid, soulful "Californ-i-A," on which he croons, "I'm looking so good, so far away." And he'll sometimes indulge himself in swampy, up-tempo blues-rock — as on "Shake It With Your Latest." However, he never loses his focus.
Credit that to the combination of Ober's breezy songwriting and his lyrical wit. His influences can be detected, but none of them are ever in control. He's a man telling stories that he knows well — usually with a knowing wink. On the title track, for example, Ober laments being relegated to the Mesozoic era. "You tell me I'm a caveman, girl / But cavemen never play guitar," he sings just before ripping an absolutely ferocious solo.
Ober's guitar prowess shouldn't be downplayed, even in a city chock-full of ridiculous six-string talent. His rhythm work — and his right hand in particular — is top-notch. Ober plays with restrained wisdom and melodic grace, though he can switch on the bombast when needed. As with his singing, he gives only glimpses of his guitar influences, and none are strong enough to override his instrumental personality.
The Romans are essentially a Burlington all-star band. Drummer Jeremy Frederick (Swale, Led LO/CO) and bassist Creston Lea (Cave Bees, and the dude who makes basically everybody's guitars at Creston Electric) form the rhythm section behind Ober. The duo provides a rock-solid foundation for the songwriter's talents, as well as those of his friends. Guest musicians include guitarist Jeff Baron and pianist Chris Ziter (both of Guppyboy), percussionist Dan Davine, and mandolin ace Adam Buchwald.
The record closes with the power-pop anthem "Cemetary Walks" — that's how he spells it, I swear. Caught somewhere between the Replacements and a Randy Newman deep cut, the track has a lighthearted yet somehow sleazy feel. That sort of juxtaposition is evident throughout.
On one hand, Caveman Blues is a very traditional sort of record. Nothing about it is going to reinvent genres or reinvigorate traditions. But that's precisely what makes the individuality shining through it so impressive. This record is incredibly Ryan Ober, and that is a damn good thing.
Caveman Blues is available at ryanober.bandcamp.com.