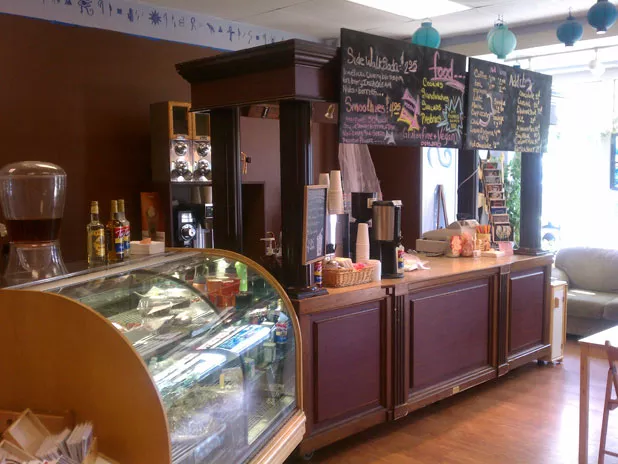 Rutland's quiet healthy-lifestyle renaissance has taken another step forward this fall. In recent weeks, the city gained a juice bar, and the new home of the Rutland Winter Farmers Market will open next week.
"There just wasn't a lot of healthy options in downtown Rutland," says Gene Schubert, who recently opened Liquid Motivation inside the new Pyramid Holistic Wellness Center on Merchants Row. Besides fresh vegetable juices and smoothies — including versions with kale, peanut butter and chai — the café offers a daily roster of veggie, vegan and gluten-free soups, sandwiches, cookies and baked goods.
Most of those are cooked or baked by Hilary Adams-Paul, aka the Domestic Diva, a New England Culinary Institute-trained chef known for her gluten-free treats and creative use of local ingredients. So far, Adams has stocked Liquid Motivation's cases with vegan pumpkin-squash soup, tomato-mozzarella-barley salad, vegan/gluten-free coconut-peanut noodles and gluten-free banana coffee cake.
If Schubert's name sounds familiar, it's because he spent 15 years running the Gene's Beans coffee kiosk inside Rutland's Diamond Run Mall, and at least two decades supplying local eateries with organic java. Though Schubert closed that café earlier this year, he says Liquid Motivation still offers the organic, custom-roasted coffees and espresso for which he's known.
Located at 120 Merchants Row in Rutland, Liquid Motivation (779-3977) is open for breakfast and lunch seven days a week.
After a summer of renovation by dozens of volunteers, the Vermont Farmers Food Center will open its doors on November 3 as the new home of the Rutland Winter Farmers Market.
The food center sprang from the ruins of the former Mintzer Brothers plant, which an alliance of residents and contractors has steadily transformed into a space to host 50-odd participating farmers and food vendors, as well as hundreds of visitors to the market each week.
It's the first step in a graduated renovation of the industrial site: A commercial kitchen, space for cooking and food-preservation classes, and areas for storage, freezing and processing are all in the works. By spring at the latest the Vermont Foodbank will begin using a portion of VFCC as a regional distribution center.
The Rutland Winter Farmers Market will run every Saturday from 10 a.m. to 2 p.m. until its return to Rutland's Depot Park on May 11, 2013.