Caleb Kenna
Rev. John Longworth and Rev. Hannah Rogers
Inside the Bakery in Rutland on a wintry Thursday morning, ministers Hannah Rogers and John Longworth grabbed a quick bite and soaked in the warmth. Then, bolstered by carbs and caffeine, they headed outdoors for their weekly ritual: a walk around town to check in with the local homeless population.
Rogers, the 37-year-old pastor of Rutland's United Methodist Church, conceived of the idea as a way to get out from behind her desk and into the community. She dubbed the mission Faith on Foot.
"Nobody is going to come into my office and tell me how hard it is living on the street," Rogers explained. "I need to go out and see that and be a part of it."
In 2015, she connected with the community resource officer at Rutland's Project VISION, a collaborative, multi-organizational effort established in 2013 to tackle substance abuse, reduce crime and rebuild neighborhoods. At the time, Rogers was seeing increased evidence of drug use on the grounds of her church, located in the city's beleaguered Northwest neighborhood. VISION's focus on that part of town made it a natural conduit for Rogers to take her ministry to the street.
In June 2016, after several months of planning and researching similar street-reach efforts around the country, Rogers took her first walk. Logically, she first toured the Northwest, checking in with agencies with which she'd developed relationships, including Dismas House, Turning Point Center of Rutland, and the city's parole and probation offices.
By fall that year, Longworth, 39, the pastor at Rutland's Good Shepherd Lutheran Church, joined Rogers — after she had repeatedly talked up her walks at monthly interfaith meetings with local clergy. Other pastors have occasionally participated in walks since then, but Longworth has become a full partner in the effort.
Homelessness is a personal issue for Rogers. During her childhood, she and her family spent close to a year living in campgrounds, vehicles and, eventually, a hunting cabin with no electricity or running water, she revealed.
Initially, Rogers' intention was to minister to the addicted individuals she was seeing right outside her door. Soon, however, she and Longworth discovered the broader extent of homelessness.
To date, they have documented more than 40 homeless sites within city limits. That number does not include a large encampment in the southwest corner of the city, where it's estimated some 50 people live during warmer months. Rogers said they have yet to visit that site because they haven't been invited.
"It would be presumptuous of us to walk into that camp — and possibly dangerous," she said.
According to the Vermont Statewide Point-in-Time Count conducted by the Vermont Coalition to End Homelessness, 183 homeless individuals were recorded in Rutland County on a single night in January 2017. That number was up from 138 in 2016. Among that population were people suffering from mental illness, substance abuse and domestic violence, as well as military veterans and families with children.
The count is just a snapshot of individuals who can be found, Rogers noted; the designation does not include individuals at risk of becoming homeless or those who are couch surfing. In her view, that makes Faith on Foot a vital tool for getting accurate data. "It is important to know where to look when the count comes," she said.
While the mobile ministry has few expenses, a $600 grant secured by Longworth's church has helped to procure hygiene kits, hand warmers, bottled water, promotional materials and branded gear for the pastors. Rogers is hopeful that a pending grant will help to expand Faith on Foot into an umbrella ministry in 2018. In addition to the weekly street walks, it would include hosting a monthly meal and creating a warming center at RUMC's new sanctuary at 60 Strongs Avenue.
That need was underscored earlier this month in Middlebury, when the body of a homeless man, Suad Teocanin, was found outdoors not far from the town's warming shelter. Authorities surmised that heavy intoxication contributed to his death from exposure in the subzero temperatures.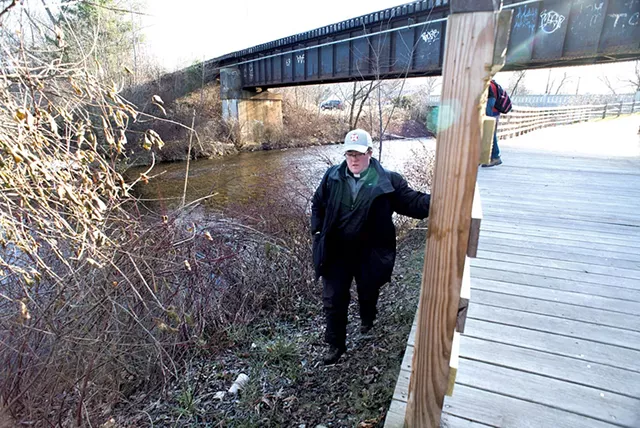 Caleb Kenna
Rev. Hannah Rogers
In Rutland, Longworth said that an Amazon wish list, set up at the suggestion of a parishioner, has generated numerous donations, including hand warmers, sleeping bags and Mylar emergency blankets. In addition, the pastors regularly hand out hygiene kits.
Rogers couldn't say with certainty how many individuals have been served via Faith on Foot — aside from suggesting "lots." But she did note that help sometimes involves other helpers from social service agencies. At times, the police are needed. Rogers said the police department has been supportive of Faith on Foot from the start, and the pastors have a good working relationship with the officers. She and Longworth always report on drug sites and activity. But she emphasized that they do not report on people unless an individual appears to pose an imminent danger to themselves or others.
According to Rutland City Police Community Outreach Commander and Project VISION executive director Matthew Prouty, Faith on Foot is a "viable initiative" that is making a difference in city neighborhoods.
"It fits in perfectly to our vision values of focusing on the positive and collaborating for the greater good," he said.
Anyone is welcome to accompany Rogers and Longworth on their walks, which depart from the Bakery every Thursday at 8:30 a.m., regardless of weather. Information can be found on RUMC's website as well as its Facebook page, though word of mouth among local social service agencies remains the most effective promotional tool. On any given week, parish members, employees from local nonprofits or police officers might come along.
On this particular morning, a reporter tagged along.
Walking on State Street, the pastors disarmed passersby with wide smiles and hearty greetings. Each wore a Faith on Foot-branded baseball cap — an expense Rogers felt was justified because it makes them look official. She and Longworth also keep their white collars visible. "It's a very clear indication of who we are and what our objective is," she explained.
One objective they do not have on these walks is to proselytize. "We're not here to be religious. We're here to be human beings," Rogers stated.
Even so, her faith is never far from the surface. More than once, she talked about being the "hands and feet of Christ" through her ministry. "Sometimes it isn't actively barging into systems of oppression and kicking down doors," Rogers said. "Sometimes it's just gently walking the streets and being a source of kindness and hope."
Crossing onto Baxter Street, the gateway to the Northwest, the pastors noted the neighborhood's surge of redevelopment in recent years. Efforts by Project VISION and NeighborWorks of Western Vermont have helped to rehabilitate numerous properties and restore local residents' sense of pride and ownership.
"There's something about a building or area looking clean and nice and new that gives dignity to the people who partake in it," Rogers observed.
Connecting with the Rutland Creek Path, we worked our way back toward downtown. The approximately 1.5-mile paved multimodal path runs along East Creek. Popular with cyclists, runners and walkers, it has become a major thoroughfare in the Northwest.
As we walked, the pastors pointed out signs of homeless activity. Rogers noted that homelessness in Vermont doesn't resemble the stereotypical images of disheveled people living in boxes or sleeping in doorways. It's harder to spot — unless you know where to look. Since the beginning of Faith on Foot, the pastors have developed a knack for reading their surroundings. What looks like litter to the untrained eye can provide valuable information.
A short distance from the path, we found a site that Rogers said had been inactive for some time. A tarp was twisted among the brush, and trash was strewn about. Someone might have trashed the site to drive out the original inhabitant, she said. Competition for safe, dry spaces like this one is fierce.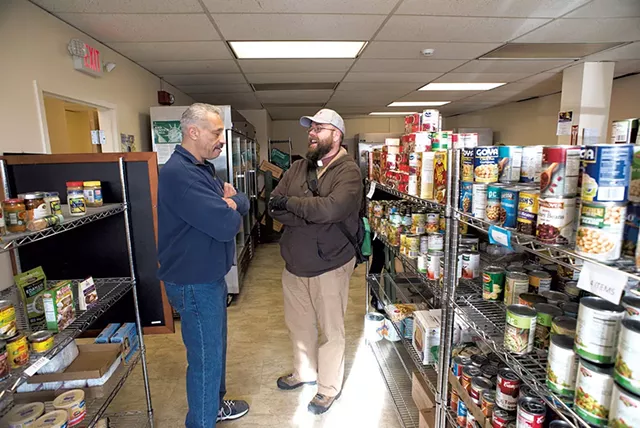 Caleb Kenna
Rev. John Longworth (right) talking with Rodney Palmer at the BROC Community Action in Southwestern Vermont Food Shelf
These sites can disclose a great deal about the person who resides there, Rogers said. Messy, disorganized sites can signal substance abuse; more orderly ones are often inhabited by an individual who is sober and making an effort to create a sense of home.
The pastors said they've witnessed ingenuity toward this end. Makeshift shelters have been fashioned out of tree branches and other found objects. Personal items are buried or hung high in trees. Shopping carts have been used as grills for cooking food.
"Some of it's probably a little bit of conjecture, but we're trying to do our best to read the environment around us and pay careful attention to it," Longworth said.
The pastors are sensitive about the footprint they leave as they move through homeless sites. When approaching an area where a person might be living, they announce themselves and await an invitation before they advance, just as one might when knocking on someone's front door. Safety is a concern, though it has yet to become an issue. The pastors have encountered people who've been aggressive and in distress but never actively hostile.
Across the creek, just beyond a large array of solar panels, sits a hulking, abandoned orange structure with one side missing. Formerly a dress factory, the site was, until recently, a popular hangout for the homeless. The city fenced off the property after a rape, and then a fire, occurred there last July.
Rogers paused to observe the view and reflect.
"People talk about how many problems Rutland has. I think one of the biggest problems this city has isn't drugs, it isn't addiction, it isn't lack of money; it isn't even lack of compassion or kindness," she said. "It's the lack of will to look reality in the face and see it and not talk around it — actually name it."
Our group didn't encounter anyone at the sites we visited that day. Rogers noted that they often play "hide and seek" with homeless people. Many individuals do not want to be seen for fear of being driven out of their sites or arrested or victimized. Rogers recalled one man whom she and Longworth spent six months circling, trying to build trust, before he finally opened up and invited them into his site.
During the winter, instances of "rough sleeping" — that is, sleeping outside or in spartan indoor conditions such as barns or abandoned buildings — decreases as individuals qualify for hotel vouchers,or may be able to couch surf with friends or relatives. People with histories of addiction, however, may be forced to rough sleep even during the coldest months.
People also tend to vacate their sites during daylight hours, heading into town to kill time and, in the winter, to get warm, Rogers noted. That might include going to the library, riding the bus or buying a cup of coffee somewhere. Others actually have jobs — homeless doesn't necessarily mean jobless, she pointed out.
Rogers said she hoped to start doing nighttime walks in order to connect with more people. That would raise safety concerns, however, so she has been talking with police officers who might volunteer their off-duty time to accompany the pastors.
We continued to follow the train tracks behind the Rutland Shopping Plaza toward River Street Bridge. Longworth explained that this area is a hub of activity, especially in the summertime; it's a popular place to get high or exchange sex for drugs.
On November 2 last year, a woman's body was discovered near here. Rogers and Longworth weren't sure if they knew her — they often don't know people by their real names. But they did know the woman who found her and said she has been struggling with that trauma ever since.
The bridge area was littered with papers, broken bottles and discarded clothing. Along a footpath leading to Strongs Avenue, we found a syringe. Rogers took out her phone and called the police to file a report. Minutes later, an officer arrived to recover it. These reports help the department identify trouble spots around the city using its data-driven policing model.
As we made our way up from the bridge and north along Strongs, it was like transitioning from one world to another. Amid the hustle and bustle of mid-morning downtown traffic, it was easy to distance oneself from the homelessness existing just out of sight.
Do these walks make a difference?
"We're not solving the problems of homelessness," Rogers said. "We're not solving the problems of drugs. Our hope is to be people who are in a place where, instead of solving those problems, we're journeying with people in that place."