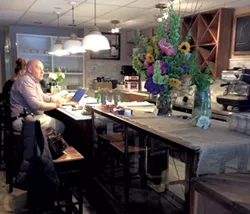 Courtesy Of Ruth Schimmelpfenning
Ruth's Table
This Thursday, July 2, Ruth Schimmelpfennig will open Ruth's Table in the Woodstock space most recently occupied by the Daily Grind Coffee & Sweets, at 61 Central Street.
Schimmelpfennig says her new restaurant will offer food in a similar vein to that of the Barnard Inn Restaurant, which she purchased with then-husband Will Dodson in 2000 and where she cooked for more than a decade. Unlike the Inn, however, Ruth's will focus on daytime fare — weekday breakfasts and lunches and weekend brunches.
Everything will be made from scratch and sourced locally when possible. "It's as fresh as it possibly can be," says the chef, who trained at the Culinary Institute of America.
The "experimental" menu will range from Asian-inspired noodle dishes and sesame-crusted salmon to house-baked focaccia, buttermilk onion rings and chicken schnitzel (a holdover from Schimmelpfennig's time at the Barnard Inn). The chef will stuff sandwiches (hot or cold) with everything from grilled veggies with pesto to local bacon, lettuce and tomato.
Breakfast options include farm-fresh eggs, quiches, muffins and scones. For brunch, creative specialty omelettes wil be folded by breakfast cook Jill Johnssen, who worked the grill at the Hartland Diner and now-closed Wasp Snack Bar before signing on at Ruth's Table.
In addition to coffee and espresso drinks made with beans from Speeder & Earl's coffee and Vermont Coffee Company, Ruth's Table will serve a handful of local craft beers on draft and wines from around the world.
Schimmelpfennig says she's keeping the menu brief and sticking to daylight hours for now, but doesn't rule out the possibility of expanding both the bill of fare and the service.
"We don't want to bite off more than we can chew," she says, adding that she plans to offer new dishes inspired by produce in season. "That's what the locals really want to see," Schimmelpfennig says. "We're really shooting to please not just the tourists, but get our regulars here. There are very few places [in Woodstock] for a nice brunch."