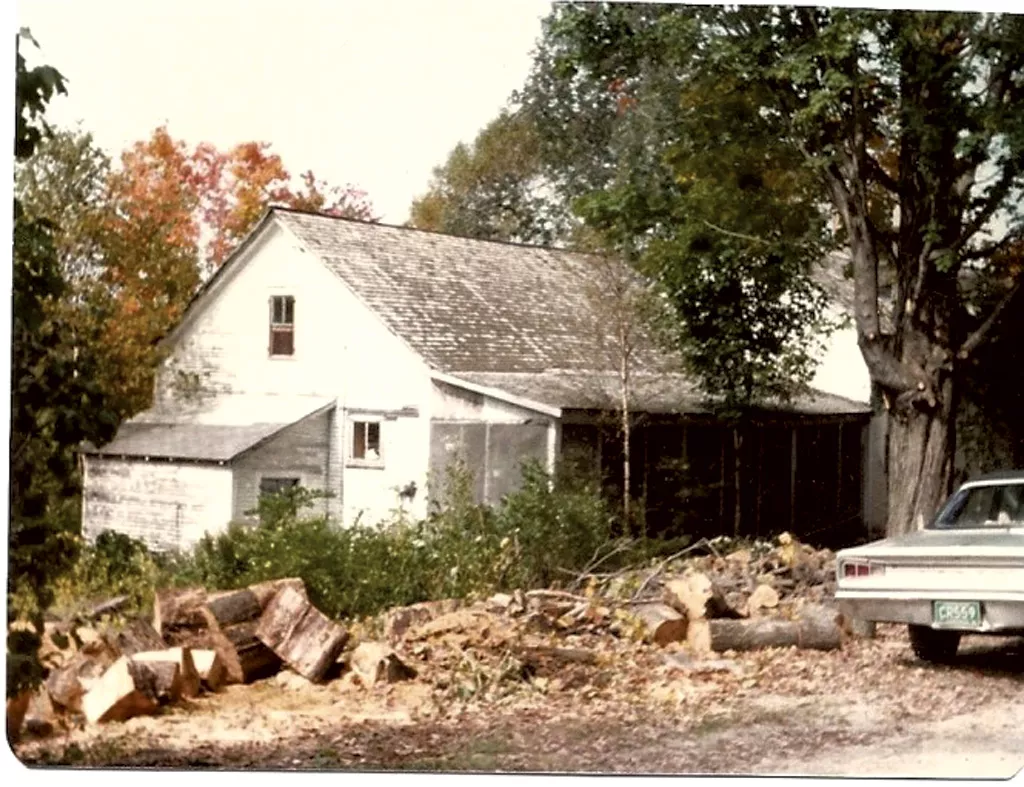 Courtesy Of Vida: Women In Literary Arts
Ruth Stone homestead
For late Vermont poet laureate Ruth Stone — whose 100th birthday would be June 8 — poetry was not just a sideline or a hobby. It was her sole vocation: She wrote verse, taught it and even, in a sense, dwelled in it.
In the 1950s, Stone (1915-2011) bought a 19th-century farmhouse in Goshen using prize money from the Poetry Foundation's Bess Hokin Prize and a Kenyon Review poetry fellowship. A 1961 letter in Stone's handwriting attests: "That grant provided us with a house which now that my husband is gone is the only home the children and I have."
For the next 50 years, Stone — a widow who never remarried — channeled proceeds from teaching at colleges across the country, from her 13 books of poetry and from subsequent poetry awards into this home where she raised her three daughters. In 1971, a Guggenheim Fellowship funded a new roof for the house. And when Stone won a Whiting Award in 1986, she used the proceeds to install plumbing.
Stone died expressing the wish that her physical and literary estate would be used to further poetry and the creative arts. Accordingly, in 2011, the trustees of her estate established the Ruth Stone Foundation. Its mission is to preserve the house that was "bought, repaired and held up with poetry," as Bianca Stone, one of Ruth's seven grandchildren, puts it.
The 31-year-old Brooklyn poet and artist states her case for restoring her grandmother's house in her essay "The House With Feet: The Dire Importance of Ruth Stone's Bequest," published in March on the website VIDA: Women in Literary Arts.
Despite a handful of awards and fellowships, Ruth Stone's work didn't receive substantial recognition and its attendant remuneration until late in her life. She achieved tenure at the State University of New York at Binghamton when she was 77, and her 11th book won the National Book Award for Poetry when she was 88. Meanwhile, as Stone grew older, the house fell into disrepair, until it was no longer safe for the poet, then in her nineties, to live alone.
From that point until her death at age 96, the house remained unoccupied but infused with Stone's spirit and teeming with her books and scraps of poems. Bianca Stone writes in her essay:
When I bring people to Goshen, they look at the house and are shocked ... [it's] a beautiful, abandoned relic, with sagging floors and crumbling ceilings ... all the specific wallpaper on the walls, the chairs in the living room, the slope of the classic screened-in front porch.
Conversely, Bianca continues, her grandmother's verse invokes the rooms and furnishings of her life: "If you open a Ruth Stone book at random, you'll see the place in the poetry."
Shortly before her death, Ruth Stone appointed the trustees of her estate: granddaughters Bianca Stone and Nora Swan Croll (of Swan & Stone Millinery), as well as Putney poet-scholar Chard deNiord. They founded the Ruth Stone Foundation along with Stone's grandson, Ethan Carlson, and Bianca's husband, poet Ben Pease.
Having established its nonprofit status under the fiscal sponsorship of artist-assistance organization Fractured Atlas, the Ruth Stone Foundation raised funds to consult with professional architects on the cost of making the Goshen farmhouse a fully functional community space. Although the estimate was more than $700,000, the trustees are currently focused on the near-term goal of raising $25,000 to stabilize the house and keep it from deteriorating further.
DeNiord, who first became acquainted with Ruth Stone while conducting research for his book featuring conversations with 20th-century American poets, says the trustees have been applying a two-pronged approach to raising money. In addition to public fundraising, such as an Indiegogo campaign last winter, the RSF has been working to get the house listed on the National Register of Historic Places (it's already a National Historic Landmark). The foundation is also applying for grants from the Vermont Community Foundation and the Preservation Trust of Vermont.
The founders have a long-term vision of the house as a retreat for underprivileged artists. Such grantees would create new work in the place that not only sheltered and nurtured Ruth Stone's poetry but became an extension of her personality. In her essay, Bianca Stone writes of the house's lingering and urgent allure: "It's an entity ... a ghost we can touch."