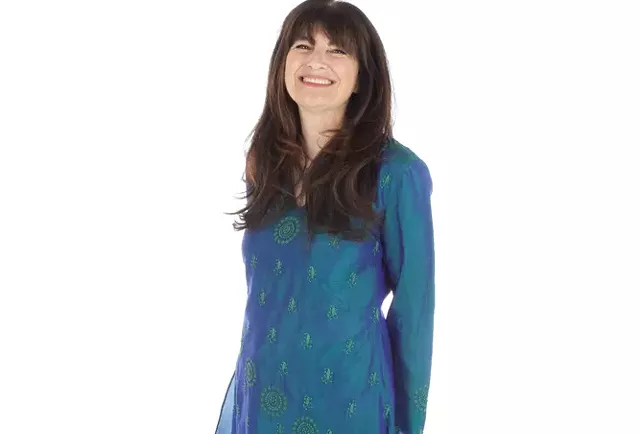 Courtesy of ruthreichl.com
Ruth Reichl
Ruth Reichl has written about food for almost five decades. She has produced critically acclaimed works across genres: one novel, two cookbooks and four memoirs. Reichl has more than 20 years' experience as a restaurant critic, notably for the Los Angeles Times and the New York Times, and spent 10 years as editor in chief of the late, and legendary, Gourmet magazine. Her many accolades include six James Beard Foundation awards.
After residing in major cities for most of her career, Reichl now lives full time at her house in the Berkshires, making her brief stay in Vermont "feel very much like home."
Last Tuesday, I met Reichl at Sterling College in Craftsbury Common, where she stayed three days to co-teach a summer course called Food Writing From the Farm at the college's School of the New American Farmstead. We grabbed two rocking chairs on the front porch of Sterling's admissions office to talk food, Vermont and the joy of "ordinary things."
SEVEN DAYS: What's the role of a food writer in a small community like Vermont? Is it our job to help steer the conversation?
RUTH REICHL: Boy, that's a big question. I think we live in the most complicated food time the world has ever seen. There has never been a greater need for really smart journalism about food supply. For way too long, food writers thought of themselves as frivolous; that their job was basically to mince pages and help women cook nice recipes for their families. Now we're beginning to truly understand the primary role of food in keeping communities together. Food is an economic force — the largest economic force in the world, in fact. It's an issue of health and an issue of politics. It's more affected by climate change than any other industry. I think it would be irresponsible for any food writer not to be addressing those issues and telling people how important their food choices are.
SD: How does the government have to step up, as well?
RR: [The government has] to change our national tax policy. That's something we cannot affect. It's an issue of tax policy when people go to McDonald's and it's cheaper to buy a Big Mac than it is to buy a salad. We have to stop subsidizing things like corn and sugar. I would also like us all to understand that eating is learned behavior; it is not innate. How we feed our children and teach them about food in school are primary lessons. This cannot happen on a grassroots level alone.
SD: How can Vermont be a role model in the national food community?
RR: [Vermont] is perfectly set up, since [it's] already one of the agricultural communities in America. In Vermont, farms aren't seen as elite institutions; they're part of life already. So [Vermont], probably more than any other state, is really in a position to integrate the farm economy into people's everyday lives. That's why I'm here at Sterling College. I'm not getting paid to do this. Sterling is training a generation of farmers in a really good way, and I'm here because I think that's important.
SD: Can you tell me more about Food Writing From the Farm?
RR: There is a whole group of [teachers] here for the course. We're alternating: Scott Peacock [James Beard Award-winning chef of American southern cuisine] starts tomorrow. My piece in the class is to talk about voice. I've been writing about food for 50 years; I'm here to make myself and my experience available.
SD: In a recent Seven Days cover story called "Plates in the Air" [April 20], writer Hannah Palmer Egan found that the cost of maintaining a farm-to-table restaurant in Vermont is often at odds with creating a sustainable work life for the owners. How can farmers and chefs work together to create a system that functions in the long term?
RR: That's the biggest question there is right now. And it's not just farmers and chefs; it's farmers, chefs and eaters everywhere. How can we move [the notion of farm-to-table] out of an elite thing? Right now, we have the most bifurcated food system the world has ever seen. Right? If you're a "rich" person, you can eat food grown in beautiful soil that has never been touched by pesticides. Food is seasonal, and it's grown nearby. If you're a "poor" person, you are relegated to stuff that is cheaper than food, and it is essentially killing you.
SD: As a team — the chef, the farmer and the eater — should people expect to pay more for food?
My Kitchen Year: 136 Recipes That Saved My Life by Ruth Reichl, Random House, 352 pages. $35.
RR: We have the cheapest food that the world has ever seen. It's a real problem. There's so much wrong with the factory raising of animals, and the hidden cost of those animals is enormous. As a society, we need to factor those costs in and ask: What is the real expense of all this cheap food? If we can't afford to eat chicken every night, we need to rethink what we consider a meal. We need to go back to a different kind of diet, and I think chefs are the ones who will lead that transformation.
SD: What are some other issues people are grappling with in the kitchen right now? Both for restaurants and for home cooks?
RR: In restaurants, the big issue is tipping. Restaurants are now trying to give their servers benefits and an hourly wage. There's still this notion that the customer doesn't technically have to give their waiter gratuity. Excuse me, this person just worked for you. It is not at your discretion.
For home cooks, the biggest issue is social justice for food workers: people who work in meat-packing plants, for instance, or people who pick produce. Food workers are the worst-paid people in America. One of the reasons our food is so cheap is because we're essentially exploiting a vulnerable population of undocumented people. We ran this "tomato slaves" piece in Gourmet ["Politics of the Plate: The Price of Tomatoes," 2009] about the issue.
SD: In your latest cookbook/memoir, My Kitchen Year: 136 Recipes That Saved My Life, you say that the key to happiness is "finding joy in ordinary things." What are some of your favorite ordinary things?
RR: There are so many. I love the sound of a wood thrush. There's an explosion of dandelions recently in Vermont — it's like the Yellow Brick Road, it's so beautiful. The smell of onions caramelizing in butter. The smell of rain on the sidewalk in New York. Lilacs, when the lilacs come out. Fresh strawberries. One perfect peach.