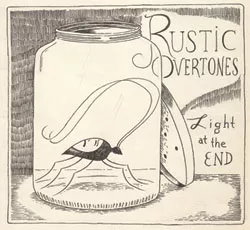 (Self-released, CD)
The music biz can get overly specific when it comes to genre tags. You have your glam rock, your indie-pop rock, your ambient alternative and so on. Many bands select these labels and stick to them, sadly pigeonholing themselves for all time. Thankfully, Portland, Maine's Rustic Overtones have come to the rescue — at least their own rescue.
Reuniting after five years apart, the shape-shifting septet has released Light at the End, a genuinely satisfying disc that brazenly jumps between genres, never settling on the same ole' rock/jazz/funk stuff that's become so tiresome.
The album's opening track, "Rock Like War," explodes with heavily distorted guitars riding a wave of intense staccato drums and killer horn lines. Immediately following, the band changes pace and strips down on "Letter to the President," a folksy ditty with an incendiary antiwar message. The song's central character, a soldier examining his conscience, asks the president one of the hardest questions facing proponents of the Iraq debacle: "How am I a hero if I don't know what it's for?"
Towards the middle of the disc, Rustic Overtones takes a delightfully surprising detour into 1950s Las Vegas, employing a sexy mix of lush string arrangements and melodic horn arpeggios. The standout on this record, "Hardest Way Possible," is one hell of a slinky number, switching from standard lounge-style verses to a funky, bass-laden breakdown that begs listeners to dance. In fact, you may want to pick up the record for "Oxygen" alone, which sounds like a collaboration between Charlie Daniels, pre-1980s Chicago and Sublime. Taken at face value, that sounds like a musical disaster. In fact, it's sonic gold.
Light at the End falters a bit in its last quarter, covering ground that the record's earlier songs traversed with more success. Even so, Rustic Overtones have reconvened to make a stellar disc that shuns the idea of labeling music. It's just the way I like it.
Catch Rustic Overtones this Friday at the Higher Ground Ballroom with Ithaca-based funk group Revision.