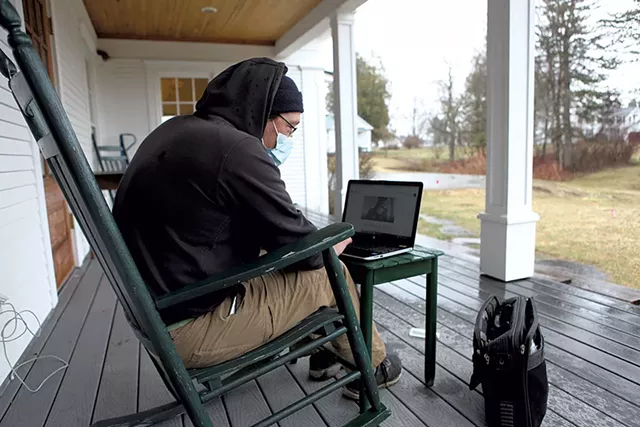 Kevin Mccallum
Mitch Hunt using the Wi-Fi outside of the Craftsbury library
In normal times, it can be a challenge for Mitch Hunt to track down students or staff at the 140-acre Maplehill School and Farm in Plainfield, where he's a dean. They could be honing carpentry skills in the shop, harvesting vegetables from the organic garden or tapping maples trees in the woods.
Since the coronavirus pandemic forced the small alternative school to suspend classes in March, however, Hunt has had to go to even greater lengths to connect with his charges.
Like many rural Vermonters, he has limited internet access and no cellphone service at his Northeast Kingdom home in Craftsbury, about 40 minutes north of Plainfield. So, to connect with students and staff, he drives several miles daily into the village of Craftsbury Common to use the public library's Wi-Fi connection.
The library is closed, of course, so he does much of his work from the front seat of his Toyota Matrix in the parking lot.
"I'm pretty much managing a school from my car," Hunt said one rainy April afternoon outside the white clapboard building.
Hunt is not alone. Most days, several people work in vehicles alongside his, some for just a few minutes and others for hours, according to librarian Susan O'Connell.
Nor is Craftsbury the only town where rural Vermonters find themselves in search of a digital connection as they try to work and learn online. The coronavirus crisis has thrown into stark relief the digital divide between places like Chittenden County, where cellphone service and high-speed internet access are nearly universal, and rural towns with widely scattered homes not served by cell towers or broadband connections.
Without broadband access, it can be difficult or impossible for parents to work from home, for children to take part in video calls with teachers and for patients to stay connected with their doctors through tele-health programs.
Despite federal investments designed to improve the state's connectivity, rural areas are "really up a creek" — their economies left in the lurch and their residents struggling to keep up, Rep. Laura Sibilia (I-Dover) said last week.
"It's like we're trying to run with a twisted ankle," Sibilia said. "This crisis is exacerbating the digital inequities that we were already experiencing in terms of education, government access and health care."
Schools in Sibilia's legislative district — six tiny rural towns near the Massachusetts border — report that significant numbers of students lack broadband access at home. A survey by the Windham Southwest Supervisory Union showed 20 percent of families had limited internet speeds or data caps. The actual number is likely higher because the survey, conducted in part online, may not have captured everybody without internet service, according to superintendent Barbara Anne Komons-Montroll.
State leaders, educators and data service providers are acutely aware of the problem and are scrambling to address it.
"The crisis is highlighting that this infrastructure is necessary, and it's inadequate," said June Tierney, commissioner of the state Department of Public Service. Her department has worked for years to improve rural connectivity, largely by advocating for increased federal investment in data networks.
The need is more acute in the coronavirus era.
"Now we have the government directing people to stay home," Tierney said. "We have the government directing people to get their educational needs met at home. So, government clearly has an obligation to make that feasible."
About 77 percent of addresses in Vermont have access to broadband internet service, defined as a download speed of at least 25 megabits per second and an upload speed of three megabits per second, according to the Public Service Board.
Those speeds are good enough for a single user to stream a movie on Netflix, but they aren't fast enough to easily accommodate multiple users and connected devices. By contrast, Burlington Telecom customers can get speeds of up to 1 gigabit per second, or 40 times as fast.
The 77 percent estimate doesn't account for addresses where the topography — mountains, for example — blocks cellular signals. Nor can every household afford service even when it is available, said Clay Purvis, director of the department's Telecommunications and Connectivity Division.
Many residents have gotten by without broadband internet at home in part because they have access at work. Now they are struggling with bandwidth needs that exceed their home connection speeds, Purvis said.
The cable, telephone and cellular networks themselves seem to be keeping up with Vermonters' increased demand, in some cases offering to lift data caps and open up Wi-Fi networks to noncustomers during the pandemic.
But people without sufficient broadband are having difficulty transferring large files and viewing media-rich content.
Slow internet responses aren't always the fault of the access providers, Purvis said. In some cases, web services — such as Netflix, Zoom and Skype — have been overburdened by the steep increase in users. Work platforms that weren't designed to accommodate huge numbers of users can also slow response times, Purvis said, noting that the software platform his office uses has experienced sluggishness.
"I don't think they ever designed it with the capacity where every state employee could log on to the [virtual private network] at the same time," Purvis said, referring to state government's remote network.
There are, nevertheless, projects under way to improve broadband access across the state.
One of the places where the digital divide is felt most deeply is the Northeast Kingdom. Only half of its addresses are served by broadband, according to Katherine Sims, director of the Northeast Kingdom Collaborative, a group of organizations that support economic and community development.
"We were already behind, and this has accelerated how behind we are," Sims said.
The lack of good internet access permeates every aspect of life in the Northeast Kingdom. It makes it harder for residents to file unemployment claims or renew driver's licenses, for kids to take part in remote learning, and for towns to attract new residents and businesses, Sims said. Professionals who rely on internet access often have two providers for times when one goes down, she said.
To address the problem, 27 towns in the Northeast Kingdom voted last fall to form a community broadband district that will seek grants to expand access. The measure passed in every town in which it was on the ballot.
"It was not a hard sell," Simms said.
There are other signs of progress. Microsoft is funding free public Wi-Fi in 31 Vermont communities. The tech giant is working with the Massachusetts-based RTO Wireless and Bethel-based Up and Running I.T. to install the devices and provide the free service for five years.
Justin McCoart, Up and Running I.T.'s owner, has crisscrossed the state in recent weeks to install the rugged, powerful Wi-Fi antennas at outdoor public locations to ensure maximum possible coverage.
"Every time something good happens, Vermont comes last," McCoart said. "This time we wanted to do it right."
Public Wi-Fi access points are viewed by some as a mere stopgap. When the Department of Public Service published a map of all Wi-Fi hot spots in conjunction with Gov. Phil Scott's stay-at-home order, some critics noted that the map merely highlights the inequities of the status quo.
Rep. Mike Yantachka (D-Charlotte), a member of the House Energy and Technology Committee, told Tierney he wasn't bowled over by the effort.
"Folks who've been advised to go to libraries and school buildings and park in their car and have the kids do their homework in the car, I think that's pretty kludgy," Yantachka said, using a word to describe an awkward work-around.
Tierney said she's not satisfied with the status quo, either, and her department will continue pushing to improve connectivity. She noted that additional federal stimulus rounds hold the promise of more money for infrastructure.
"I fully intend to use this as a battering ram with the federal government to get them to understand ... how this pandemic highlights the need to think about this critical infrastructure," Tierney said.
In the meantime, Vermonters like Mitch Hunt are making do. After calling a few people from the parking lot of the Craftsbury library, Hunt perched on the building's west-facing porch which, weather permitting, offers glorious views of Mount Mansfield.
"One upside to all this is, there's all sorts of cool out-of-the-box thinking going on now," Hunt said — creativity he hopes can help rural schools thrive going forward.
Then he plugged his laptop into a wall outlet, parked himself in a green wooden rocking chair and settled in for a chilly Zoom call with colleagues.