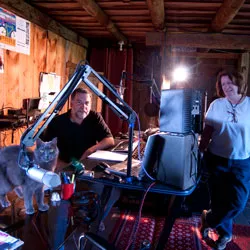 When Chip Morgan calls his radio station "Farm Fresh," he's not kidding. His studio is situated in the oldest part of his 19th-century farmhouse in Bridport. Rough-hewn wooden beams hang overhead of his decidedly modern sound board. A wood-burning stove occupies a prominent spot in the room, handy on winter days when the wind whistles through the house.
The studios of WCLX 102.9 sit adjacent to lush pastures where 50 head of beef cattle usually graze. Just behind the farmhouse, Lake Champlain laps at the shore. Mildred the chicken wanders by, clucking. The scene could not be more bucolic if Vermont landscape artist Charles Heyde painted it himself.
Somehow, Morgan's nascent radio station does not seem out of place in the country. Perhaps that's because he's not blasting cock rock or bubblegum pop through the studio's many speakers. Morgan's format is all about roots music — blues, Americana and a healthy dose of good old-fashioned rock. His music seems an appropriate soundtrack for the studio's rural backdrop.
While the seemingly homespun operation might seem the work of a dedicated hobbyist, Morgan is anything but. The 55-year-old has been working in radio since he built his own pirate station when he was in the fourth grade. With this latest venture, Morgan is trying to redefine for-profit radio and prove that you can play good music and be sustainable at the same time.
In his many years as a radio consultant, helping studios all over the world get off the ground, Morgan became well acquainted with the industry. And he didn't like where it was going.
"It's all homogenized radio. They play the charts and they play the hits," Morgan says. "Their staffs are so small, they don't have time for creativity."
With Farm Fresh Radio, Morgan, along with his wife and business partner, Kathy, is trying to get back to the roots of the industry — loads of new music, live tracks, local artists and authentic personalities. Even their advertising scheme has a folksy feel to it. There are only four commercials an hour and each commercial is bookended by songs. Small businesses and community organizations can call in and record their own ads for free.
Morgan admits their advertising structure is risky — he actually calls it "suicide." But he knows from his years in radio that listeners only stick around for one commercial before turning the dial. And, of course, he wants them to stay tuned.
While WCLX has a quaint mom-and-pop feel to it, it's not that small a station. At 6000 watts, 102.9 can theoretically be heard as far west as Lake Placid and as far east as Barre. Listeners from St. Albans in the north to Rutland in the south can also catch the broadcast. By size, Farm Fresh Radio falls somewhere in between University of Vermont's WRUV 90.1, a 460-watt station, and WBTZ 99.9 The Buzz, a 100,000-watt station.
Morgan grew up on a farm in Saratoga and loved music from a young age. When he built his first radio station, he played whatever he could get his hands on, which meant mostly whatever was in the house — The Beatles, The Chad Mitchell Trio, The Byrds. His mother would drive him around the neighborhood to see how far his signal reached.
During his college years at Skidmore, Morgan worked in production for a big-band radio station in Albany. From there, he moved to small stations all over the country, working his way up, both on air and behind the scenes. Eventually, he and Kathy ended up in much larger markets — Washington, D.C., Denver, San Francisco.
But after years of moving around, the couple, who were living outside of Sacramento at the time, packed it in and headed to Vermont.
"After a while, it gets boring being in big cities," Morgan says. "We needed to be in a less-populated area."
They bought the 25-acre lakefront farm with the intention of raising horses. But upon arriving, the couple realized there was not much in the way of local meat. They decided they would raise Angus and Herefords for beef instead and Wood Creek Farm was born.
While his primary focus became the beef, Morgan couldn't put radio entirely behind him. His first Vermont station — WMUD 89.3 — is one of a handful of low-power radio stations (under 100 watts) in the state. The nonprofit station plays much the same music as its bigger sister WCLX — Greg Brown, Del McCoury, Alison Krauss and a number of local artists who never get played anywhere else.
In November, Morgan began broadcasting on 102.9, which was previously the free-form rock "Album Station." The station is still owned by Dennis Jackson but is operated by Morgan. Before Morgan took the reins, the 10-year-old channel had been at the center of a financial dispute between Jackson and WCLX's former programmers, Russ Kinsley and Diane Desmond. Jackson took the station off the air in September.
Morgan acknowledges that it's not the best time to start a new business, particularly a radio station in a market that is "over-radioed;" Vermont has more than 90 radio stations."
Those numbers only count the terrestrial stations. There are seemingly endless options available for listeners on satellite radio, as well as Internet broadcasts. That makes it hard to be heard over the din, says Greg Hooker, director of WGDR 91.1, a community radio station broadcast from Goddard College.
"With new media, there's more competition," Hooker explains. "But local is good. I like to think that these kinds of stations [like WCLX] are becoming more popular again because people are feeling disconnected from these big-box stations."
Despite all the corporate radio stations, such as those owned by Clear Channel and its ilk, there is still room for local radio, argues Tim Clukey, coordinator of the Audio-Radio Production and Digital Media Production program at SUNY Plattsburgh. Local radio can be more of a niche product and listeners will tune in to specialized broadcasts, or "narrowcasts."
"Local programming is something that satellite radio can't address, corporate radio can't address," Clukey says.
That's certainly what Morgan hopes. He wants to distinguish WCLX from its corporate counterparts that adhere to a rigid programming formula dictated largely by ratings. In Vermont, he reasons, that idea should have some legs.
"Radio has gone in the direction of the dark side," Morgan says. "I believe the future is in the content and providing interesting programming that connects listeners."
To that end, Farm Fresh Radio boasts a 9000-song catalog ranging from Lightnin' Hopkins to The White Stripes. Of those, more than 200 are new. On traditional commercial radio, catalogs generally only include 500 songs, of which fewer than 40 are new.
The tracks they play on WCLX wind up on air only after much research to determine if the songs will fit into their "big ball of music," Morgan says. He and his handful of DJs solicit listener feedback, conduct surveys on the station's website and query just about everyone they know to find out what people want to hear.
That's just part of being a truly local enterprise, Morgan says. By engaging the community and tailoring the business accordingly, Farm Fresh Radio's mission runs parallel to that of the local food movement — something Morgan's already part of.
"We care about what people think," he says. "We care about good songs. We just play good songs.