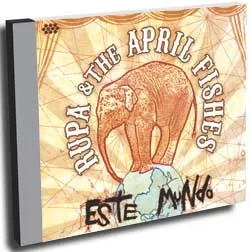 (Cumbancha, CD)
Rupa and the April Fishes are a study in multiplicity. But they come by it honestly. Born to Indian parents in California and raised in southern France, front woman Rupa Marya has been reconciling seemingly divergent cultural influences her whole life. That her unique worldview has directly informed her approach to music is evident in the sprawling sounds found on her band's latest work, the appropriately titled Este Mundo (This World) released on Charlotte-based label Cumbancha.
Este Mundo opens like a cabaret show with the moody intro track "(La Frontera)," which acts almost as an overture, offering glimpses of the multitudinous bounty of styles to come.
The slinky, gypsy-flavored "C'est Moi" is next and introduces the album's running — and most powerful — theme. A doctor at a San Francisco hospital by day, Rupa is fascinated by the fragility of life, the unyielding inevitability of death and the frail beauty inherent in both. Here she croons in French — the multilingual songwriter rarely sings in English. But listeners will hardly need the translation accompanying the lyrics in the album's liner notes to understand her meaning. Her subdued, almost fractured tones would be gorgeously expressive even in pig Latin.
Though Este Mundo will undoubtedly be filed under "world" music in most retail outlets, the disc exhibits a distinct Western pop bent, hinted at on the band's Cumbancha debut eXtraOrdinary Rendition, and more fully realized here. "La Linea" employs a simmering reggae groove, contrasted by soaring fiddle runs and sprightly accordion dalliances. "Culpa De La Luna" features traditional ska heat and an unabashedly pop-a-licious hook at the chorus. "Trouble" is a sly, jazzy tune — sung in English — evoking smoke-filled hothouses and back-alley clubs.
While Rupa's poppier moments are fun, cleverly crafted and may prove more universally accessible to wider audiences, she and her April Fishes are still at their most engaging in more artistically dramatic moments. For example, the jaw-dropping transition from elegiac ballad to scorching klezmer on "La Rose." Or the sprawling, cinematic wonder that is "L'éléphant."
With Este Mundo, Rupa and the April Fishes have crafted a record that could — and should — appeal to a wide cross-section of listeners, not merely those with an affinity for "world" music. That in itself is a feat. But what's more impressive is how they've done it: by blurring lines between cultural influences without sacrificing the qualities that make each so unique. Or, in other words,