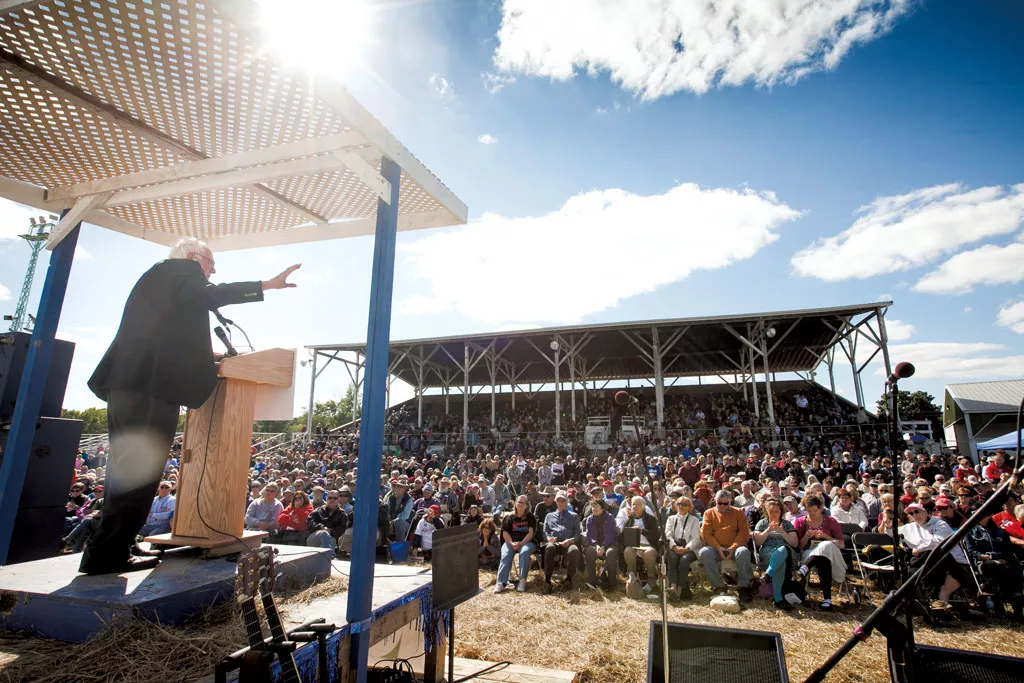 Eric Tadsen
Fighting Bob Fest, Baraboo, Wisc.
The crowd went wild Saturday afternoon as Bernie Sanders ascended a makeshift plywood stage at the Sauk County Fairgrounds in Baraboo, Wisconsin.
While the independent senator from Vermont grimaced and waved, two men standing 30 yards to his right initiated a chant that quickly spread through the rows of folding chairs to the bleachers in the grandstand above.
"Run, Bernie, run! Run, Bernie, run!"
Sanders had come to the Badger State to headline the 13th annual Fighting Bob Fest, where thousands of diehard progressives gather each year to honor the legacy of Robert M. La Follette. A liberal firebrand and renowned orator, La Follette represented Wisconsin in the U.S. Senate before waging left-wing campaigns for the presidency in 1912 and 1924.
To John Nichols, a native Wisconsinite and the Nation's Washington correspondent, the similarities between Sanders and La Follette are unmistakable.
"They had to fight their way in," Nichols says. "It wasn't like someone in Washington said, 'Yeah, we'd like to see them in the Senate.'"
More than a few of the bearded and bespectacled cause-warriors at the fairgrounds Saturday said they hoped Sanders would follow La Follette's lead and set his sights on the White House.
"We're encouraging him to run in order to broaden the scope of the debate," said Madison activist Nate Detra, who handed out "Run, Bernie, Run!" pamphlets at a booth sponsored by the Democratic Socialists of America.
It looks like Detra could well get his wish.
For nearly a year, Sanders has been dropping decreasingly subtle hints that he might run for president in 2016. Though he says he won't make up his mind until after November's midterm elections, Sanders' frequent visits to the early presidential primary and caucus states of Iowa, New Hampshire and South Carolina speak volumes.
"I think he'll run," says David Yepsen, who spent 34 years covering the Iowa caucuses for the Des Moines Register and now directs the Paul Simon Public Policy Institute at Southern Illinois University. "Look, he's not going out to Iowa all the time because he's looking for a vacation or something."
Indeed, as soon as he finished his remarks in Baraboo, Sanders was scheduled to drive southwest to the Hawkeye State to hold two days of town hall meetings in Dubuque, Waterloo and Des Moines.
What for?
"It's to get a sense of, A: Is there the interest in Iowa for a strongly progressive agenda?" Sanders told Seven Days last week. "B: Is there a willingness on the part of people to become actively involved in a grassroots campaign?"
At the Fighting Bob Fest, at least, it seemed like there was.
For 45 minutes, Sanders' audience of hard-core activists clung to the senator's every last shouted word. They cheered at his calls for single-payer health care, college affordability and a "massive" federal jobs program. They booed at the mention of big banks, hedge fund managers and Sanders' ultimate nemeses: the industrialists and GOP mega-donors David and Charles Koch.
Central to the speech was a partial recitation of the Libertarian Party's platform of 1980, when David Koch ran as the party's vice presidential nominee. Among its "crazy, wacky, fringe ideas," as Sanders put it, were the abolition of Medicare and Medicaid, the repeal of all campaign finance laws and the end of the minimum wage.
No longer so fringe, he argued, those ideas have since been adopted by the "right-wing, extremist" Republican Party, whose goal is to "virtually repeal every major piece of legislation passed since the 1930s which protect working families, the middle class, the children, the elderly, the sick and the poor."
Hunched over the podium in gray slacks, white shirt and blue blazer, Sanders' right hand stayed aloft throughout the tirade, punctuating every syllable with a jab of the finger or a wave of the hand. As he worked himself up, he rarely modulated his tone or strayed from a quick, staccato rhythm.
Under the bright Wisconsin sun, the sea of lefties — wearing shirts reading "Proud Progressive," "Feingold 2010" and "Derivatives Are Junk" — roared in approval.
"Frankly, and I am really honest in telling you this, I think what you're looking at is not even a political problem here; it is a psychiatric problem," he said of the "millionaires and billionaires" he believes are ruining the country. "These people are addicted to greed and money, and it is a sickness which is destroying the economy of the United States."
As Sanders stepped down from the stage, the chants of "Run, Bernie, Run!" resumed. Appearing nonplussed, the senator from Vermont beat a quick retreat across the fairgrounds to a silver Toyota Camry.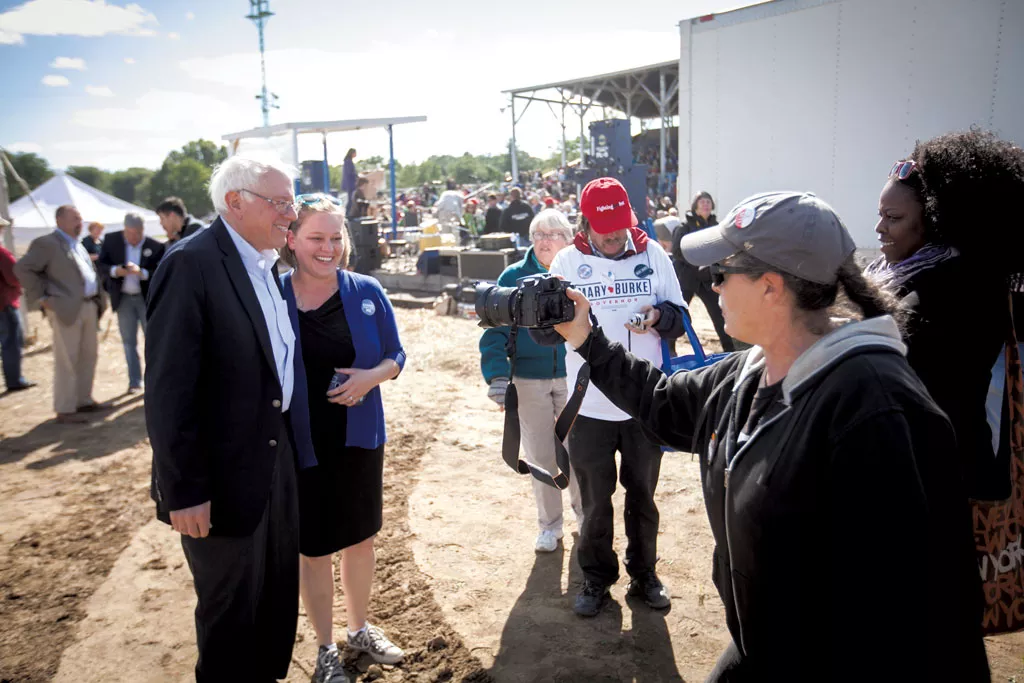 Eric Tadsen
Sanders poses with Wisconsin congressional candidate Kelly Westlund
"You are so inspiring," a woman in a purple fleece jacket yelled.
"Thank you," he said, clearly uncomfortable.
As Sanders and two Senate aides ducked into the rental car, a scraggly man with long gray hair, a plaid shirt and canvas vest yelled, "Safe trip to Iowa!"
'People Don't Want a Coronation'
One hundred miles southwest of the Sauk County Fairgrounds, the city of Dubuque, Iowa, rises from the banks of the Mississippi River, an exemplar of Midwestern urban renewal. Hotels and casinos share the waterfront with the city's historic port, while stately houses dot the bluffs overhead.
Affixed to a steel trestle bridge connecting Wisconsin and Illinois to the Hawkeye State is a white sign with a yellow sunburst that reads, "The people of Iowa welcome you."
Twenty-four years after he arrived in Washington, Sanders has finally arrived in Iowa. Whether or not he follows through with his threat to run for president, his mere presence in the state — 16 months before Iowans trudge to the caucuses on a cold February night — has prompted Washington's campaign-obsessed press corps to take notice.
Sanders had planned to attend a fundraiser in Madison the night before the Fighting Bob Fest, but NBC's "Meet the Press" issued a last-minute invitation to pre-tape a "Meet the Candidate" interview Saturday morning in Washington. Despite his long tenure in Congress, it was Sanders' first time on the gabfest. His colleague, Sen. John McCain (R-Ariz.), has appeared on the Sunday talk shows 97 times in the past five years, according to a recent New York Times report.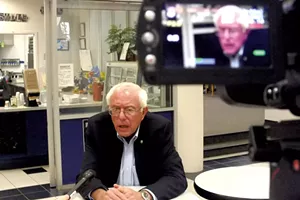 Adam Burke
CNN interviews Sanders at a town hall meeting in Dubuque, Iowa
Newly minted moderator Chuck Todd failed to prod Sanders into saying anything about his presidential plans that he hasn't said before. But simply uttering the words, "I am thinking about running for president," on Washington's preeminent Sunday show ensured that the trickle of press coverage he had received so far would soon turn into a flood.
If you take Sanders at his word, that annoys the hell out of him.
"The media has not much interest in the serious issues facing the country," he told Seven Days. "They are much more interested in gossip and speculation."
Sanders grows frustrated whenever he's asked whether he'd run as an independent or a Democrat, and he bristles when queried about the presumed Democratic frontrunner, former secretary of state Hillary Clinton.
"Well, A: I don't know that Hillary Clinton is running. B: I don't know what she is running on," he said dismissively on "Meet the Press." "Let Hillary speak for herself. I know where I'm coming from."
But for all his talk about the irrelevancy of "process questions," Sanders has done a masterful job courting such queries. For the past year, he has dropped just enough breadcrumbs to keep the media on his tail — wondering if he'll run and how he'll run and when he'll announce — but not so many that they catch him and lose interest.
Those breadcrumbs led a smattering of national reporters to Dubuque's Clarke University on Saturday evening, where 150 Iowans gathered in the student activity center to hear Sanders speak. Among the audience members was Chris Lammer-Heindel, a philosophy professor at nearby Loras College who had become familiar with Sanders from the senator's frequent appearances on the liberal MSNBC.
Lammer-Heindel said he hoped Sanders would enter the race and provide a progressive alternative to Clinton.
Adam Burke
Sanders speaks at a town hall meeting at Clarke University in Dubuque, Iowa
"Despite what anyone thinks about his viability, it would make for an interesting campaign — and perhaps put the Democrats on their toes a little more," he said.
That's a view shared by Hugh Espy, whose Iowa Citizens for Community Improvement Action Fund cosponsored each of Sanders' town hall meetings in the state, along with other advocacy groups and labor unions.
"People don't want a coronation," he said. "They don't want anyone to be anointed by political leaders or the popular press. We want a robust discussion."
Sanders certainly strikes a different tone than the typical would-be president. He is not the man from Hope, Arkansas. He does not believe it's morning in America. And you won't hear the words, "Yes, we can!" out of his mouth. On the contrary, Sanders specializes in the buzz kill. He wants you to know that the world is falling apart, and it's not terribly likely it can be put back together again.
When he took to the podium at Clarke University, Sanders appeared more subdued than he was earlier that day at the Fighting Bob Fest. He had shed the blazer and adopted a softer tone of voice. But it wasn't long before the anger and the outrage reappeared.
"There are lots of people in this country who are angry, and they should be angry," he said. "Unfortunately, they're angry at the wrong people for the wrong reasons. Our job is to make sure they're angry at the right people for the right reasons."
Just who should bear the brunt of the American people's anger is the central question of nearly every Sanders speech. His answer? The economic establishment, the political establishment and the media establishment. Most of all, as he puts it, they should blame "the billionaire class for whom greed is a religion."
Sanders' argument clearly resonates with his audience, which should not come as a surprise in this post-bailout, post-Occupy, post-Ferguson world. But Yepsen, the former Register reporter and columnist, says Sanders' anger carries a certain amount of risk.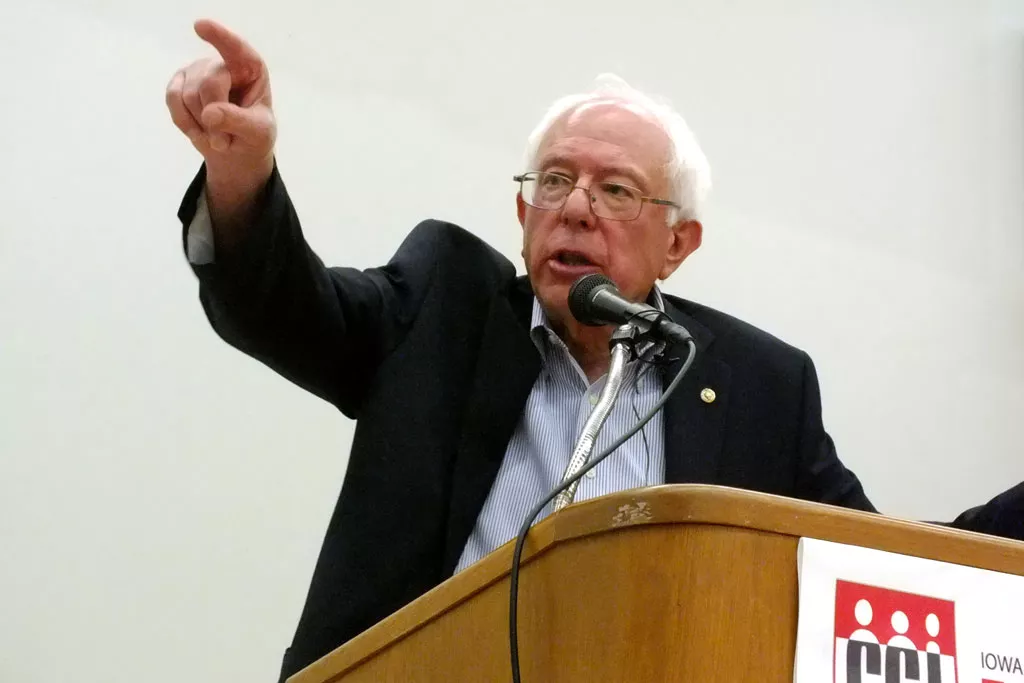 "He's gotta worry about his style a little bit in Iowa. This isn't Vermont or New England, where you can be a little edgier. I think he'll be more effective if he tries to soften his image a little bit, and it's not about him and his crankiness, but about him and his ideas," Yepsen says. "Anger doesn't do well in presidential campaigns."
Sanders does have ideas, and during his remarks in Dubuque, he referred to an "Agenda for America" that includes universal health insurance, a trillion-dollar jobs program, a higher minimum wage and tougher campaign finance laws. But overshadowing every idea is Sanders' apocalyptic assessment of America.
Near the end of Sanders' remarks, his district director and longtime campaign manager, Phil Fiermonte, slipped out the door to warm up the senatorial Camry. Sanders' entire Iowa entourage consisted of Fiermonte, a Derby native and former Burlington city councilor, and spokesman Michael Briggs, an ex-journalist and flack for former senators John Edwards and Paul Simon.
Outside the student center, two organizers from Progressive Democrats of America, Conor Boylan and Steve Cobble, stationed themselves at the door, preparing to hand out pamphlets promoting a "Run, Bernie, Run!" online petition. Formed out of the ashes of the 2004 campaigns of Howard Dean and Dennis Kucinich, PDA has gathered 14,000 signatures calling on Sanders to run. Boylan and Cobble, who planned to follow the senator from Baraboo to Waterloo, hoped to reach 20,000 signatures soon.
After the meeting ended, Sanders barreled through the doorway with Briggs in tow. As several eager Iowans attempted to engage him in conversation, the senator brushed them off and ducked into the rental car.
Boylan approached one of jilted supporters. "We're doing a 'draft Bernie for president' petition," he said. "Would you like to sign?"
'Plowing the Fields'
Some 10,000 Democrats and 200 credentialed reporters descended upon Indianola, Iowa, Sunday morning for retiring Sen. Tom Harkin's 37th and final steak fry fundraiser. Among the Democrats in attendance were Bill and Hillary Clinton, the latter of whom was making her first visit to the state since she placed a disappointing third place in the Iowa caucuses six years earlier.
"Hello, Iowa, I'm baaaaaack," the former secretary of state announced to a cheering crowd of Iowans.
Across the state, Sanders and his two-man team were navigating the Camry 90 miles due east from the Mississippi River to the decidedly less grand Cedar River. Their destination was the Waterloo Center for the Arts, sandwiched between a hockey arena and a vacant building that used to be a Hostess bakery.
If Sanders does indeed run for president, he will have to spend the next year and a half on this same endless journey: through cornfields and strip malls, past silos and anti-abortion billboards.
Former governor Howard Dean knows what that's like. Though he's pledged to support Clinton, Dean says he's happy to offer advice to Sanders.
"If I were him, I'd be going to talk to labor leaders and well-known progressives and meeting with them one-on-one," he says. "Normally what you do at this stage of the game, you find supporters you think you can earn and then ask them to have small house parties."
"You can never start too soon," says Cary Covington, a University of Iowa political science professor. "Hillary Clinton can afford to wait. Somebody like a Bernie Sanders really needs to be plowing the fields, meeting people, lining up support, finding volunteers, making his presence known."
In fact, Sanders has been doing just that — and not just in the Hawkeye State.
For the second year in a row, Sanders recently traveled to the South, making stops in Mississippi, North Carolina and the early primary state of South Carolina. According to Rickey Cole, chairman of the Mississippi Democratic Party, the visits have not gone unnoticed.
"Bernie Sanders is a rare man, because he's sincere. He's the same thing wherever he is, regardless of the crowd. He says what he thinks and speaks his mind, and we need more of that in American politics," Cole says. "He certainly has a constituency here in Mississippi."
Ditto New Hampshire, where Sanders' deep relationship with organized labor is already serving him well. According to New Hampshire AFL-CIO president Mark MacKenzie, the senator has proven himself to be "a strong, articulate voice for working people."
"I think if it was up to us, we would like to see more of Bernie Sanders and what he's talking about," MacKenzie says.
In Iowa, at least, it takes more than a single conversation to win a caucus-goer's vote. Steve Abbott, president of the Communications Workers of America's Iowa state council, recalls that at one 2007 candidate forum in Waterloo, six presidential candidates showed up to work the crowd.
"There were two presidential candidates standing in line waiting to talk to me," Abbott recalls.
Their names? John Edwards and Barack Obama.
"The weaker candidates don't usually last here in Iowa. I think people have an active and functional bullshit detector," says Ken Sagar, president of the Iowa AFL-CIO. "We're able to weed out the ones that aren't going to make the grade, and I think there's room for Bernie. He'd be lively in the debates and may bring up issues that might not otherwise get discussed."
'Would You Please Run for President?'
Sanders arrived at the Waterloo Center for the Arts just before noon on Sunday and tried his best to avoid engaging in human interaction. Until then, Sanders had looked right through me each time we'd crossed paths over the previous 24 hours. He nodded his head, acknowledging me for the first time with a brusque "Paul."
When a volunteer said, "We're looking for more chairs," Sanders grumbled, apparently to nobody, "There's always a problem. Looking for more chairs..." Then he stalked off to the other end of the lobby.
Inside an auditorium filled with 140 people, Sanders appeared to find his voice. He's been holding town hall meetings for decades and clearly thrives on the format.
The senator began by explaining that he first became interested in economics when he was just five years old, after he "noticed what was happening to my family."
"My father worked his whole life. He came to this country from Poland at the age of 17 ... without a nickel in his pocket," Sanders said. "He never made a lot of money, but he was able — this is the story of millions of American families — by working hard his whole life, he was able to send two of his kids to college."
Sanders paused.
"That's a pretty good deal," he said. "And that's what America's supposed to be about."
But these days, he argued, it's not what America is about. Real unemployment stands at 12 percent, youth unemployment at 20 percent and African American youth unemployment at 33 percent. Five and a half million young people are unemployed, he said, "hanging around on street corners all over America and some of them are doing drugs and some of them are getting involved in crime."
"And to my mind, that explains to me why we have more people in jail than any country on earth. More than China," he said, his voice rising to a shout. "Maybe! Just maybe! We might want to invest in our youth! Rather than in jails!"
Of course, the media would never tell you that.
During a question-and-answer session, Sanders finally got the question the crowd was waiting for.
Rachel Antonuccio, a young lawyer wearing a black "Bernie for President" T-shirt, stood up and said, "I have a very simple question: Would you please run for president?"
The audience burst into applause.
"This is the god's truth: I do not wake up every morning with some kind of burning desire to be the president of the United States," Sanders said, adding that anybody who did had to be "crazy."
Fixing the nation's problems, he said, is what motivates him, "And that's why I'm here in Iowa today."
There are plenty of reasons to forgo a run, he said, not least of which is the near certainty that he would be clobbered on the fundraising front. Sanders has an impressive network of small-dollar donors — 137,000 of them, according to Fiermonte — but he does not accept corporate PAC money. And, as he frequently mentions, the Koch brothers are unlikely to bankroll his campaign.
"I have to be realistic. I don't want to run and make a fool of myself or, more importantly, do a disservice to all of the ideas that we believe in," he told Antonuccio. "If I ran on this program and we didn't run a good campaign and it did very poorly, it would be a disservice to the ideas that we're fighting for. So if you do it, you've got to do it well and you've got to do it to win. And that's tough stuff. That's very, very tough stuff."
So can Sanders, in fact, win?
It's difficult to find anybody who believes the answer is yes — and not just because he's an old white guy from a tiny liberal state who calls himself a Democratic Socialist.
If Clinton enters the race, as she is almost certain to do, she will absorb the preponderance of money, talent and institutional support necessary to win the Democratic nomination. If she doesn't enter the race, a flood of A-list candidates, such as Sen. Elizabeth Warren (D-Mass.) and Vice President Joe Biden, would likely give it a closer look.
A poll released by CNN on Friday showed Clinton leading the hypothetical Democratic field, with 53 percent of the vote. Sanders trailed Biden and Warren with 5 percent.
Though he hasn't yet verbalized it, Sanders has made pretty clear that he's unlikely to run as an independent, saying he would refuse to serve as a "spoiler."
"There's no reason to go to Iowa if he's not going to run as a Democrat," Dean notes.
Though it's tough to find anyone who believes Sanders could win, it's equally tough to find anyone who thinks it's a bad idea for him to run.
"He's running not because he wants to be president, but because he believes in things," Yepsen says. "By running, he'll have a platform to talk about those views and make those arguments. He'll make it easier for other progressives. He'll inject ideas into the campaign."
And so long as he refuses to compromise his beliefs and avoids committing a major gaffe, he's likely to leave the race with greater stature than he has today. Just consider the cases of John McCain, Ron Paul and, well, Hillary Clinton.
"Some guys, they sell books. They get bigger lecture fees," Yepsen says. "But I think his motive for running would be to advance some progressive ideas and make sure they're in the national debate. If he runs a good campaign and it's civil and classy, then he'll make a contribution."
Even Sanders admits he could win by losing.
"Obviously, if I got into it, I wouldn't get into it unless I thought I could win," he told Seven Days. "But your point is, 'Can you win even if you don't win?' And the answer is 'yeah.' You know, if you're educating tens of millions of Americans, if you're electing delegates — you know, if I chose to run as a Democrat — are you raising political consciousness at the time? Political consciousness in America is very low. So the answer is: That is an interesting point."
Outside the Waterloo Center for the Arts, Boylan and Cobble again stood sentry, asking attendees to sign their petition. And with his entourage in tow, Sanders again beat a hasty retreat, avoiding his potential supporters like the plague.
After his car pulled away, an elderly woman named Mary Fain lit a cigarette and remarked that she was likely to vote for the senator from Vermont, if he decided to run.
With a mix of resignation and pride, she remarked, "I've thrown away my vote all my life."
'Sorry, Who — You Are With?'
Sanders' final town hall meeting, in the basement of a Methodist Church in suburban Des Moines, drew the biggest crowd yet — by a long shot. By the time Sanders took the microphone, some 350 people had packed the cramped room, prompting the senator to request that younger attendees give up their seats for their elders.
Sanders was so pleased by the standing-room-only turnout, he nearly cracked a smile.
"I get high on this, because I just — I love it," he told the crowd.
The senator expressed his happiness the only way he knows how: by getting even louder and angrier.
After working his way through the media, "right-wing extremist" Republicans and the Koch brothers, Sanders finally landed on one of his other favorite topics: Wall Street bankers.
"People are angry about their power, and people are angry and wonder whether the justice system works for the CEOS of financial institutions who helped destroy the economy of the United States of America!" he shouted. "Why aren't they in jail?!"
Sanders had switched from one-handed gesticulation to two-handed. Now every syllable was punctuated by synchronized jabbing and pointing.
"Some people say not only are these guys too big to fail, they're too big to jail!" he said to hearty guffaws.
For at least the fourth time in two days, Sanders went after his target of the moment: the New York Times, which he criticized for failing to cover last Thursday's symbolic vote to undo the U.S. Supreme Court's Citizens United campaign finance ruling.
"We didn't get one Republican vote. Unbelievable! I would consider it — I'll talk about this in a minute — about the most important issue facing our country. The New York Times forgot to write about it. At all!" he said. "So every week we see something else that's fictional. We see gossip. We see the dramatic. Blah, blah, blah, blah. But we don't have an explanation as to what is happening to the working people in this country. The media doesn't help us get involved in serious discussion, which is what I want to do."
At each of his town hall meetings, Sanders tried to close his remarks with a touch of optimism, noting in Des Moines, "My wife always tells me that I should lighten up or at least hand out tranquilizers or suicide prevention packs."
But even Sanders' optimism sounds pretty damn depressing.
"Let me conclude by just saying this: These guys have all of the money. They have huge influence in the media. They have huge influence over — they own the Republican Party. They have influence in the Democratic Party," he said. "But the one thing they do not have is the people. There are a hell of a lot more of us than there are of them."
As he basked in the glow of yet another standing ovation, it was clear the 73-year-old was spent. His staff ushered him into a kitchen in the back of the church basement to take a photograph with a group of children and answer questions from reporters, some of whom had migrated from Harkin's steak fry to Sanders' church revival.
Holding on to a table for support, the senator asked his staff to bring him two chairs. When they arrived, he took one and I took the other.
"So, it's been a long couple of days," I said. "Any reaction to what you've seen out here?"
Pointing to a young television reporter in a pink jacket standing nearby with a camera, he said, "Sorry, who — you are with?"
"I'm with Fox," she said.
"Fox News? Local Fox?" he demanded. "Pardon me?"
"National?" the reporter said tentatively.
"OK, I'm talking to him," Sanders said, motioning toward me.
"Sure, I'm not reporting anything," she said.
"OK, would you mind if I just talk to him alone now, please?" he said, pausing until the reporter packed up her camera.
The silence was deafening.
Turning his attention back to me, Sanders said he was pleased with the turnout at the weekend's events.
"There seems to be a lot of support," he said. "And I was very happy with the week. I thought it went really well."
Did he have a better sense of whether Iowans could get behind him?
"Well, there are 3 million people in Iowa, and I didn't quite hear from all of them," he said sarcastically, mentioning, once again, that the American people are very, very angry.
"Are you closer to running for president after this weekend?" I asked, focusing, like everyone else in the media, on speculation, not substance.
"No," he said. "I've got a lot of work to do. This is a huge decision — one that I will not make easily, and I've got to talk to a whole lot of people. One good weekend in Iowa does not make a decision."
After taking a few questions from the Fox News reporter, Sanders worked his way through the crowd in search of an exit. As he crossed the dark churchyard with Fiermonte and Briggs, an older woman pursued him, saying, "Senator Sanders?"
No response.
"Senator Sanders?"
No response.
"Senator Sanders?"
When the maybe candidate ducked into the Camry, the woman asked Briggs if he could give his boss the piece of paper she was holding. He'd be happy to, he said, and followed Sanders into the car.
Fiermonte hit the gas, and the senator rode off into the night.
Seven Days is on the Bernie Beat!
On his first day as mayor of the Queen City, Bernie Sanders shared a prediction with the alternative weekly Vanguard Press: "People will look back to Burlington, Vermont, 1981, and say: 'It all started here.'" Socialist Sanders, who won the mayor's seat by 10 votes, was likely envisioning some kind of populist revolution. Instead, what has turned out to be really popular is Bernie himself. Forty-three years and 18 elections after he first ran for U.S. Senate on the Liberty Union ticket, Vermont's outspoken independent is considering a run for president.
How did he get here from there?
Seven Days lays it out on Bernie Beat, a new digital guide to Sanders' colorful political career through the eyes of the state's independent media. Original articles and video from more than 30 years of Bernie-watching puts the iconic public servant in context. A multimedia time line, combined with ongoing coverage of Vermont's junior senator in D.C. and on the campaign trail, tells the real story of the outsider who would be president.
What about the fun stuff?
Bernie Beat also features campaign memorabilia and audio from a long-forgotten 1987 album produced by Todd Lockwood, We Shall Overcome, featuring Bernie "singing" tunes, including "This Land Is Your Land."
The original print version of this article was headlined "'Run, Bernie, Run'"