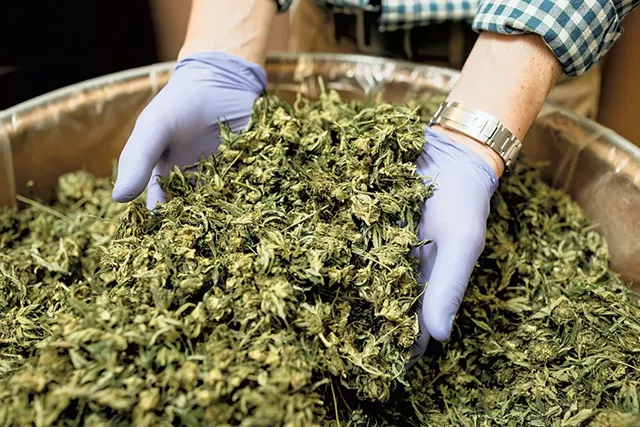 The skunky aroma of cannabis greeted a visitor at the door of Kria Botanicals' small South Burlington lab last week.
Inside, a shiny silver machine hummed away, using high pressure and liquid carbon dioxide to separate commercially valuable aromatic compounds known as terpenes from finely ground hemp plants. Past the oven and refrigerators, in a second room, a rotary evaporator purified cannabidiol oil, or CBD, a highly sought-after product of hemp.
By the time Kria processed the CBD to its customer's specifications, the company would have an oil that could be added to food, tinctures, balms, salves, capsules — really any edible or cosmetic product — and sold across the country.
"We're making consumer-ready, boutique, high-end material ... that blows people's minds when they see it," said Dan Chang, a Kria cofounder.
In the coming months, their products could earn a distinction that would only add to its value — a Grade A seal from the State of Vermont.
Draft regulations circulated to industry insiders last week by the state Agency of Agriculture, Food and Markets would allow hemp products and crops grown and processed in the Green Mountain State to be certified as Grade A or B.
Much like the rules governing maple syrup, craft beer and cheese, the proposed grading system is intended to capitalize on the Vermont brand by giving the state's burgeoning hemp industry an official, government-sanctioned stamp of approval — and protection against posers.
"Hemp or hemp-infused products neither wholly grown nor processed in Vermont cannot claim Vermont hemp grades even if manufactured in Vermont or containing other Vermont agricultural products," the draft rules read.
Such a standard could prove important after the recent passage of the new federal farm bill, which legalized hemp cultivation across the country.
"We see Vermont's path to success really being wrapped up in the integrity of what we're doing in the state," said Chris Thomas, cofounder of Guilford-based Good Body Products. "We're competing ... against states like Texas, which will be doing massive grows. And, really, I think Vermont still maintains that benefit of being known for the integrity of our products and our goods."
For most Vermont processors and cultivators, the proposed rules would be a welcome change for an industry in need of some government oversight. Several likened the current climate to a Wild West culture in which businesses take advantage of lax regulations.
"There're lots of people putting out Vermont CBD products that aren't growing their hemp in Vermont right now," said Joe Pimentel, a Stockbridge hemp farmer. "So I'm super psyched about those labeling guidelines."
The rules come nearly six years after Vermont legalized hemp cultivation. Unlike its cousin marijuana, hemp is high in CBD but low in delta-9 tetrahydrocannabinol, the psychoactive component in cannabis that's also known as THC. To comply with the proposed regulations, hemp plants and products must contain no more than 0.39 percent THC, a negligible amount that won't get a user stoned.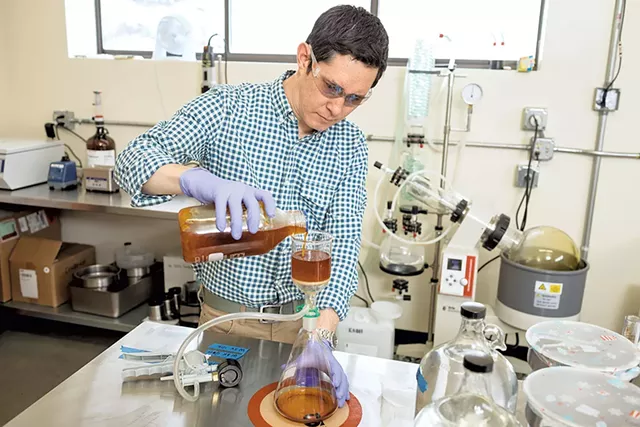 Oliver Parini
Dan Chang Of Kria Botanicals
It's the other supposed benefits of CBD — such as its purported anti-inflammatory properties — that are fueling a hemp boom in the Green Mountain State. In 2018, 461 Vermonters registered to grow or process hemp; cultivators grew about 3,300 acres of the crop, according to data compiled by the agriculture agency. The number of registrants quintupled from the previous year.
A farmer need only pay a $25 fee and register with the state to legally grow as much hemp as he or she wants. Officials track who is growing hemp and where, and the agriculture agency retains the right to test or inspect the crop during any step in the growing cycle, from sowing the seed to processing.
The proposed regulations would still allow officials to drop in unannounced to test crops and would empower them to test hemp-infused products, as well. The rules would also require cultivators and processors to test their products for potency and for contaminants such as pesticides and heavy metals. They would be required to keep the results of those tests, along with other records related to the growing or processing of hemp, on file for three years. In addition, each processor and grower would be required to submit an annual report to the agency so it could study "the growth, cultivation, and marketing of hemp."
Such regulation could "weed out" the Vermont hemp landscape, Thomas said. He emphasized that his company incorporates locally grown, processed and tested CBD in its salves and body butters and has always used natural, organic ingredients. Other would-be hemp entrepreneurs "faced with the wall of applications, forms and paperwork might not be as inclined to do a cannabis-related business," he said.
"We've brought it upon ourselves to put these checks and balances into place," Thomas said, referring broadly to the state's largely unregulated hemp industry, which he believes has a "cutthroat" nature. "We're welcoming of a system that does that, but be aware that it is going to restructure the landscape in a big, big way."
The rules aren't yet in final form and may be modified. Feedback from hemp businesses and the general public will be incorporated before the regs are filed with the Legislative Committee on Administrative Rules and the Vermont Secretary of State's Office. Once adopted, the ag agency can enforce the rules as if they were written into law.
"It's well intentioned, and it's clear that the agency has been listening, and I think it goes in the right direction," Bill Lofy, a Kria cofounder and veteran political operative who served as former governor Peter Shumlin's chief of staff, said of the proposal. "We also appreciate that ... they're open to hearing suggestions and hearing the experiences a business like ours is encountering."
A legislative hearing about the hemp industry is planned for Friday, January 25, before two House committees: Agriculture and Forestry, and Commerce and Economic Development. Lofy and Chang are scheduled to testify.
At the Statehouse last Friday, Stephanie Smith, the ag agency's chief policy enforcement officer, fielded questions about hemp from eight legislators on the House Agriculture and Forestry Committee. Rather than inquire about the proposed rules, most lawmakers asked basic questions about cannabis sativa itself: What are the various hemp products and by-products? How does someone register with the state to grow hemp, and what does it cost? Where do growers get seeds?
One of the more interesting tidbits emerged when Rep. Carolyn Partridge (D-Windham), the committee chair, told her colleagues that she'd grown 21 hemp plants in 2018. Later, Partridge told Seven Days that she'd likely make a salve or oil from her crop, which was still drying in her garage. "That's my plan, but it's a learning process the entire way," she added.
In an interview after the committee meeting, Smith explained that the proposed rules are a requirement of a law passed last year. Upon adoption of Act 143, many in the industry weighed in on the direction of the regulations, she said.
Oliver Parini
Bill Lofy and Dan Chang of Kria Botanicals
"They also were interested in creating a Vermont brand," Smith said. Their message, she said, was that "we have a great opportunity to use the same kind of marketing techniques and quality techniques that exist for craft beer in the state of Vermont. How can the agency [do the same] with respect to the cultivation and processing of hemp?"
Introducing different grades of hemp, akin to those describing maple syrup, appears to be one marketing attempt. Officials would grant an A to products grown, stored and processed in state-certified facilities. The B grade would be for hemp also grown in state but not kept in certified facilities.
Daniel Giangreco, executive director of the Vermont Cannabis Association, worries about the effect of such a system.
"With such a slight difference being a justification to downgrade a product to B, I think that's pretty problematic," Giangreco said. "And, really, there's no guarantee that what's produced under the A grade versus the B grade will really be any different."
And missing the higher grade could mean lost revenues for smaller farmers who "are unlikely to meet those proposed standards," Giangreco added.
Stockbridge farmer Pimentel is among the growers who are encouraged by other aspects of the proposed rules. The draft document includes definitions for terms including "full spectrum" and "isolate," which refer to concentrates often found in CBD products. "Isolate" is a single cannabinoid, while "full spectrum" includes other parts of the hemp plant such as vitamins and minerals, fatty acids and terpenes.
Pimentel, who raised 1,500 hemp plants last year, said some producers are "just seeing the dollar signs" and plowing ahead with shoddy business practices instead of cultivating trust in the budding field.
"One of the most frustrating things in the industry right now is that there are no rules," he said. "Anybody can say anything about anything they want to."
Pimentel, who sells a popular line of his Luce Farm hemp honey for $50 a jar, said he's been vigilant about testing the potency and purity of his plants and oil in anticipation of the coming regulations, and because he wants the best product for his customers. This season, Pimentel had CBD extracted from his hemp at the Kria lab.
The processing facility opened last September. Rather than lab coats, cofounders Chang and Lofy dressed casually in boots and sweatshirts during a tour. In a light-filled office space above the whir and whoosh of the extraction equipment below, both men expressed optimism about the draft rules and what the future holds for their company, which could experience a big bump in business if more growers want their product processed in Vermont.
Some of the proposed regulations appear sound, while others "will need to be tailored a little bit more," Chang said. "But on balance, the rules are very good and will do good for Vermont hemp."
Read the full draft rules below: