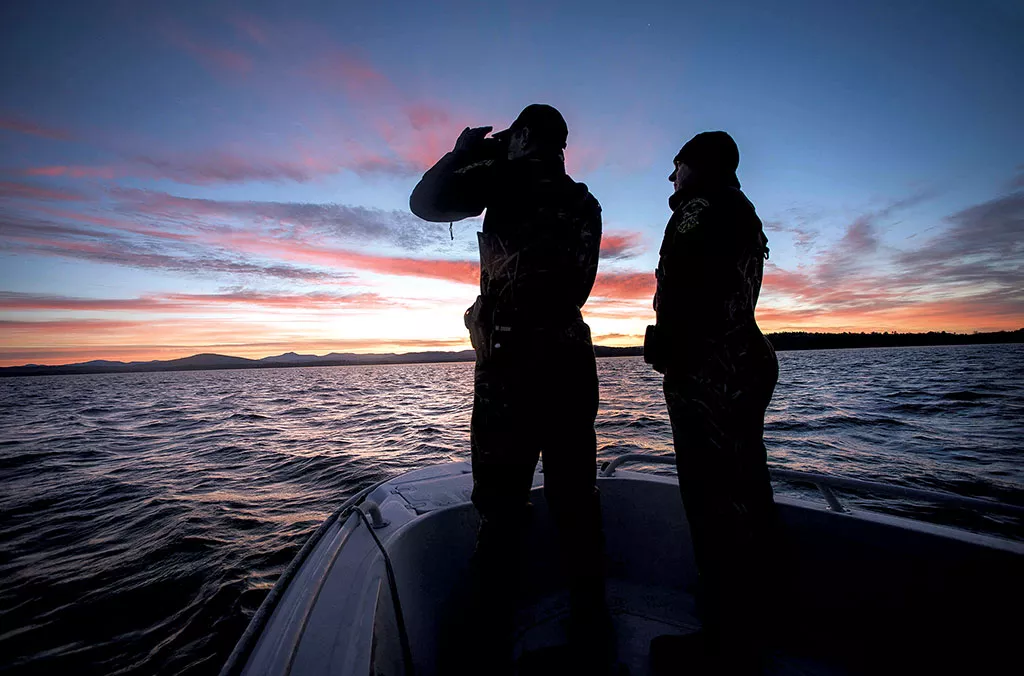 Caleb Kenna
Vermont State Game Wardens Dale Whitlock and Dana Joyal
Before dawn last Saturday, two Vermont game wardens navigated a Boston Whaler down the inky black Otter Creek and onto Lake Champlain, stopping briefly to watch the sun rise. Using binoculars, they turned their attention to a hemlock-shrouded wooden structure in the water that had a boat moored under it.
"I hate to wreck a guy's hunt," said Warden Dale Whitlock, slowing the boat down as if he might be having second thoughts about approaching the duck blind. Suddenly shots rang out, and, a second later, the wardens saw a splash.
That was Whitlock's cue. He brought the boat over, while Warden Dana Joyal climbed onto the platform to join two men bundled in camo. The hunters were cooperative as he checked their credentials, but they were hardly chatty. Joyal asked the older of the two how much he paid for his shotgun and complimented him on getting a good deal.
Meanwhile, back on the boat, Whitlock was inspecting their three-bird bounty. He had a dead duck draped over his knee. With one hand, he supported its limp neck; with the other, he flipped through a field guide to waterfowl. Duck hunters must comply with complex regulations. They're entitled to six birds a day, but stricter limits apply to certain species. For instance: People can shoot just one black duck per day and no more than three wood ducks.
"Puddle ducks I know by heart," Whitlock explained, but the bird on his lap — a small creature with a milky-white neck, charcoal bill and brown wings — was less common. He determined it was an old squaw.
The birds passed the test — and so did their predators. Satisfied, Whitlock and Joyal turned their boat around and headed back up the Otter Creek.
Game wardens have been patrolling Vermont's land and waters for more than a century, keeping one of the state's most sacred traditions — hunting — in check. That requires issuing tickets and making arrests, but everyone, including the hunters they crack down on, benefits from their greater goal: sustaining native fish and game.
Vermont's three dozen wardens are trained and ranked as cops and have all the same law-enforcement powers. Like other officers, they carry guns and pepper spray. But the similarities end there: Each field game warden covers roughly 300 square miles — usually alone and often at night. In addition to catching poachers, they put down rabid raccoons, dispose of roadkill, extract bear teeth, arrest people for snowmobiling under the influence and help state troopers track down missing people.
Caleb Kenna
Hunter in a duck blind
Lt. Curtis Smiley, a 22-year veteran who oversees the Northwest region, is a ballistics expert who instructs wardens on how to reconstruct a bullet's trajectory. Because they are constantly dealing with firearms, game wardens are often called upon to perform this service by other law-enforcement agencies investigating gun-related crimes.
In recent years, the green-clad woodland cops have embraced 21st-century policing techniques — using social media for tips and collecting DNA samples to link the carcasses of illegally killed deer to the meat stored in a suspect's freezer.
But age-old traditions endure, too, in the hunt for poachers: collecting gossip at general stores, hiding in roadside ditches and setting up decoys, to name a few.
When rifle season starts November 14, the wardens will function as beat cops, detectives and coroners, keeping tabs on the tens of thousands of people in the Vermont woods trying to kill white-tailed deer.
They can count on two things: Almost everyone they encounter will be armed, and none of the "victims" will be able to testify.
Conservation Versus Sport
Vermont was the first state to enshrine the right to hunt and fish in its constitution. But by 1779, logging, sheep farming and other human activity had decimated the state's deer herd and other game species. That's the year the state passed its first "deer welfare" law, according to Smiley, who also happens to be the unofficial warden historian.
Not surprisingly, the first fish and game regulations were not well received. Local "fish wardens," as they were first called, slowly gained authority, but some towns simply refused to appoint anybody.
In 1857, George Perkins Marsh, the state's first fish commissioner and a pioneer of Vermont's wildlife conservation movement, made this report to the governor: "The habits of our people are so adverse to the restraints of game laws, which have been found peculiarly obnoxious in all countries that have adopted them, that any general legislation of this character would probably be found an inadequate safeguard."
But lawmakers went ahead and passed a bill in 1904, creating modern-day state game wardens who were then paid $2 per day. As several wardens noted, that makes their particular branch of law enforcement older than the Vermont State Police.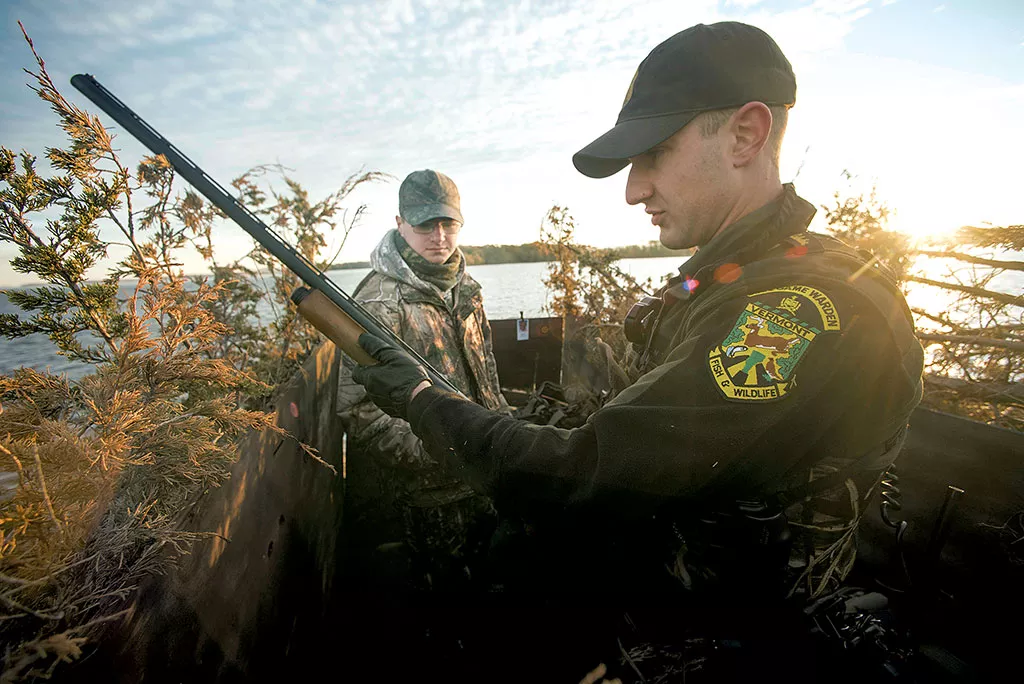 Caleb Kenna
Dana Joyal
In subsequent decades, wardens have played a key role in nursing endangered fish and game populations back to sustainable numbers. Hunting seasons are carefully calibrated to keep it all balanced: Overhunting would thin a species too much, and, unchecked, animals could run out of food or overrun other species.
Vermont Fish & Wildlife Commissioner Louis Porter characterized the state's wildlife management approach as an "untold environmental success story."
Gray squirrels, black bear, ruffed grouse and rabbits all have their own seasons. For deer, there are archery, muzzle-loader and rifle seasons, with distinct rules about the number of female and male deer that can be taken.
In Vermont, hunting is allowed on private land, unless landowners notify the town clerk and install proper signage around their property indicating otherwise. These days, wardens are busy perusing land and water in search of illegal tree stands, duck blinds, traps and bait. They conduct regular checks to ensure that hunters are carrying legal weapons and licenses.
Vermont's deer herd is considered healthy by fish and game standards. Officials are more worried about their human predators. Hunters are getting older — a demographic trend affecting the entire state — and at some point these senescent sportsmen will retire their rifles. At the same time, the combination of suburban sprawl and an increase in the amount of "posted" land has limited the territory that is open to hunters.
There's also the matter of money. Vermont sportsmen currently pay the salaries of the people who regulate them — dollars derived from fees from hunting licenses and a federal tax on sporting equipment fund the warden squad.
For now, though, the enforcers have no less to do, and in Vermont, they've developed unique specialties in everything from decoy design to exotics. Wardens are sometimes called "fish cops," "skunk sheriffs" and "twig pigs," but their methods are more sophisticated than people might suspect.
All Over the Map
Robert Currier, 28, moved to Vermont to become a game warden. Before that, the New Jersey native was on a security detail for the Philadelphia Eagles, standing sentry outside stadiums and players' hotel rooms. Currier has chameleon qualities — after just four years on the job, he drops his Ts like a true Vermonter — and his brusque demeanor gives the impression he's got no time for small talk.
In fact, he doesn't. His district covers much of Chittenden County, and among fellow wardens, he has the unenviable reputation of being a "shit magnet" — meaning he deals with a lot of crime.
Currier has learned to use the urban environment to his advantage. Last December, he obtained video footage from the Grand Isle ferry to arrest Alan Baker, a 70-year-old former Burlington cop, for smuggling deer he shot at a captive hunting ranch in New York. Currier's multiyear investigation revealed that Baker had been entering the imported bucks in big-game contests, claiming to have killed them in Vermont. Worse, they came from an area with chronic wasting disease, which means the malady could have crossed state lines.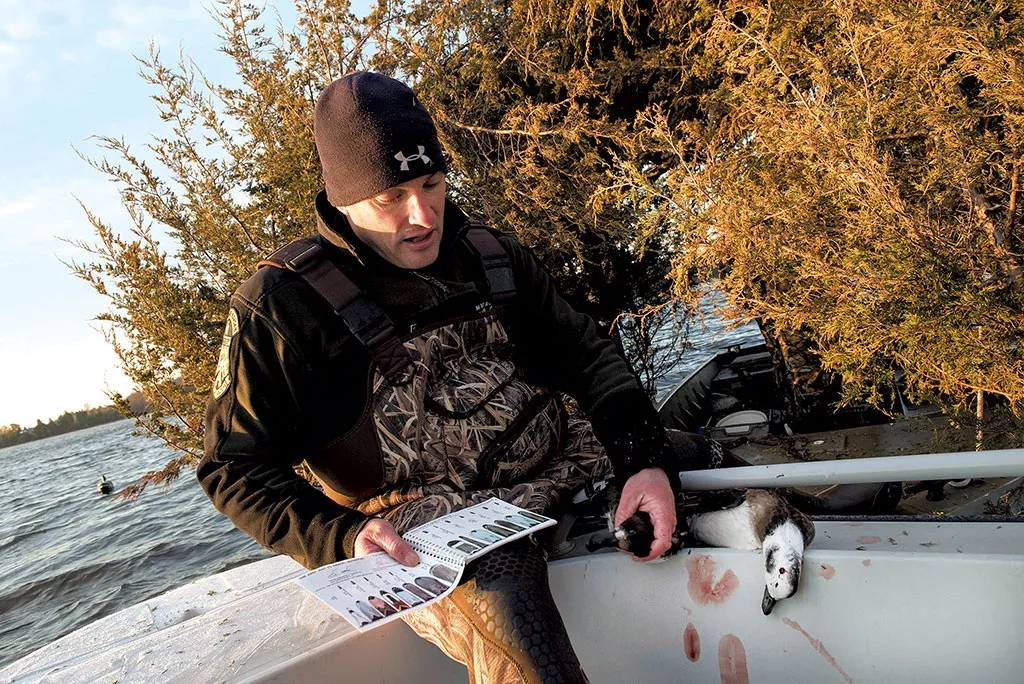 Caleb Kenna
Dale Whitlock
In a short-lived and less sophisticated bust, Currier and some Burlington cops discovered a 32-plant marijuana operation while trying to direct a disoriented moose out of the city.
Like his colleagues young and old, Currier relies on social media for leads and evidence. He declined, however, to discuss his methods out of concern that poachers might find ways to evade him.
Warden Mark Schichtle of Wells River was more forthcoming. He recalled a Facebook photo that spurred him to action. The son of a town clerk in his district posted a shot of himself posing with a dead, out-of-season mink — which prompted a visit from the warden. The son was able to prove that the animal had been eating the family's chickens, which meant he was legally justified in killing it.
Schichtle spent two decades in radio, first as a disk jockey known as Markus of the Darkus and later as a morning talk show host. At age 40, the avid bass fisherman with a master's in philosophy decided to leave Texas and put his powers of persuasion to a different use.
The garrulous 50-year-old is about as warm and fuzzy as game wardens get, and appropriately, he works with a black Lab, Magooch — 'Gooch for short. The dog is trained to track down missing people and sniff out gunpowder traces. To show off his dog's nose, Schichtle encouraged a reporter to toss her car keys into a field of high grass. At the command "Seek," Magooch went searching; less than a minute later, she'd located them. In 2011, the lab also located a 77-year-old New Yorker who'd lost his way in a Groton forest.
Schichtle recently found what he had been looking for — a man hunting on posted land. Schichtle returned the next day. He took GPS readings of several illegal tree stands and measured the distance between them and the illegal bait scattered below — a salt block and a generous spread of partially nibbled apples.
Schichtle also found an aerosol can of Acorn Rage Bomb, marketed as "the hottest deer scent technology on the market," which the rogue hunter likely left behind. Similar lures are against the law in Vermont, Schichtle said, but that particular variety is legal.
He had gathered all the evidence he'd need to charge the guy with illegal baiting, unmarked tree stands and hunting on posted land — each one a misdemeanor. If convicted, Schichtle said, the man would lose his hunting license for three years in Vermont — and roughly 40 other states with which it has reciprocity — and pay fines to the tune of several thousand dollars.
Poachers rarely go to jail.
Wildlife CSI
Witnesses tend to be few and far between in the wardens' cases, but DNA evidence abounds. Before testing samples — which isn't cheap — they'll usually consult with Warden Rich Watkin.
Conveniently, Watkin has a PhD in cellular biology. Known as "Doc" among fellow wardens, the English scientist researched skin cancer using cells from foreskin before coming to the University of Vermont for post-doctoral research on asthma. Prevented from becoming a police officer in England by his own childhood respiratory ailment, Watkin described his decision to abandon academia for the woods of Vermont as "multi-factorial." Bottom line: Spending hours in labs had lost its appeal.
Caleb Kenna
Dale Whitlock with a poached deer that will be used as evidence
He'd never hunted — or even fired a gun — before beginning warden training in 2006. But he survived 16 weeks at the Vermont Police Academy and eight months of field training, in which trainees shadow a different warden every few weeks.
When he became a warden, Watkin, who now lives in Whitingham, immediately made himself useful. Though the use of DNA predated his arrival, he trained his fellow wardens on best practices for collecting and preserving samples. And he arranged for them to be tested at a UVM lab instead of sending them out of state at a higher cost.
Watkin said people are still surprised to learn that wardens can link blood by the side of the road to the venison in their freezers. He recalled an incident last year in which a witness reported that a hunter-education instructor had illegally shot a deer in a protected wildlife area. He took a sample from blood at the scene of the crime. Later, he paid a visit to the instructor, who "lied up and down." But Watkin spotted blood in the back of her truck. "I'm like, 'Can I have some of that blood?'" he recalled. In that case, he never had to run the test; raising the possibility was enough to elicit a confession. "You don't have to be a scientist to know that we can make matches," he said.
Wardens can glean valuable information from necropsies, too. Watkin had the night off last Tuesday, but when a trooper called him about a suspicious car-versus-deer incident, he told the officer to bring the animal up to his house. "I only have a few deer in my district. I've got to protect them," noted Watkin, who covers eight towns in Bennington and Windham counties. High elevation and limited farmland keeps the southern herd small.
The driver had seemed nervous, and the deer had what looked like a knife wound, causing the officer to question whether its death was really an accident.
"The first thing I went for was the eyes," Watkin said. At the time of death, he explained, "the eyes go almost an iridescent color and the pupils dilate. Over the course of time, the pupils will start to narrow."
Wardens typically carry thermometers to get body temperature readings of dead animals. They plug the number into a formula that also takes the outdoor temperature into account to determine time of death.
In this case, Watkin, who cheerily described himself as "elbow deep in blood," didn't need one. He saw steam coming from the deer — which confirmed the death was recent — and he saw evidence of blunt force trauma. Cause of death: car crash. The driver, he concluded, had been telling the truth.
Old School
Technological advances haven't fundamentally changed how Vermont game wardens function. Much of the job is still "huffing up and down mountains," as Watkin put it. To assist them in covering more ground, they rely on multiple conveyances. In addition to their forest green trucks, they're equipped with an ATV, a snowmobile, a boat and a kayak. In the summer, their work is mostly focused on anglers and boaters; in winter, they turn their attention to ice fishermen and snowmobilers.
Right now, though, the wardens are often in the woods, enforcing regulations that include how and when hunters can take an animal. They're on the lookout for "road hunters" or "deer jackers" — people who use headlights and powerful flashlights to locate and confuse cervids at night. Arnold Magoon, the only Vermont game warden killed in the line of duty, was beaten to death in 1978 with a steel flashlight after confronting a man who had just killed a deer at night. His assailant was convicted of murder.
The wardens are also "running decoys," as it's called, to weed out unethical sportsmen proactively. As Russ Shopland, an East Hardwick warden, said of what he prefers to call the "facsimile" approach: "We're creating an opportunity for people to behave as they normally would, in a controlled environment."
Whether it's bored teens or hunters following a family custom, countless people have fallen for the fake deer — shooting after dark, out of season, from their vehicles or the side of the road. Wardens say they arrest the same offenders repeatedly. Former Vermont sergeant at arms Kermit Spaulding got busted twice for shooting at decoys. One case went all the way to the Vermont Supreme Court, where the judges upheld the enforcement practice.
Setting up such a sting requires patience. Whitlock and fellow wardens Josh Hungerford, Wesley Butler and Eugene Stearns recently held a five-hour nighttime vigil in the Lincoln woods, across the road from two fake deer.
Shortly after dusk, Whitlock knelt beside a doe decoy and, with surgical precision, pushed reflective thumbtacks into the corners of its eyes.
Hungerford worked on the other decoy — a buck. He rifled around for a pair of intact antlers and fluffed up its fur in an unsuccessful attempt to mask old bullet holes. Butler went looking for spare batteries. Using a remote control, wardens can make a decoy's head and tail move pretty convincingly. But a bullet or arrow to the wrong spot can leave them permanently paralyzed. Decoys cost more than $1,000 each.
When the group arrived at the spot Whitlock had selected — a field near where a fawn had recently been found dead in a pond — Hungerford and Stearns stayed hidden in their trucks, ready to give chase to potential poachers.
Whitlock and Butler, a former professional fly fisherman, posted up behind a maple tree, close enough to the road to jump out and confront a potential "client." The pair engaged in vehicular profiling, perking up each time they heard a clattering motor. Apparently, there's a correlation.
It was 25 degrees with periodic hail, and at one point, the 41-year-old Whitlock, who has been a warden for nearly half his life, made a confession: When surveilling solo, the soft-spoken defense-tactics instructor fantasizes about trees giving off body heat. Not that he — or any other Vermont game wardens — would trade the cold tree rest for a plush desk chair.
The weather on that mid-October night was balmy compared to what they'll endure later in the season. There are legends about past game wardens lying down during winter stakeouts, covering themselves with a sheet, and allowing the snow accumulation to camouflage them.
The Addison County crew left this one empty-handed, but no less convinced that taxidermied deer with modest neck mobility have the potential to catch criminals.
Coming out of the woods is equally useful. Not surprisingly, Schichtle, the former DJ, claims that a warden's best asset is the "ability to communicate." Hungerford observed, "You catch a lot more bears with honey than you do with vinegar."
In fact, most Vermont game wardens spend as much time with people as they do in nature. They present at hunter education classes, teach at conservation camps, and deliver roadkill meat to game suppers and people in need. Their home phone numbers are posted online and in Fish & Wildlife publications. They must live in the district they cover, and as a result, many constituents know their home addresses.
That has its disadvantages. Hungerford recently got a call at 11:30 p.m. from a man who wanted the warden's help getting a skunk from his basement. Unless an animal appears ill, skunk removal is not a game warden's responsibility.
In 2011, the state charged a man under investigation for deer jacking with paying someone to kill Warden Stephen Majeski's goats. Two were stabbed, and one died. One man pled guilty, but the alleged financier was acquitted.
Being a local celebrity has its benefits. On the way to his decoy stakeout, Whitlock stopped at the Lincoln General Store, where he greeted the woman behind the counter with a hug. General stores, he noted, are a "lifeline" for wardens. Sporting-goods stores, diners and bars are also good sources of intel.
Noting that wardens have a "deep understanding" of the activities they regulate, Commissioner Porter said, "There is probably no group that appreciates the wardens' work as much as anglers, hunters and trappers."
Wardens don't take the gratitude for granted.
Whitlock's last words to the hunters after the duck check last Saturday morning: "Thank you for your patience."