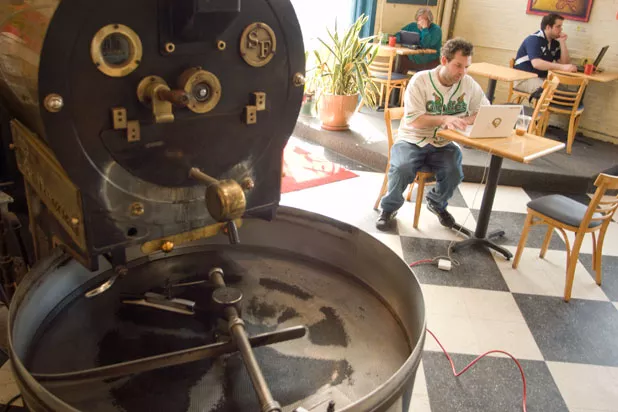 Matthew Thorsen
Speeder & Earl's on Pine Street in Burlington
I'm one of those people who buys a shot of espresso for $2, plugs in her laptop at the coffee shop and writes an eight-page paper. Or, maybe I'll have tea with a friend. She gets a cup of oolong, I get a chocolate biscotti, and we chat for hours about how her roommate never washes her dishes. The tea goes cold. The biscotti? A distant memory.
I'm not alone. As the world gets wired and more people work outside traditional spaces, cafés fill up. They're where students go to escape the dorms and home-office workers go to escape the silence. The coffee, tea and assorted scones are great extras, but sometimes they're just a formality.
But how does all this sitting affect the business of running a coffee shop? Can owners afford the hours that people like me spend sucking up free electricity and Wi-Fi and catching up with friends in hourlong conversations about that kid back in eighth grade who always picked his nose?
Lately I have started to question my freeloading ways, prompted by signs that some business owners aren't happy with them. Some Burlington coffee shops have limited access to their electrical outlets. At others, I've asked the barista for the Internet password only to learn the place doesn't have Wi-Fi.
OK, I thought. I can take a hint. I began to wonder: Is it possible that coffee-shop owners don't want me to buy the cheapest thing on the menu and throw a dollar in the tip jar? Am I annoying them by camping out at their establishments for half the day, preventing potential customers from buying more delicious chocolate biscotti?
I decided to ask. What I discovered is that local coffee purveyors have to strike a delicate balance. They want to foster a laid-back environment of leisurely beverage- and pastry-filled fun, but they also need to get customers in and out of the seats.
Finding that balance is especially challenging at Dobrá Tea on Church Street in downtown Burlington. The shop is known for its relaxed and whimsical atmosphere. The tea menu resembles a short novel, the walls are lined with intricate teapots and worldly photography, and small sitting areas filled with floor pillows invite groups to enjoy tea and treats. It isn't exactly a "get in and get out" sort of place. But manager Laura Hall says that since Dobrá has become so popular, the issue of customers getting a little too comfy has arisen.
"It is a little bit of a sensitive issue. We love to provide an atmosphere of no stress, no rush and something that is a little bit offbeat from the normal, everyday grind," says Hall. On the other hand, she points out, "the space is so small…" Hall says money isn't the issue: She's less concerned about meeting her daily profit quotas than about making sure everyone who wants to come to Dobrá has a place to sit.
"It is a little tricky when someone stays for three hours with a cup of tea and there is a line at the door," she says. But Hall, like most of the proprietors and managers I interviewed, says she doesn't try to evict lingerers: The furthest she would go is to ask the long-term customer to sit at a smaller table to make room for a group.
"I think one of the best solutions is, if a customer is by themselves, they offer their seat … sharing tables with people you don't know is something that we encourage here," says Hall. Coffee-shop owners echo that sentiment.
Like Dobrá, Radio Bean on North Winooski Avenue in Burlington is known as a unique, local hangout. The Bean features live music and doubles as a bar every night, making the venue even more likely to attract coffeehouse freeloaders. How do employees handle locals who come to listen in on jazz night but aren't interested in purchasing a chai or latte?
They don't, says employee Hugh Jackson. "I think the philosophy here is that the Radio Bean is more than just a place for you to come and for us to sell you something … there is a community here," he explains. That sense of community "surrounds the place, and so, yeah, it's great when people buy more things, but a lot of people come in here and drink some water and maybe buy a cup of coffee." The employee says the cup-of-water customers are just as welcome as the big spenders.
Elizabeth Manriquez, owner of Espresso Bueno in Barre, has a more practical perspective. She admits that she makes the most money off people who order their coffee, pay and leave. But Manriquez, who's competed in regional barista showdowns, says she recognizes the café culture of lingering over a cup is important to her business model.
"We have thought about what it means when a person sits at a four-person table and spreads out and stays forever … It hurts us when we're full, but it's also better than having no one at a table," she says.
Manriquez encourages customers to bring their computers and use the free Wi-Fi, but she says the resource does get abused. She has noticed people who sit outside the door with their laptops so they don't have to come in and buy something, and others who park in the lot just to use Wi-Fi, she says. The boldest offenders are those who enter the store and ask to use the electrical outlet behind the counter to check their email without spending a dime.
Phil Merrick, co-owner of August First in Burlington, says he's also noticed people using the café's Wi-Fi without coming in. But he's less concerned about that — or about paying for the electricity laptops suck from outlets — than about space at his tables. "Every now and then our wireless shuts off and we get a message from the server [that there are too many users], but it isn't a key issue," he says.
Bandwidth grabbers are exceptions, perhaps. But what about the customers who make a token purchase and stay for hours? Do they reciprocate by leaving a nice tip? Not necessarily. Manriquez says she knows "people who tip and people who never tip," regardless of how long they hang out at her store.
"It is interesting the sense of righteousness that people have," says Manriquez. She notes that she wishes there was some sort of etiquette guide for laptop campers.
Kevin Clayton, owner of Village Wine and Coffee in Shelburne, feels the same way. "You only wish when people get a laptop they get an etiquette class on how to use it," he says.
But Clayton, who has advertised his free Wi-Fi since his store opened, says he's never regretted that business move. "I've never discouraged people, because it's where we're at right now in the world," he says. "I know other shops in Burlington put covers on their outlets so customers have to leave once the battery runs out."
Clayton acknowledges, "With the margins that we run in, we need as many people walking through the door as possible to stay in business." But, rather than restricting access, he prefers the idea of having "some kind of social protocol so people understand that they have to share the space." He expresses sympathy for his customers who work at home, saying that, for some, his store is the only social contact they have. Many of the laptop sitters, he says, aren't using bandwidth, and they give the store character: "We've had people write plays and books here."
"It's kind of goofy to wish people were self-regulating," Clayton admits. But he believes "people are getting more aware" of the new café etiquette. "I think cellphones are worse, myself," he adds.
So, next time you camp out at the local tea or coffee shop, consider that you're not just buying caffeine, you're renting premium space. I, for one, plan on throwing an extra dollar in the tip jar next time I spend an afternoon with my cup of tea.