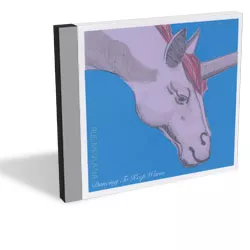 (Self-released, digital download)
"Holiday music" is not a term one usually associates with "local." However, in recent years, Vermont artists have released a veritable stocking's worth of holiday fare, including an EP from Gregory Douglass, a single from Myra Flynn — both released last year — a couple of classic albums from Swale offshoot the Physics Club, and, earlier this month, a two-song quickie from Grace Potter and the Nocturnals. The latest addition to our collective local yuletide mixtape comes by way of Burlington-based electro-pop outfit Rue Mevlana on a four-song EP, Dancing to Keep Warm.
The eight-member collective is best known for subversive, lo-fi glam rock. And their sinister, synthy take on holiday classics certainly reflects that aesthetic. You might not pop this EP on the hi-fi while grandpa recites "'Twas the Night Before Christmas" for the fam around the hearth. But once the kids have visions of sugarplums in their heads, Rue Mevlana's latest would go nicely with a snifter of brandy — and maybe a glow stick or two.
The EP opens on the title track, an original Mevlana composition. Over chilly synth and vocal sustains, Marya Vallejos' viola cuts through a bleak midwinter soundscape, just as a jaunty, Guaraldi-lite piano progression emerges. No lead vocal credits are given, but whoever takes the lead croons in a ghostly, uneasy falsetto like Bon Iver's Justin Vernon soused on eggnog.
Familiar elements of holiday tradition deck the song — and, later, the rest of the EP. But Mevlana gleefully mangle holiday music convention into a bizarre grotesquerie of eerie Christmas tidings. Imagine if Sufjan Stevens had taken a handful of hallucinogens prior to recording his Christmas albums.
That propensity to meddle with holiday tradition is most overt on the following cut, a reimagining of "Have Yourself a Merry Little Christmas." Here, the vocals are sweetly innocent, almost cherublike, over a squishy mélange of squirting synth and electro drums.
Rue Mevlana's bassy version of "Coventry Carol" — a classic madrigal tune — is more Daft Punk than Westminster Choir, though the vocal performances are actually quite good. The EP closes on a "solstice chill mix" of the title track, tying a bow on one of the more unusual little Christmas presents local music fans have seen in a while. Dancing to Keep Warm is not holiday jingles for traditionalists. But it's uniquely compelling, especially for those with a fetish, naughty or nice, for unusual Christmas music.
Dancing to Keep Warm by Rue Mevlana is available on iTunes.