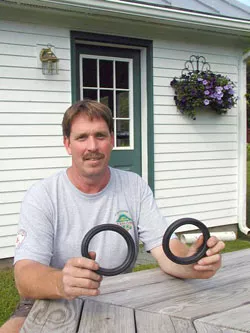 Steve Gallacher and the Duroseal
The modern flush toilet dates back to 1775, when a London watchmaker named Alexander Cummings patented a design in which a measure of water remained in the bowl after each flush.
According to Lawrence Wright's Clean & Decent: The Fascinating History of the Bathroom, the Water Closet and of Sundry Habits, Fashions and Accessories of the Toilet, Cummings' toilet was an improvement over earlier designs with one major exception: The seal on the bottom of the toilet inevitably failed, allowing the emission of foul-smelling and highly explosive sewer gas.
One might think that, after more than 230 years, someone would have figured out how to secure the all-important connection between the commode and the sewer pipe. Many have tried. Between 1902 and 2002, no fewer than 11 patents were awarded for devices that claimed to solve the problem. Yet, even today, as any plumber will tell you, tracing the source of a toilet leak almost always leads to the place where the porcelain meets the floor.
In 1999, Steve Gallacher decided to add his name to the storied lore of the loo by proposing a solution to Cummings' flaw. For Gallacher, who is 49 and the only plumber in Chelsea, it came down to a basic conflict: His trade's stubborn reliance on wax seals was incompatible with the human urge to sit awhile. "Some people don't just go and get off. They're there and they're moving," notes Gallacher. "When you have a wax seal, and you wiggle, the wax squishes a little more" and changes shape.
Wax has been the standard for toilet seals for as long as anyone can remember, although it's not for want of a better material. Sponge-rubber gaskets, which appeared in the 1950s, tend to pull away from the closet flange, the 3-inch opening to the sewer pipe on which the gasket sits. And while foam gaskets are more elastic than wax seals, they are vulnerable to rot.
The Vermont inventor devoted to designing a better seal is a tall, beefy guy with brown hair, a thick mustache and clear hazel eyes. On a recent afternoon, in a small workout room in the garage behind his two-story house on Chelsea's Main Street, he recalls the "aha" toilet. He had recently finished installing the plumbing in a new home. Within days, the owner was complaining of a sewer-gas smell. It turned out that, while putting in a washing machine, a carpenter had pulled up and reset the toilet, tearing the wax seal in the process. "I said, 'This is bull,'" Gallacher recalls. "It's the most unsanitary plumbing fixture in your house, and we're relying on this type of seal."
Gallacher decided what a modern toilet seal required, above all other attributes, was memory — the gasket had to absorb the effects of time, moisture and shifting buttocks and somehow maintain its original shape and durability. That meant finding the right material and manufacturing it at the right durometer, or hardness, to create a seal that would expand and contract evenly under various pressures, making it easy for non-professionals to install. "If it's too hard, and you have a homeowner who doesn't have a feel for a wrench and he just cranks it down, he's going to break his toilet," Gallacher says.
By 2001, with the help of a neighbor, Dartmouth College instructor Dwayne Adams, Gallacher had a prototype for a gasket of water-impermeable neoprene that, under most conditions, would never have to be replaced. Gallacher began using the seal, which he and Adams call the "Duroseal," in his own installations, while peddling samples to plumbing suppliers. Trying to drum up interest in a new product at a time when the economy was on a downswing, however, was a "grueling" business, Gallacher recalls.
"I can't tell you how many trips we went on," he says. "We'd meet with some people, and they'd say, 'Hmm, I like it, but I guess we can't do it right now — but thanks for dinner.'"
Gallacher's prospects improved considerably on February 17, 2004, when he and Adams were awarded a patent for the Duroseal. Currently available at plumbing-supply stores in 15 states, including Vermont, New York, New Hampshire and Connecticut, the product sells for about $3.70, roughly 50 percent more than the traditional wax seal. As Gallacher sees it, the higher price shouldn't hurt the potential of his invention to become the new standard for toilet gaskets. "Especially in a nice home," he says, "if you're going to quibble about a buck, buck-twenty, based on what goes into a toilet and what goes out, you'd really like one that doesn't leak."
******
The patent is quite an accomplishment for Gallacher, who has lived in Chelsea since he was a young boy. It can take years of patient persistence to win a patent; in fact, only about one in four applications succeeds in convincing government examiners that an idea is both new and useful.
Then again, those are better odds than Gallacher faced 30 years ago, when he considered a different career path: professional baseball.
An all-around athlete, his favorite sport was football. But from the moment he first took the mound for Chelsea High School, his ability to throw a baseball was hard to ignore. "I went from one sport to another, but I could throw hard," he says. "Everybody told me I should try something more just because I had this arm."
In 1979, two years after he graduated from high school, Gallacher tried out for the old Burlington A's. He learned how to throw a curveball and a slider and, a year later, he was pitching in an All-Star game in front of scouts from Chicago, Los Angeles and other major-league cities. "As soon as I threw, the people started coming around," he recalls. "I threw in that [All-Star] game, and the next day, threw in Chelsea in the Central Vermont League playoffs. The scout at the time, Buzzy Bowers, followed me here. He took me out to diner and offered me a contract."
The pay was miserable — a $1500 signing bonus, plus about $170 a month, as he remembers it. Gallacher turned Bowers down. A few months later, however, the Pittsburgh Pirates called, and Gallacher decided to give it a shot. He went to spring training and did well enough to be invited to join the team's instructional-league affiliate in Shelby, North Carolina.
But faced with a steep climb to the top of an extremely fickle profession, Gallacher had to admit he didn't really care about baseball. At least not as much as he cared for Sharon Preston, whom he began dating his junior year at Chelsea High. Her father, Arnold Preston, was the town plumber, and he had already brought Gallacher into the business. "A lot of people . . . would have signed if they had given 'em a glove and shoes," Gallacher says. "But I was making more money as a plumber, and I actually liked being a plumber."
Gallacher ended up marrying the plumber's daughter, and he worked alongside his father-in-law, with a little moonlighting on the side, until 1992, when he started his own business. He works by himself now, relying largely on the installation of fixtures and appliances in new homes. He's made a good living, he says, but the trade has changed over the years. Plumbing supplies are more widely available, and homeowners have learned to do their own repairs rather than pay for a professional.
The current state of the economy hasn't helped matters lately. "This is the slowest I've ever seen it," says Gallacher, an avid golfer who still moves with the grace of an athlete. "This time of year, I could be working 55 hours a week, easily. Now it's 30 to 35. People are scared, and there just hasn't been much new construction."
Gallacher won't speculate on what the Duroseal could mean for his financial future. The gasket is being marketed and distributed by an Alabama company, the Jones-Stephens Corp. While it's selling a bit more each month, Gallacher is banking on his current negotiations with a national plumbing-supply chain to push the Duroseal to the top of the market.
It's certainly caught the attention of those who know a good toilet seal when they see one. About six months after they received their patent, Gallacher and Adams secured what might be considered the ultimate endorsement. Gerald Garrow, Vermont's chief plumbing inspector, wrote an open letter outlining a series of tests on the seal by his apprenticeship class. Garrow, who installed four of Gallacher's seals in his own home, concluded there "is no product on today's market that has this many positive features."
Whether the Duroseal ends up solving one of the most vexing problems in the history of the flush toilet remains to be seen. But it's certainly made one plumber's life a lot easier.
"Four or five years ago, there were some toilets I'd have to put a wax seal under there every year," Gallacher says. "I put these seals under there now, and I don't go back. That's good for me, because there are other things I'd rather do than work on a toilet."
Spoken like a true inventor.