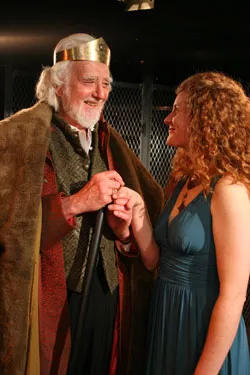 Donald Grody as Lear and Heather Nielsen as Cordelia
Tragedy begins at home. Even sorrows enacted on a grand political scale — dynastic struggles, wars between countries — often stem from conflict within families. William Shakespeare distilled this pattern, writ large in England's past, in his histories and tragedies. They reverberate with issues that still sting today: siblings who become rivals, spouses who betray one another, and parents and children who seesaw between love and hate.
Two noble houses come undone in King Lear, Shakespeare's dark, sweeping tale of deceit and delusion. In a rousing finale to its current season, the Vermont Stage Company tackled the Bard for the first time since moving to the intimate FlynnSpace. For the ambitious undertaking, director Mark Nash marshaled 15 actors in 21 roles, accompanied by a live musical score, while conjuring stormy heaths and gloomy castles from the small basement venue. The dynamic cast and inventive production crew met the challenges with flair.
In King Lear, family misfortunes mount and intertwine. Both Lear and the Duke of Gloucester are duped by scheming children who flatter, mislead and then double-cross them. Both fathers mistakenly cast out their loyal offspring, placing the honest children — and ultimately themselves — in mortal peril.
The play opens with the King making retirement plans. He apportions his land among his three daughters, with the largest third reserved for his youngest and favorite, Cordelia. He asks each daughter for pro forma words of praise during the proceedings. Goneril and Regan appease their father with lavish lauds while their husbands watch greedily. But Cordelia refuses to engage in the phony encomium game, protesting that her actions demonstrate her devotion.
Lear's grasp on reality frays at this seeming slight from Cordelia. He disinherits her, pawns her off in marriage to the King of France, and divides her share between the other two. He plans to split his time living with Goneril and Regan, but the daughters begin to treat their father like a child, firing his retainers and revoking his privileges. With his dignity in tatters and madness ascendant, Lear leaves family and shelter behind to wander the countryside, with only the faithful Fool to keep him company.
Meanwhile, Gloucester's sons wrangle. The illegitimate Edmund concocts a plot to sunder his father's affection for Edgar, the duke's elder son and rightful heir. Edgar is forced to flee and assume the identity of Tom O'Bedlam, a crazed, nearly naked beggar. Edmund also conspires with, and propositions, both Goneril and Regan. Discord and bloodshed follow in the seductive villain's wake.
The Duke of Kent also has to assume a false identity. Banished impulsively by Lear during the flap with Cordelia, Kent returns as the rough peasant Caius to serve the King. In a raging storm, Lear's small band encounters Tom on a heath. Gloucester, at great risk to himself, eventually shelters the King's party and confronts the daughters over their treatment of Lear. As Lear's kingdom plumbs new depths of dishonor, Cordelia returns with the invading French army. The stakes are lofty — loyalty, love, family and country — as the body count grows with each twist in the tale's painful resolution.
In the VSC production, the haunting beauty of the visual and musical elements enhanced the storytelling and supported strong performances from the acting ensemble. Costume designer Jenny C. Fulton, assisted by a six-person design and construction team, dressed the actors sumptuously in a rich palette of chocolate brown, burnt orange, warm burgundy and dull sage. Bright teal and silver, worn only by Cordelia, stood out from the muted tones. Fulton layered fabrics with different sheens and textures for additional interest. Some outfits — especially the women's gowns and jewelry — hinted at Art Deco inspiration without overriding the program note that established the play's setting as "Time: Now. Place: Here."
Composer and percussionist Brian Johnson created the original score and played it live, behind a black metal screen at the rear of the stage. At every turn, the music highlighted actions and themes with sophistication. Syncopated rhythms emphasized conflict; eerie vocal sounds echoed as Lear's sanity wavered; drums rumbled as the tempest raged. Johnson used a fascinating array of tools. He tweaked standard Western instruments, laying a cymbal on top of his timpani and hanging a long chime in a 5-gallon bucket of water, for example. He raided the salvage yard for others, such as the auto-coil spring and brake drums.
Fulton also was the scenic designer. The set, aligned on a long rectangle projecting forward, consisted primarily of a reddish-brown painted floor with a central, triangular platform. The colors married artfully with the costumes, and the mottled patterning suggested castle stones, muddy heath and perilous cliff. Even more intriguing was how the layout provided powerful diagonal lines that director Nash used effectively to position actors, and for their entrances and exits from all four corners of the stage.
The acting was stellar from the entire cast, headlined by Donald Grody's masterful, moving portrait of the troubled King. Credit Nash for assembling and harmonizing such a wealth of talent; Equity imports from New York blended seamlessly with some of Vermont's best actors. In a play crowded with intense emotions and storylines, the actors didn't jockey for attention or chew the scenery. In general, their performances were restrained and refined, which underscored the story's poignancy.
The power of Grody's work lay in its subtlety. He showed Lear's inner conflict — how he battles creeping symptoms of madness welling inside him — with simple changes on his face. The furrows on Grody's forehead and shocks of white hair on his head and face proved as malleable as Play-Doh. Shifting moods caused his snowy eyebrows to dance eagerly or hang limply. Grody also demonstrated how Lear never loses his internal spark, as evidenced by his spirited bantering with the Fool (played sensitively by Andrew Sellon), even as circumstances grow dire.
Paul Schnabel gave a dynamic performance as Kent. When disguised as the coarse peasant Caius, Schnabel exuded rakish energy, with loose-limbed body language and a gruff tone. As Kent, he adopted more polish in manner and voice. In both guises, however, his eyes flashed with Kent's genuine concern for the King. Gloucester (Kent Casella) also proves loyal to Lear. The most touching moments in Casella's well modulated performance came when the two fathers tried to comfort each other in their darkest hours.
Todd Lawson swaggered gleefully as Edmund, the self-justifying "villain by necessity." His face radiated Edmund's mix of charm and cunning as he bounded athletically around the stage, hatching plots. Christopher V. Edwards' finely drawn portrait of Edgar made an excellent counterpoint to Lawson's wilder portrayal. With small gestures and stolen glances, Edwards showed how the bookish older sibling continues to readjust to his bewildering fate. When the brothers finally confront each other, Lawson and Edwards engaged in a thrilling fight scene staged by fight director Paul Ugalde (who also played Goneril's husband, the Duke of Albany).
Ugalde and Wayne Tetrick, as Regan's spouse, the Duke of Cornwall, made terrific foils for the duplicitous wives. Ugalde played Albany with noble reserve, while Tetrick gave Cornwall a stern military demeanor that eventually cracked to reveal his cruel streak. Melissa S. Lourie (Goneril) and Jennifer M. Rohn (Regan) both conveyed the sisters' behavioral changes along with their strategies for manipulating people: seductive eyes for Edmund; condescending tone for their ailing father; dismissive body language for husbands and servants.
In contrast, Heather Nielsen displayed just one face as Cordelia, who glows with loyalty to her father. Nielsen's steady voice and confident movement manifested how Cordelia's strength comes from purity of purpose.
During the 18th and early 19th centuries, the love between Lear and Cordelia so moved theatergoers that an altered happy ending was frequently performed. Perhaps it was easier to rewrite Shakespeare than confront the uncomfortable truth: The relationship between fathers and daughters has been a tricky one since the beginning of time.