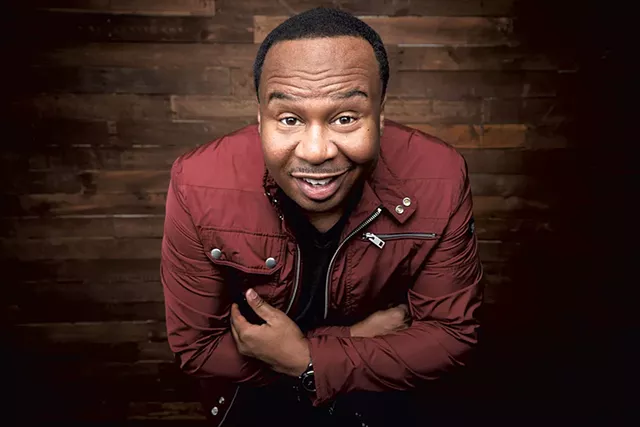 Courtesy Of Nicole Biesek
Roy Wood Jr.
Fake news was all the rage in 2017 — and we don't mean the "alternative facts" preached by a certain presidential regime. Satire and parody, particularly of the political persuasion, has risen to newfound cultural prominence, popularity and, some would argue, importance in recent years. That trend is especially true on television.
For 15 years, "The Daily Show With Jon Stewart" stood as the gold standard of TV news satire. And the list of "Daily Show" alums who have gone on to host their own shows is lengthy — Stephen Colbert, John Oliver, Samantha Bee, Larry Wilmore and Jordan Klepper, to name a few. Stewart has fostered an unprecedented wealth of comedy for fans — and an unprecedented level of competition for the man charged with replacing him: Trevor Noah.
"It's not enough to just make a joke," Roy Wood Jr. recently told Seven Days. "You also need to think about what else might be said on other shows and avoid easy jokes."
Wood, 38, is a correspondent on "The Daily Show With Trevor Noah." The comedian is a key part of the show's new generation tasked with both preserving Stewart's legacy and evolving the comedy juggernaut he built. It's a tall order: The diminutive Stewart casts a long shadow.
Wood seems up to the challenge. Endearingly irascible and whip-smart, the veteran comic shines on the show. His skill is especially apparent in sketches, a comedic vehicle that Noah relies on more frequently than did Stewart — and one that suits Wood's previous experience on TV shows such as the TBS sitcom "Sullivan and Son."
Writing for "The Daily Show" has benefited Wood's creativity, too. His debut standup special, "Father Figure," aired on Comedy Central earlier this year, and the comic credits the show with helping to hone his sharp, nuanced set. "'The Daily Show' influences the depth of my writing more than anything else," he said.
Wood performs four shows over two nights, Friday and Saturday, December 15 and 16, at the Vermont Comedy Club in Burlington. Seven Days caught up with him by phone to ask about "The Daily Show," finding fresh comedic angles and the greatness of HBO's "The Wire."
SEVEN DAYS: I see from your Twitter bio that you're a fan of "The Wire." Do you agree that it's the greatest TV show of all time?
ROY WOOD JR: One hundred percent, and I'll fight anybody who disagrees.
SD: I've got your back if it comes to blows. Are you more of a Marlo guy or an Avon guy?
RW: I'm more of an Avon guy, because I take pride in my organization. But I would argue I'm a little more Stringer in trying to be [businesslike] in how I put together my comedy. I feel like Avon was just a reckless, old-school guy. But at least he had a moral code, unlike Marlo.
SD: McNulty or Bunk?
RW: On the detective side, I'm more McNulty than Bunk. And I'm not a fan of the bosses. That's what makes "The Daily Show" such a cool job: The bosses don't get in the way.
SD: Whoa, nice segue. So you have a good deal of creative freedom at "The Daily Show"?
RW: Absolutely. A lot of people are involved in the final product. But the only way I can explain it is: If "The Daily Show" were a restaurant, and you said, "Hey, let's make a salad," then the producers put you with writers to decide what type of salad. And you're for sure making a salad.
But there have been other shows I've been a part of where you say, "Let's make a salad," and someone says, "No, but let's take that lettuce you brought and put it on this hamburger over here."
SD: I'm getting hungry...
RW: It's been really cool to see most of what I've thought something should or would be in my head ends up being the final product on camera.
SD: How do the pitch meetings work?
RW: The show is basically built around group pitch meetings. Correspondents and writers sit in a room, and we watch all of the news of the day. And, usually, after about an hour, we know what the angles are. Then Trevor puts together what's the best way to tell the story — with or without a correspondent. And, if it is with a correspondent, then what type of segment? Or is it a sketch? I know that's something Trevor has been wanting to do more of in the post-Jon Stewart era.
SD: How much of Stewart's influence do you still feel on the show?
RW: I think you'll always see Jon Stewart's influence on "The Daily Show." What it is today is what he made it. Just the workflow and how we go about creating the show every day, that's still a Jon Stewart assembly line that we're on. The factory has new employees, but we're still making satire at the end of the day.
Trevor has come on and added a new wing to the factory with sketch. But figuring out what is the specific thing you're trying to say, what's the focal point or take, wanting to achieve that level of Zen every day creatively, that's a fingerprint of Jon Stewart's, and I don't think that will ever leave.
SD: Do you follow the news differently as a "Daily Show" correspondent than as a standup comedian?
RW: It's not enough to just know the story. You also have to know how the story is being spun on both sides. It's not enough just to know the weather. You have to know why someone said it's partly sunny and someone else said it's partly cloudy. So, sometimes the story isn't the story; the story is how the story was covered.
As a comedian, my focus was solely on the event. Who got shot? Who went to jail? Who got divorced? Now I'm asking deeper questions that have to be answered: Who was the lawyer? Was the person shot in self-defense? And that's where you find the more unique takes and, sometimes, the better punch lines. And a lot of that is because of the level of competition that's out there now. I think a lot of other shows think the same thing, because they're not making the easy jokes, either.
SD: A lot of those shows have "Daily Show" DNA.
RW: Correct. So it's the same ideology: You have to comment on the obvious without stating it.
SD: Has that ideology affected how you write as a standup?
RW: Hell, yeah. That's part of why my first special, "Father Figure," had so much material that I'd never done before. "The Daily Show" just reinforced for me how important it is to always be on top right now. Nothing else matters.
"The Daily Show" influences the depth of my writing more than anything else. I had a joke about patriotism in my special. Originally, it was about whether NFL players should take a knee or whatever. But then, for me — and this is definitely something influenced by "The Daily Show" — I began to examine the question, "Why are black people even expected to be patriotic in the first place?"
And that creates a totally separate conversation and a whole new set of jokes. And that was very exciting to dig and dig and see what else was under there to make jokes about.
SD: Have you started working on material about the recent wave of sexual assault allegations?
RW: I think what is most telling about all of this is that, if this is happening to women who are around men who are supposed to be trusted with power, I can only imagine what is happening to women at a basic middle- or lower-class level. And I'm hoping that those women can get the same justice as all of those higher-profile cases.
But I haven't done a lot of material on that yet. And this is something I would attribute to Trevor: Creatively, he doesn't have a need to be first to a topic. Sometimes a topic evolves and breathes and changes. So, to me, if this is just the beginning of all that will soon become a behavioral restructuring of men, then a lot remains to be seen.
And for me to start joking about it, I need more information, and I need more time. Because to just go, "Oh, hey, he shouldn't have done it; he's a pervert! Ha ha ha!" that's the easy joke. It's the obvious joke, where there's obviously a deeper systemic issue.
I think a lot of it falls back on men condoning this behavior when women aren't around. That's the type of stuff that will help change things: When you're having a Trump/Billy Bush moment, you don't chuckle along with Trump.
SD: I think it's wise to take some time to come up with sharper material on this particular subject.
RW: The only joke I've done onstage with it is talk about how short rehab is for being an asshole. That's the one quick observation I've had. Alcohol is a battle your whole life. Drugs is a battle your whole life. But power-hungry manipulation and sexual assault? One month. One month in Arizona, and you're back, bro.