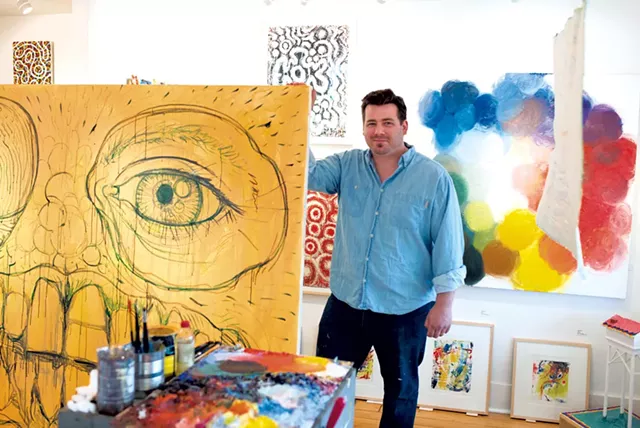 Caleb Kenna
Ross Sheehan in his studio
In 2012, Ross Sheehan and his wife, photographer Cat Cutillo, bought a fixer-upper just south of Main Street in Vergennes. They renovated the home's former carriage house and opened Outerlands Gallery in 2013. Now, the space has undergone another — albeit less dramatic — metamorphosis: It's become a working studio and exhibition space for Sheehan as a solo artist.
Throughout his career, Sheehan has moved among painting, printmaking, collage and sculpture of all sizes, and the range of works currently on view in his studio testifies to that penchant for experimentation.
On the surface, much of Sheehan's work appears slickly modern. A sealed jar of Yves Klein blue pigment — aka International Klein Blue — appears in a display of his smaller objects. "Untitled (pickled Yves Klein blue pigment)" is an extension of a series that Sheehan has dubbed "pickled paintings": 50 glass jars, each containing layers of paint scraped from earlier projects. His small and midsize sculptures and sculptural paintings on canvas look like otherworldly confections, made from frothy, painstakingly applied layers of oil paint that can take years to dry.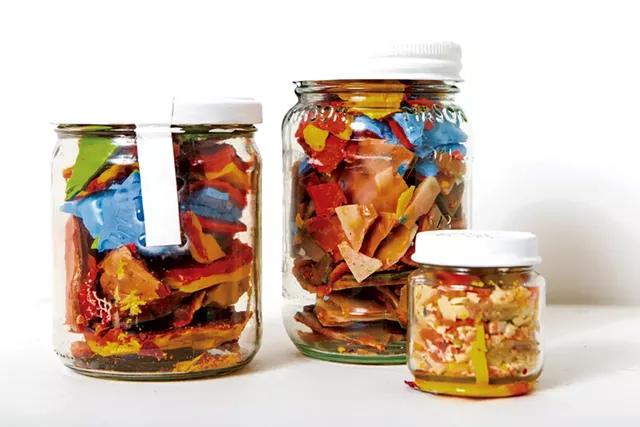 Courtesy Of Cat Cutillo
"Untitled (Pickled Encaustic Paintings)"
Extending the food metaphor, one could say Sheehan's works reflect an ongoing process of consumption. The topographical coats of pigment usually cover earlier, often representational works that Sheehan found in need of abstraction and transformation — or "mummification," as he puts it on his website. The resulting hybrid objects smartly encompass themes of practice, materiality, appropriation and art discourse.
Whether or not Sheehan is at work, passersby can get a look at what he's up to through the studio's large picture window — a deliberate renovation. Inside, a rainbow of oil paints has begun to coat a small shelf. The back door and doorframe are smeared with paint. You get the sense that, given enough time, Sheehan might encase the entire building.
In advance of his grand opening celebration this weekend, Seven Days visited Sheehan to talk about his work and the studio's new direction.
SEVEN DAYS: How does your new space and former gallery compare to past studios you've worked in?
ROSS SHEEHAN: I've always had dark and dingy studios in garages or basements. Living in cities, I worked anywhere I could find a nook or a corner. They were never the best spaces. But they were private, so I was able to do all of these experimental projects, and then, six or nine months later, come out with an entire show.
When we were living in New York, we used to walk by this studio all the time; I loved it because you could look in the window and see what the artist was working on. They were constantly rotating, and they weren't afraid to show their process. I'm kind of basing this space on that one. A lot of artists would say, "I can't do that; I can't work that way; there are just too many interruptions." For me, I've always liked to talk about process. Process is my artwork. If that's the main part of it, why hide it? I'm not really afraid now to get it all out in the open.
SD: You grew up in Salisbury, ran a gallery in Vergennes and now have a studio here. Can you talk about how Vergennes has changed over time?
RS: It's really nice to see work that's at a whole different level here now. I think it's becoming, or may have already become, a destination for that. I call this the SoMa District down here: South of Main. We're building it up: Bar Antidote, Hired Hand [Brewing], me.
Usually, Memorial Day weekend is kind of this cannonball of activity that explodes for the next few months. The summer activity here has been really great for me as an artist and, previously, as a gallery owner. And I know that the newer galleries [Northern Daughters, BigTown Gallery Vergennes] are waiting to see what that's like. The activity just turns on like a light switch.
I'm glad this cultural stuff is here. Going to high school here, I came up maybe for a couple basketball games and out to eat once, but it was just not a place you came to. It's changed so much. I never would've thought I'd be here.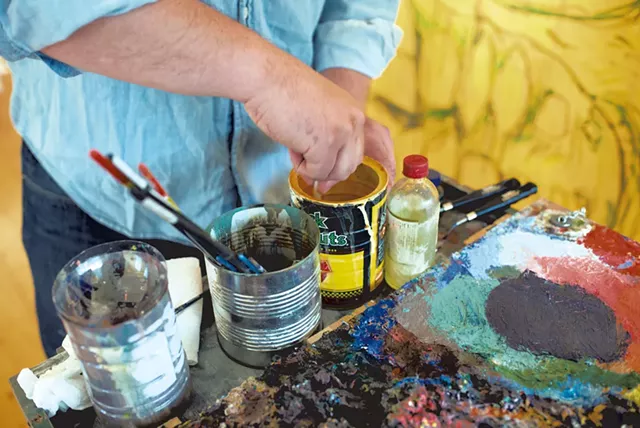 Caleb Kenna
Ross Sheehan in his studio
SD: How do you think the change in environment may influence your work?
RS: I want the space to match my art. This is kind of a living, breathing place in itself. I know every inch of this building and its history inside and out, its bad qualities and good.
I think that part of being open to the public is about letting things go. It doesn't have to be perfect. It's about loosening up. My work traditionally has been really tight. It's loosened up quite a bit, but, at the same time, I like the control. But I find when I lose control, that's when the best work happens.
SD: How has your work changed over time?
RS: A lot of my work is painted-over pieces that I've scraped off. I go into storage periodically and look at my older work [and think], What is this doing here taking up space? I'm not happy with it anymore; I'm going to paint over it. A lot of the 2D stuff here has been painted over. It's back to square one; lots of layers. How do I take something I made a decade ago and incorporate it into what I'm doing now? I think that's where the paint comes in, because it unifies everything by color.
I had a very traditional foundation. When I went on to college [at Syracuse University], I was geared toward, "It has to be a landscape; it has to be a portrait." It had to be something recognizable; it had to be really safe. That stuck with me for a while, until I moved to New York [City].
But that traditional upbringing lies beneath all of this work, in some way or another. Some people say, "You used to do landscape painting; how come you don't do that anymore?" I say, "Well, there's a landscape painting over there — it's underneath 30 layers of paint." I've always wanted to x-ray my work. I will, down the road someday. I'm fascinated with what's under everything.
I used to look at and handle a lot of Bay Area funk art: Robert Hudson, Robert Arneson, artists like that. There's color, it's fun work, and it's definitely funky work, but there's an underlying seriousness about the media and how they use it.
I look at a lot of that work to this day. The shell of the piece can be loose and free and fun, but the inside of it needs to be solid — so it'll last forever. Whatever forever means.