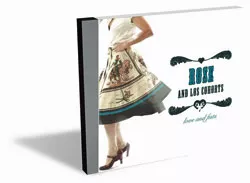 (Self-released, CD, digital download)
In the television show "Californication," one of the series' better plot arcs concerns a book called Fucking and Punching — written by the show's protagonist, troubled author Hank Moody, but later stolen by an underage paramour who releases the book as her own. Hilarity ensues. Unseemly — and illegal — trysts aside, the central premise of the book, and by extension the show, is that all of life's dramas essentially boil down to those two inextricably linked themes: fucking and punching.
It's a profoundly cynical worldview. But it makes for wildly entertaining TV. And, as it turns out, for wildly compelling country music. On their debut EP, Love and Fists, Burlington's Rose and Los Cohorts offer something of a kissing cousin to the fictional Hank Moody's bleak, semiautobiographical tome. Wrapped in a rhinestone-studded veil of classic country but informed by a decidedly modern female view of lovin', cheatin' and fightin', the record harks to a bygone era of vintage twang.
Songwriter and vocalist Rose Lucas may never be confused with Loretta Lynn or Patsy Cline, but the titular album opener reveals she has a similarly forthright delivery and is clearly influenced by the first ladies of country music. Backed by a veritable Grand Ole Opry of local talent, including ex-Chrome Cowboys guitarist Bill Mullins and bassist Mark Ransom, along with pedal-steel ace Asa Brosius and local singer-songwriter Juliet McVicker, Lucas proves to be one ramblin' woman.
The cavalcade of stars continues throughout the record, with appearances by the Starline Rhythm Boys, the Magnolias, Chuck Eller, Justin Levinson, the Cush's Burette and Gabrielle Douglas, Ryan Power and fiddler Gene White, to name a few. But from the weepy, waltzing strains of "Love Me & Leave Me" to the countrypolitan strut of "Please" to choice covers by the likes of Janis Martin ("Bang Bang") and Paul Kennerley ("Walkin Shoes"), Lucas is the star of the show. And it's a role for which she seems naturally suited, cooing and crooning with a brassy style and attitude that will likely leave many a cowboy with a tear in his beer.
Love and Fists by Rose and Los Cohorts is available by emailing the band at roseandloscohorts@gmail.com.