Suzanne M. Podhaizer
Piedmont and Lombardy cheese board at Dedalus Wine Shop: Robiola Tre Latti Fico (in leaf), Bergamino di Bufala (white square), Castelmagno d'Alpeggio (golden), Blu Imperiale (blue)
During his childhood near Killington, Rory Stamp hated milk. "I grew up on nonfat skim milk, and I absolutely detested it," he says. "It was this flavorless, lifeless substance that had no value."
And then, one day, he had a sip of raw milk from the von Trapp Farmstead, and everything changed. Stamp, who was then in high school, began drinking raw milk and eating raw-milk cheese. He became enamored with the idea that, with so few ingredients — mainly milk, salt, microbes and sometimes rennet — humans could create such varied, delicious results. "The process is thousands of years old," Stamp says. "It's so magical ... this perfect blend of science and art."
These days, in his role as the artisan food manager at Dedalus Wine Shop, Market & Wine Bar on Pine Street in Burlington, Stamp spends his days spreading that magic around. The store, which carries a rotating selection of some 100 cheeses, allows visitors to sample nearly anything, from slivers of caramel-colored Dutch Gouda to spoonfuls of Jasper Hill Farm's gooey, award-winning Harbison.
Once they've tried a cheese, customers can buy as little or as much as they like. "We want [fine cheese] to be democratized," Stamp says. Is it gauche to go home with a $3 chunk of a cheese that rings up at $48 per pound? Not a bit, he says.
In Europe, he explains, people generally make daily shopping runs and buy enough cheese for a meal, not a whole week. Stamp would prefer that local patrons sample a variety of items and learn what they like, rather than default to purchasing in larger quantities. And, he says, he wants novices to feel right at home at his cheese counter.
Stamp — who worked as a cheesemaker at Consider Bardwell Farm in West Pawlet and at Shelburne Farms — brings to his tasks an artisan's near-obsessive level of detail. "I've personally tasted every item in the store," he explains as he escorts a visitor past jars of mustard "caviar," bottles of estate olive oil and tins of octopus from Portugal.
Since shelf space is limited, Stamp only brings in new items if they play well with the store's existing supplies, turning the place into a mix-and-match paradise for those who like to experiment with pairings. "Everything is here for a reason," he says. "Everything has a story."
As much as possible, Stamp sources goods directly from their creators. He often visits the producers on their home turf so that he can connect with their stories firsthand. He is particularly passionate about the store's cheese selection. Every time Dedalus needs to resupply its wedges and rounds from Jasper Hill, for instance, Stamp drives to Greensboro and does a tasting, choosing certain batches to bring back to Burlington in his car. "It's worth the price to engage in that dialogue with the cheesemaker," he suggests. "It's the antithesis of commodification."
Stamp also believes that by supporting new, smaller-scale makers and sharing their stories, it helps the industry as a whole. That's one of the motivations behind the Dedalus cheese club, which he curates. For $25, participants get a monthly pound of cheese, including selections from renowned and lesser-known Vermont creameries, as well as from the rest of the world.
Aside from the cheese club, making and sharing cheese plates is one of Stamp's favorite ways to proffer his favorites to family and friends. Most recently, he says, he prepared a cheese board for a Salvador Dalí-themed dinner.
"I had a soft-ripened cheese tipped on its side so it was spilling out," he recalls. "There was tinned fish all about and many interactive, dunkable items that subverted the regular cracker-and-cheese combo."
In preparation for holiday gatherings, Seven Days asked Stamp to share more on the art of creating a cheese plate.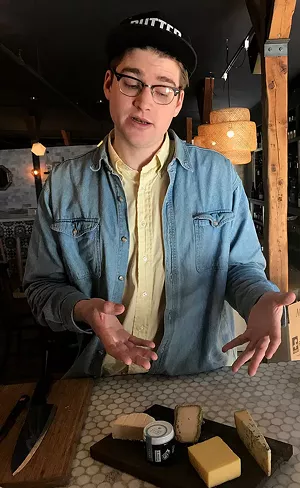 Suzanne M. Podhaizer
Rory Stamp
SEVEN DAYS: First, how do you choose your cheeses?
RORY STAMP: I think it's really important not to go overboard. Pick a small number of cheeses — from one to five would be a really good number. You want a variation of flavors, of textures, of milk types and of intensity.
Blues are one of the most polarizing cheeses, and I feel that they're an essential part of every cheese board. If I'm choosing a selection for a not-so-adventurous group, I might choose what I call a "gateway blue," something that might have some sweetness and minimal blooming.
On the average cheese board, think about which are the crowd-pleasing cheeses and which are the cheeses that might challenge the participants a little bit. We like to challenge people, get them to venture out of their comfort zone.
It's a good idea to bulk up on ... soft, creamy cheeses, aged cheddars, Alpine-style cheeses — those are easy, slam-dunk cheeses that everybody's going to love, and they're going to snack on them a lot harder. A funky washed rind, or an esoteric, ancient cow's-milk cheese with a crazy rind, you can think about scaling down the portion a bit.
Overall, a good guideline is starting with about an ounce (or two) of cheese per person. It goes back to knowing your audience.
Above all, trust your monger. We're here for a reason, so that you can put your dinner party in our hands. We'll give you all the ammo and information you need to sound like an expert.
SD: Tell us more about plating.
RS: It's so creative. A cheese board is a tableau, and, depending on your sensibilities, you can really go wild. A regional theme is a great idea. You can concentrate on one style and do all Alpine or all soft cheeses.
SD: How do you handle condiments and accompaniments?
RS: You can get totally crazy, but I think that less is more. My approach is to complement or contrast [the flavors in the cheese]. Choose condiments that will go with a number of cheeses on the plate rather than trying to set fixed pairings.
Experimentation is key. We're dunking jalapeño potato chips into Winnimere and eating aged Gouda with chocolate. You need to taste the bad pairings to understand the good ones. You have to be adventurous.
There are some very malleable products that are great accoutrements: Honey, cherry preserves, dried figs, giant corn nuts and Marcona almonds are really nice. You want foils you can bounce off of the other flavors on the board.
And, if you have something runny or gooey, you want to contain it as much as possible. You don't want to force everybody to have a pairing, and pouring a condiment over the cheese is a faux pas. Let people taste the accoutrement, taste the cheese and then taste those flavors together.
SD: What are your strategies when cutting cheese?
RS: It's really all about equity here. When you're looking at a piece or a round of cheese, think about how you can cut that into even portions to give people the same rind-to-cheese ratio. It's all about basic geometry. Rounds like to be broken down into triangles. Blocks and squares like to be broken down into rectangles and smaller cubes.
Soft cheeses — especially very soft cheeses, like blues or bloomy rinds — don't need to be proportioned. But it's a good idea to take an initial cut out of that cheese and leave it on the board to give people the right idea [about how to serve themselves]. Spoons are reserved for the right circumstances, for anything that's running out of itself. Spoons give dramatic effect.
SD: Do you like to put out labels?
RS: I think signage is helpful, but aesthetics are key. I like to use natural materials; writing directly on slate with chalk is awesome. Simple handwritten signs are great.
I'm not a big fan of putting out plastic cheese labels or putting out printed signs. My feeling is that it makes the whole experience a little less organic. These products come from soured milk, which comes from an animal, which is on a farm somewhere.
SD: How do you know if your cheese board was successful?
RS: When there's nothing left, I would say. A cheese board should be life changing. Mid-party, people should be congregating around it having really good conversation. If it's done right, they'll be acting playful and interactive, not stodgy and pretentious.
Getting Cheesy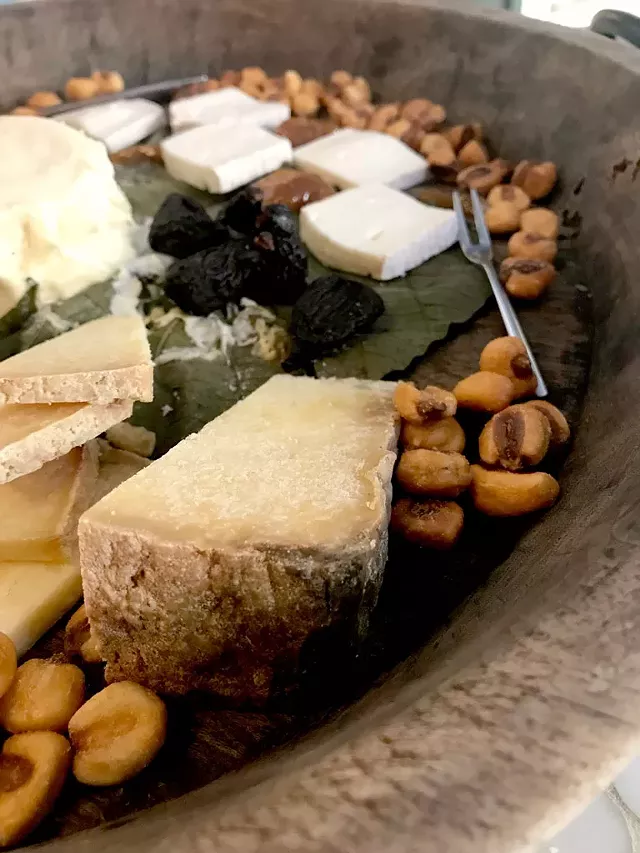 Suzanne M. Podhaizer
The Italian cheese board
What would Rory Stamp do? Here are his picks for two holiday cheese boards.
Local $25 Cheese Board
Accoutrement:
Italian $50 Cheese Board
Robiola Tre Latti Fico: pasteurized cow, goat and sheep's milk in a fig leaf, Piedmont
Bergamino di Bufala: pasteurized water buffalo milk, Lombardy
Castelmagno d'Alpeggio: raw cow's milk, Piedmont
Blu Imperiale: pasteurized cow's milk, Lombardy
Accoutrements:
Casa Forcello Green Tomato Mostarda, Piedmont
José Gourmet Red Peppers Jam, Portugal
Marchesi di San Giuliano Sicilian Orange Marmalade, Sicily
Quicos corn nuts, Spain
Freddy Guys roasted hazelnuts, Willamette Valley, Oregon
Republic of Vermont Honey, Goshen