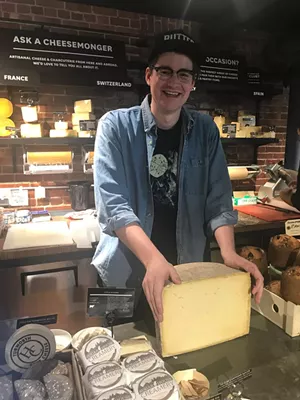 File: Suzanne Podhaizer
Rory Stamp
Last weekend, 31 cheesemongers from all over the country got together for a grueling competition at the Cheesemonger Invitational in San Francisco. On Sunday, Rory Stamp of Dedalus Wine Shop, Market & Wine Bar in Burlington was crowned the nation's best monger.
"I didn't have any inkling that I was going to win," said Stamp, who placed fourth the last time he competed. After the semifinal round, "I was kind of distraught," he admitted. When he won what he calls "the Olympics of cheese," he was "in total disbelief."
Each competitor took a written test, cut cheese into perfect quarter-pound hunks and wrapped them, identified European fromages in a blind tasting, and prepared dishes to serve to the judges. Each was randomly assigned two cheeses ahead of time to pair with food and drink. Stamp was lucky enough to draw Vermont Creamery's Cremont, with which he's very familiar, and Mt Tam from Cowgirl Creamery in Point Reyes Station, Calif.
Stamp's Cremont beverage pairing, a yuzu Vesper (a James Bond-inspired cocktail) with a rosé chaser, was inspired by a drink at Burlington's Honey Road. His "perfect bite" was pink peppercorn macarons with Mt Tam cheese buttercream, Meyer lemon curd and a bit of edible gold dust.
"I came here and made macaron shells, and they totally failed because it's so humid," he said. "I must have made 400 macaron shells in the week before the competition."
While Stamp was excited about winning, he was also thrilled to watch Vermont cheesemakers interact with their fans. "People from all over the country were losing it because they got to talk to Mateo [Kehler of Jasper Hill Farm] and Adeline [Druart of Vermont Creamery]," he said. "It makes me realize how lucky I am to be in Vermont."