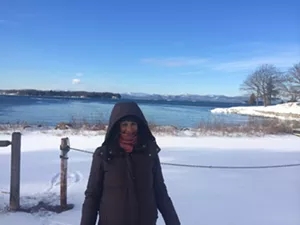 Jessica in front of Lake Champlain, adjusting to the cold
Roots and Wings is a follow-up to Jessica Lara Ticktin's blog series On the Fly: Homeschooling Adventures Around the World, in which she chronicled her family's recent four-month international adventure. In this new series, she'll explore her family's efforts to incorporate what they learned from their trip into their daily life in Vermont.

Was it all just a dream?
Sometimes this thought penetrates my foggy brain when the alarm goes off on a frigid winter morning, and I dive into the chaos of getting sleepy children up, making lunches and rushing out the door.
Weren't we just in Israel? In Jordan? Cape Town? Waking up to the sun streaming in through the window, enjoying a leisurely breakfast all together before settling into our homeschooling projects?
I am happy to be back home in Vermont yet I also still yearn to be away. If not geographically, then at least psychologically and spiritually. Recently, I head the phrase "roots and wings," and this really captures how I am feeling. I have my feet firmly planted on the ground here in Vermont, with an amazing community of friends, but I harbor the desire to fly away to new places. I have roots and wings at the same time.
During our four-month trek around the world last fall, my family of five (we welcomed number six on January 28!) slowed our pace, listened to the rhythm of our bodies, made each decision, big or small, with intention.
Going on a trip is easy. The hard part is coming home, figuring out how to incorporate the changed person you are into an unchanged routine.
In those first few weeks back, I drove around Burlington more slowly. I was more patient with every aspect of the day. As the weeks went by, this became difficult to maintain. The children plunged into school life and activities as if they had never left.
Yet when Friday came, they were tired, and we all felt aware of how we had scattered like seeds in all directions during the week.
We don't want to lose the closeness we'd established during out trip. So we have implemented some new rituals. We now ring our peace bell from Hiroshima when it's dinner time or when we have a family meeting. The girls help cook, set the table and clean up, as they did on our trip.
But it's not quite as idyllic as it sounds. I have to remind the girls about these chores more now and they're less happy about them.
As a family we still feel close, but now I recognize that when you take children out of their comfort zone — as we did for four months — they naturally stand closer to you, take less for granted and are grateful for the small things they receive.
[jump]
Kaya and Dahlia getting a taste of snow
Back in Burlington, I am starting to hear a tone in my 10-year-old's voice that I hadn't heard the whole time on our trip — an impatience with me when she is not getting what she wants.
The domestic work I do here has become invisible again.
While we were away we had only a few clothes and we had to wear them over and over, day after day. When we came across a Laundromat, or when an apartment we stayed in had a small washing machine, laundry would become a family affair.
In Japan, for instance, it took all five of us to figure out how to use the machines. The instructions were in Japanese and weren't straightforward. Once we figured it out, we had to get change from the 7-11 around the corner — a lesson in math, culture and language in and of itself. It was a fun family project. After all that effort, the girls were grateful for clean clothes.
Here in Vermont, I just collect the dirty clothes from the girls' hampers and throw them in the washing machine and drier. Then I get the girls to sort and fold their clothes, but the feeling of gratefulness is gone. It's so easy here, and they expect to have clean clothes everyday.
Perhaps that's what we're having a difficult time adjusting to: our expectations. Our lives here are easy. The girls are seldom uncomfortable or bored or hungry. They can speak the language and know how and who to ask for help if they need something.
I believe that children should be comfortable and have stability and consistency in their lives, but I also believe that making life too easy for children robs them of important life skills such as resourcefulness, creative problem solving and the confidence that comes from doing things for yourself.
With that in mind, we are trying to instill new habits and assign roles for the girls. The older two have been making their lunches themselves and asking for help when they need it. 10-year old Dahlia is in charge of making dinner one night a week. Lola, 8, has learned how to use the washing machine. 5-year-old Kaya can empty the silverware part of the dishwasher and clear the table. If I can't pick them up from school on time, they walk to the library by themselves and wait for me.
We are still continuing with the 3C's concept — Caring, Curious and Confident — that Adam developed on our trip. At the end of every week, the girls have to give us examples of how they exhibited these characteristics. If they can do this, then we give them a small allowance.
We are always looking for ways to give the girls a sense of independence and I think they are rising to the occasion, even if they need a little push here and there. We are all adjusting in our own ways and, like parenting, it's a work in progress.
Next week I'll share some things we've been doing together as a family to stay connected to our international adventures.