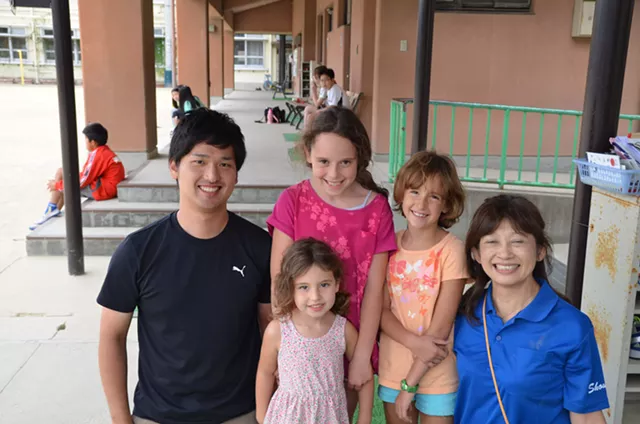 Jessica Lara Ticktin
Jessica's daughters at a public school in Kyoto
Roots and Wings is a follow-up to Jessica Lara Ticktin's blog series On the Fly: Homeschooling Adventures Around the World, in which she chronicled her family's recent four-month international adventure. In this series, she'll explore her family's efforts to incorporate what they learned from their trip into their daily life in Vermont.
What does it mean to be truly culturally literate? Does it mean familiarity with the food or language of a different culture? Is it the ability to recognize and appreciate difference? The understanding that there are many ways to live a life?
One of the primary goals of our four-month international adventure was to immerse our children in other cultures so they would develop a kind of cultural literacy. Because their exposure to other cultures here in Vermont is limited, this was a top priority of ours.
While in Japan, we put our two older daughters in a Kyoto public school for a day. The idea behind it was two-fold: we wanted them to feel what it was like to be an outsider — a minority that stood out — and we wanted them to see how a Japanese elementary school compared to an American school. The girls spoke little English that day, ran around the dirt schoolyard and ate lunch with Japanese kids, and observed what went on in the classroom. They remarked how wild and loud the younger kids were, contrary to the stereotype that Japanese kids are quiet and orderly all the time. There was a different educational philosophy in play in the Japanese school — letting kids express themselves when and how they needed to, allowing others to develop the ability to focus on work amid the noise. This seemed strange to our girls. Weren't the teachers supposed to keep control of the kids all the time? We suggested that perhaps the quiet, seated children using hushed voices in our classrooms might be odd to the Japanese kids.
We had all three of our girls attend a public school when we traveled to South Africa. It was easier, at least linguistically, because English is spoken there. But, once again, they stood out for their skin color and accents. The girls encountered questions like "Do you live in a mansion?" and "Have you met the president?" It was their first time confronting the stereotypes others had about them and their lives. This perspective was illuminating. The girls hadn't thought before about what people outside the United States knew or misunderstood about their country.
While here in Vermont we have a more homogenous population than other states, we are lucky to be a designated refugee resettlement area. My two older girls, Dahlia and Lola, frequently come home from their public school in Burlington telling me about a new child who doesn't speak English well or who they know is Muslim because of the head scarf they wear (something they learned to identify while in Turkey and Jordan). While my girls don't fully grasp what these refugee children have been through, they do recognize the awkward, shy body language and occasional tears that accompany the arrival of a new student who doesn't know the language or culture well. It is this ability to empathize — through something as small as a smile, directions to the cafeteria or inclusion in a recess game — that my husband and I worked hard at cultivating during our trip.
[jump]
Jessica Lara Ticktin
Finished masks at the Museum of Contemporary Art in Montreal
But you don't have to go as far as Japan or South Africa to get a dose of cultural immersion. Recently, we took a trip to my hometown of Montreal to visit the Museum of Contemporary Art. We signed the girls up for a workshop on making masks inspired by one of the exhibits. Most of the instructor's explanation was in French because he kept forgetting about the three girls, out of about 20 participants, who weren't French speakers. A year ago, this would have made my daughters uncomfortable and bored. They probably would have opted out of the workshop.
But this time they sat attentively, watching the instructor's body language for cues and focusing closely on how to fold the paper and add the facial features one by one to make a 3D mask. They set to work happily, surrounded by French-speaking children.
My 10-year old asked me later that night, "Mama, can you speak to us in French sometimes?"
It's something I used to do when she was younger, and she never liked it.
"Of course!" I said.
This is what cultural literacy is all about for me: appreciating and understanding differences while wanting, always, to learn more about them.