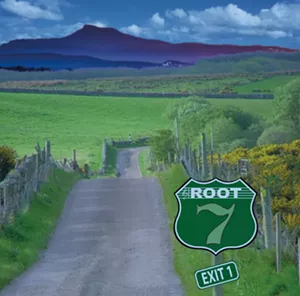 (Self-released, digital download)
A cappella music tends to have a polarizing effect on listeners. Love it or hate it, the vocal style has recently moved beyond its kitschy novelty status and into the mainstream, thanks to cultural milestones such as the Pitch Perfect film franchise, the teen TV dramedy "Glee" and the rise of televised singing competitions. The instrumentation-free genre is now solidly part of the zeitgeist — see the chart-topping, Grammy-winning quintet Pentatonix for proof.
Chittenden County's Root 7 carve out their corner of the a cappella empire one doot-doot at a time on their unexpectedly delightful debut, Exit 1. Lifelong a cappella acolyte Joe Antonioli helms the coed nonet. He previously led and managed several singing groups in the area, including Random Association, Class Act and Vermont Velvet, and he was a member of the University of Vermont's Top Cats. His group reinvigorates a handful of mostly well-known pop songs, transforming them into bouncy renditions full of counterpoint and dynamic gymnastics.
There are two basic methods for reinventing a song for a cappella. The first is to write vocal lines that mimic instrumental parts. The other is to create something more abstract, favoring interpretation over imitation. Root 7 do both well.
The standout cut is a reworking of folk-rock band Delta Rae's listless "Dance in the Graveyards." Root 7's take creeps in with junglelike yelps, percussive whispers and heavy bass tones soused in reverb. A saturated harmonic bed cradles Antonioli's solo, which comes to a head as the group shouts, "Gloria!" Swells of descending oohs and ohs progressively emphasize tonal relationships not realized in the original.
Jason Mraz's "I'm Yours" gets the mashup treatment with the Black Eyed Peas' "Where Is the Love?" Soloists Kayla James and Chris Nial — the latter of whom arranged the fusion — sing with emotive fervor and nuance, which almost makes me forget how cloying and obnoxious the real versions of these songs are. Nial sets a slower and jauntier pace than do the Peas, which actually makes their song's plea for guidance more emotionally resonant.
Another fun entry is a fairly straightforward adaptation of Carrie Underwood's "Blown Away." Briskly plucked strings become vocal pops that thread James' plaintive solo. Just after a thunderous bass drop obliterates the collective sounds, the team rallies and zestfully slams the remainder of the song.
The group front-loads Phil Collins' eerie, sparsely produced classic "In the Air Tonight" with pivoting doo-bah-doos and swollen choral embellishments. Smartly, they keep the original's famous slap-back echo intact on Corinne Mertz's solo.
Root 7 are likely to have a niche audience. But that niche seems to be incrementally growing. Fun fact: The group is currently working on original material. Perhaps we'll get a taste if they make it to Exit 2.
Exit 1 is available on iTunes. Root 7 perform on Friday, November 3, at Social Club & Lounge in Burlington.