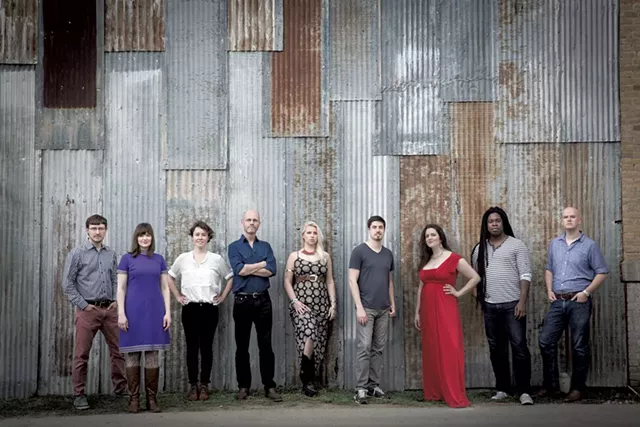 Courtesy Of Bonica Ayala
Roomful of Teeth
The world of new classical music is a busy and vibrant one, but not all participants have gained widespread recognition. Among those who have is Roomful of Teeth, a small group of singers and singer-composers who have mastered vocal techniques used around the world, including Tuvan throat singing and Korean P'ansori. Similarly, Vermont-born composer Nico Muhly, whose influences range from minimalism to Madonna to Beethoven to Björk, has attracted a large, young and hip fan base.
The composer and the choral group share an aptitude for exploring the far reaches of sound, yet they haven't worked together — until now. Vermonters will get a chance to hear their first collaboration when Roomful of Teeth, accompanied by the Dublin Guitar Quartet, perform a work by Muhly on Thursday, January 30, at Middlebury College.
Muhly, who earned an undergraduate degree in English literature at Columbia University and a master's in composition at the Juilliard School, will give a talk before the concert.
The 40-minute work is called "How Little You Are." Having originally composed it in 2015 for a large choir and the Dublin, Los Angeles and Texas guitar quartets, Muhly rejiggered it for Roomful's eight (on average) members and a single guitar quartet. The new arrangement will receive its East Coast premiere at Middlebury.
Courtesy Of Laura Sheeran
Dublin Guitar Quartet
The University of Texas at Austin commissioned the original work. Muhly said in an online interview that he wanted to honor "Texas and the history of the westward expansion," so he and an assistant read "thousands of pages" of archived 19th-century pioneer diaries, mostly by women. For his text, he settled on the diaries of two Texas pioneers, Elinore Pruitt Stewart and Mary Alma Blankenship. The instrumentation was a nod to the role of the guitar in the cowboy-and-campfire imagery of the West.
In an email to Seven Days, Muhly wrote more about his research: "I was struck by the combination of practical diary-writing ('today this happened: laundry') and the searingly emotional severity of that kind of pioneer life: children dying, missing husbands, hunger."
The work's title comes from an entry by Blankenship about the sheer scale of western lands and the loneliness they induce: "But when you get among such grandeur you get to feel how little you are, how foolish is human endeavor, except that which unites us with the almighty force called God."
Muhly was born in Randolph and split his childhood years between Providence, R.I., and an 18th-century farmhouse in Tunbridge. Now 38 and based in New York City, he is known as a prolific composer of accessible new music in all genres with an unusual facility for collaboration. Muhly has composed operas (including Two Boys and Marnie, both commissioned by the Metropolitan Opera), film scores (The Reader, Kill Your Darlings) and music for ballet, as well as orchestra and chamber music.
New Yorker music critic Alex Ross wrote in 2018 that, "As a composer, Muhly is attracted to glittering sounds, elegantly intertwining lyrical lines, and austere polyphonic textures modeled on Renaissance and Anglican choral music."
Equally interested in homophonic textures, Muhly composed three chamber pieces between 2010 and 2012 called "Drones." In "Drones and Violin," the violin creates a lulling, droning hum while the piano pursues a dramatic line of soft chords and loud, staccato bursts. Muhly's formative musical experience as a child was joining a local Anglican church choir; at times, the droning recalls a choir humming long notes in unison.
Humming is one of the more staid vocal techniques used by Roomful of Teeth. The mission of the Grammy Award-winning vocal ensemble, founded in 2009, is to loosen the western classical world's adherence to a single way of singing by exploring Persian classical singing, yodeling, Broadway belting and more.
One member of the group, singer and composer Caroline Shaw, won the 2012 Pulitzer Prize for her composition Partita for 8 Voices, which Roomful of Teeth perform in a mesmerizing video available on YouTube. The third movement begins with a tightly rhythmic arrangement of nonmusical sounds made solely with breath.
Muhly wrote in his email, "I've known [Roomful of Teeth] and admired their work for years." Their paths didn't cross until recently because, he writes, "I think I normally exist in a more sacred choral environment.
"This is a very American piece," he adds of "How Little You Are," "with American texts sung in a variety of American Englishes. I'd like to think that [Roomful of Teeth] will be able to call upon the enormous wealth of ways to interpret the English language they have built into themselves, and delve into some of the ways the piece accesses folk registers, as well as sacred music. I'm excited to see what they do with it!"
Roomful of Teeth are making a return appearance in Vermont. The ensemble did a weeklong residency last summer in Leicester on Lake Dunmore with New Music on the Point, Vermont's only contemporary music festival. Shaw, who won't be at Thursday's concert, also taught at Middlebury College during a weeklong residency last spring.
The Dublin Guitar Quartet, one of the groups that performed the premiere of the original work, will here take over the work of 12 guitars. The all-male foursome, who met at the TU Dublin Conservatoire, play only new commissions and contemporary compositions, including arrangements of Philip Glass' string quartets and works by Steve Reich. Thursday's program includes pieces featuring the quartet alone, as well as a cappella pieces by Roomful of Teeth.
On hearing the premiere of "How Little You Are," critic Paul E. Robinson of the online publication Ludwig Van described the music as "mostly quiet and reflective" and "abstract rather than overtly emotional." For that reason, the Middlebury performance of the new, more intimate version — for a smaller group of performers, in a smaller but acoustically perfect space — may be the one to see.