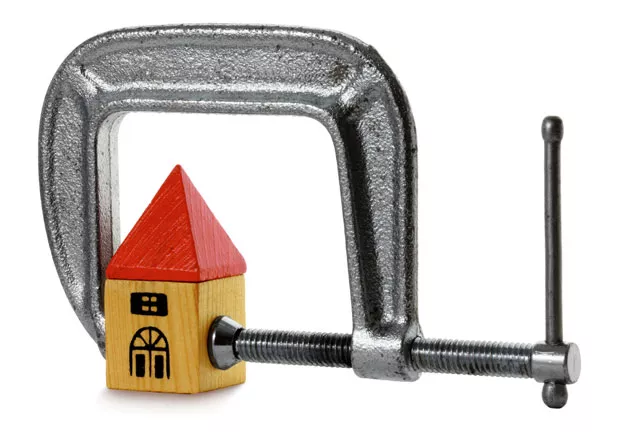 Toxic debt, subprime, upside-down mortgages: The words and phrases of the new economic vocabulary are now ensconced in the daily lexicon, even if not all of us could adequately define them. What we do know is that these terms refer to a financial collapse of unprecedented proportions, and that one sad outcome is thousands upon thousands of American families losing their homes.
Is there any silver lining here?
Yes, say some experts in the housing industry. For starters, in Vermont the housing situation does not come close to the crisis that exists in some other states, thanks to a responsible banking community and the minuscule percentage of subprime mortgages. Sure, foreclosures are up across the state (see Brian Wallstin's article, "Barring the Door,"), but those numbers are still relatively small, assures Heidi Hayward Urish, a broker at South Burlington-based Spruce Mortgage and a member of the board of the Vermont Mortgage Bankers Association. "There are still numerous home-buying programs available," she says. "There's not as many 100 percent financing — you generally have to have good credit and a down payment."
"The crisis was because people were getting loans who really didn't qualify," concurs Mark Chaffee of Mortgage Financial in Colchester. "The mainstream press is all gloom and doom, but there actually is money available for new mortgages, both conventional and government. What's disappeared are subprime and no-documentation loans."
In other words, now is a great time to buy a home — particularly for first-timers — if they have good credit, demonstrable income and low personal debt. "The vast majority of folks trying to purchase a home now can still do it," Chaffee declares. "The biggest tool we have now is the FHA [Federal Housing Administration], which allows lower credit scores and less down-payment than conventional loans. Our production of FHA last year was 5 percent; this year it's more like 40 percent. That's backed by the U.S. government."
And, according to the FHA website, the Department of Housing and Urban Development (HUD) has just issued — for the first time in three decades — mortgage reforms to help homebuyers find the lowest-cost mortgages and, conversely, to avoid expensive and potentially harmful loan offers. Part of the new ruling is that lenders and brokers must "disclose key loan terms and closing costs," which HUD anticipates can save each purchaser at least $700.
For buyers, though, Chaffee does concede that "acceptable" credit has "tightened up," and recommends that potential homebuyers find out their credit score at the beginning of the process (if it's under 580, better work on it). The website myfico.com has loads of helpful information, he says, as do the three major credit bureaus, TransUnion, Experian and Equifax. "Getting info from TV and web browsers is not the way to go," Chaffee cautions.
Homebuyers are now so concerned about financing that "they'll go to mortgage brokers first — it used to be you'd go to a real-estate agent first," he adds. "Some people in my industry nationally are getting out of mortgage brokering and into the credit-counseling industry."
So, say a wannabe homebuyer in Vermont has good credit and a verifiable income and assets. Can he or she find a suitable house? Doesn't the state still have a housing crunch, especially in the "affordable" category?
"Vermont's housing shortage hasn't really changed much," admits John Fairbanks, publicity affairs manager for the Vermont Housing Finance Agency. "Homes for sale are staying on the market longer than they have in the past." And though prices have stabilized, they haven't exactly plummeted. That's because, Fairbanks suggests, "We're still very much a destination place where people want to live . . . We continue to see a supply of homes for purchase and rent, but the problem remains that a lot of Vermonters work at jobs that pay modest wages. From 1998 to '06, home prices basically doubled, but wages did not, so even though purchase prices have leveled off, incomes have not caught up."
The statewide median price for a home is about $200,000, Fairbanks says. For many Vermonters, the best bet for a "starter home," especially in Chittenden County, is a condominium.
These economic exigencies were no doubt central to the discussion at this week's Vermont Statewide Housing Conference at the Sheraton Hotel in South Burlington. But germane, too, were potential solutions and homebuyer-helping programs, such as those at the VHFA, a private nonprofit that raises money by selling bonds. "We still have loans for qualified buyers," says Fairbanks, "and because of the market and cost and what people [in Vermont] earn, that creeps pretty far into the middle class. A lot of Vermonters will qualify."
He also points to the Champlain Housing Trust (CHT), which does "extensive home-buying workshops and provides affordable housing, both for sale and for rent, to low- and moderate-income Vermonters." Fairbanks strongly recommends first-time homebuyers sign up for some education about the process. "It's amazing how many people will get into the largest financial decision they are ever going to make without getting enough education," he laments. "We really stress that to people."
CHT Organizational Development Director Chris Donnelly could not agree more. "In addition to homebuyer education, we also offer counseling regarding credit," he says. "Bankers love that because people come in knowing what they're qualified for. Some people will take a year or two to save, and repair their credit. Then, when they're ready to buy, they're really ready."
CHT is a nonprofit that evolved two years ago from the merger of the Burlington Land Trust and the Champlain Housing Development Corporation. Its mission is to find and preserve "perpetually affordable" housing in Chittenden, Franklin and Grand Isle counties, and to provide down-payment grants to qualified Vermonters. Those grants, which can amount to 20 percent or more of the purchase price, also allow homebuyers to "avoid paying private mortgage insurance," Donnelly says. Currently, CHT has 440 homes in the system across those three counties. "Right now," he notes, "13 homes for sale are listed on our website [getahome.org]. And we just converted some apartments in Winooski to condos — some people were renting, now they're buying, and their mortgages are equal to or less than their rent." Most of the homes available are "affordable to people earning a lot less than the median income in Vermont — 60 to 70 percent," he says.
Donnelly adds that his organization is getting "five or six calls a week from people who are concerned they're going to lose their homes. We're here to help," he says.
How does CHT generate permanently affordable housing? First, qualified buyers receive that down-payment grant (the main source of funding is from the Vermont Housing and Conservation Board). "In exchange for receiving the grant from us, the people get to be a homeowner — they get to mow the lawn and shovel the snow," Donnelly quips. "Then, when they go to sell, they share that opportunity with the next person by sharing the market appreciation." In short, sellers get back whatever they had paid down on the mortgage plus 25 percent of the appreciation. CHT can deduct the other 75 percent of the market value off the next purchase price, and thus keep the resale price affordable. "Essentially, the house becomes more affordable to investors over time," Donnelly says. CHT's award-winning model, he adds with justifiable pride, "is now being done in 200 communities across the country."
Conventional mortgage brokers are big on homebuyer education, too. "People are not just jumping into things they're not ready for," says Hayward Urish of Spruce Mortgage. "They're learning more about it first." Though her company does not handle FHA loans, she's quick to credit that route for first-time buyers. And via USDA Rural Development, she notes, "You can still do 100 percent financing in rural areas — which is most of Vermont."
So, the housing market in Vermont is stabilizing, a variety of homes, including affordable ones, are available, and programs exist both to educate buyers as well as help them get financing. The "catch" is that buyers need to develop good credit and low debt, save money and make appropriate choices. Sounds pretty sensible. And if this is not a silver lining in the economic crisis, it's at least, as John Fairbanks puts it, "a bronze one."