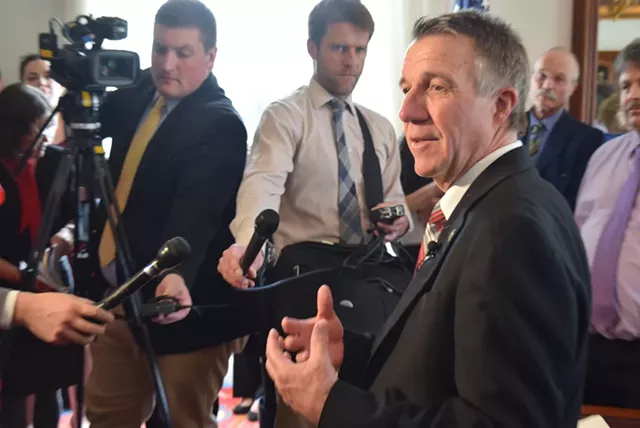 Terri Hallenbeck
Gov. Phil Scott discusses health care negotiations with reporters Friday in his Statehouse office.
Heading into the 2017 legislative session, Vermonters knew to expect a triumvirate of fresh-faced leaders at the Statehouse: a new governor, Senate president pro tempore and House speaker.
They weren't exactly strangers. During his 16 years as a state senator and lieutenant governor, Republican Gov. Phil Scott had shown himself to be an easygoing, handshake-and-a-smile kind of guy.
Sen. Tim Ashe (D/P-Chittenden), an eight-year veteran of the institution, had won the pro tem's job by building a broad coalition in the Senate — including liberals, moderates and even conservatives.
And House members specifically chose the more centrist, policy-oriented candidate when they elected Rep. Mitzi Johnson (D-South Hero) speaker last winter.
What we didn't know then was how these three leaders would fare under the pressure of their new jobs. Now, with the legislature entering its second week of overtime, we're getting a close-up view. And it's not all pretty.
The three leaders have been stuck in a weeks-long gridlock over how to achieve and what to do with savings generated by lower-cost teacher health insurance plans that will take effect next year. Scott has threatened to veto the state budget if lawmakers reject his plan to capture up to $26 million a year in savings by mandating statewide negotiation of the health plans. He can likely make a veto stick because House Republicans have enough members — 53 out of 150 — to block an override.
What we're discovering is that Scott, whom Vermonters thought was so easy to work with, is turning out to be a wily, even intransigent, political negotiator.
Ashe, a 40-year-old whiz kid, is showing himself to be an impetuous, short-tempered pro tem who may not be as clever as he sees himself.
And Johnson, the highly organized policy wonk of a speaker, can't seem to read the political climate in her caucus — nor count on its support.
The New Governor
Last Thursday morning, as the governor's stalemate with legislators dragged on, another email from the Phil Scott for Governor campaign popped into inboxes around the state.
"In case you missed it," the missive said, "Gov. Phil Scott's Administration Responds to Proposal from Senate Pro Tem."
Seventeen months before the next election, Scott is using his campaign email, Twitter and Facebook accounts to help hammer home his message. Who knew there was a campaign?
Volunteers are keeping Scott's political operation running, according to spokeswoman Rebecca Kelley. She refused to identify them, though she said that none of the governor's paid staffers are involved. (By the way, this makes Scott ineligible to ever claim it's too early to talk about whether he's running for re-election. He's running — and the campaign has started.)
In his first four months on the job, the 58-year-old chief executive has learned a key lesson of governing: Keep the message simple.
In this case, it's the oft-repeated mantra: "I'm unwilling to leave $26 million on the table."
Scott argues that his pitch to replace district-by-district negotiations with one statewide teacher health plan will save property taxpayers the most money. To his credit, the governor has landed on a proposal that appears to have gained traction with the public. But Scott has deftly disregarded its complexities.
He does not trouble himself with the fact that if school districts choose to increase teacher salaries to compensate for less generous health contracts, his plan would not save $26 million a year. He does not dwell on the fact that next year's estimated savings amount to just $13 million, because the contracts start halfway through the fiscal year.
These omissions, among others, have made negotiating with Scott frustrating, Ashe and Johnson claim.
"We're both trying to work through a sphinxlike situation," Ashe said, suggesting that haggling with Scott was an unwin. "It's not a typical negotiation."
When legislators argued that mandating statewide negotiations would violate teachers' collective bargaining rights, Scott responded that he was open to other ideas. Yet he's rejected all other ideas — while changing his own standards for what he'd accept.
First, he said he merely wanted to ensure $26 million in savings. More recently, he has insisted on statewide negotiation.
Last Thursday night, Scott's staff slipped a counterproposal under the door of Ashe's office. It called on lawmakers to simply put a single statewide teacher health insurance contract into law.
Ashe was incredulous. "There's not even a semblance of negotiations about the benefit," he said.
"I'm typically working on negotiations when the two sides go this way," Ashe said Friday, moving his hands toward each other. "The latest proposal from the governor has actually circled back around beyond where the starting point was."
The New Pro Tem
On the Senate floor late Thursday afternoon, Ashe announced that the chamber would reconvene the next morning. Senators would vote on the pro tem's own proposal — regardless of whether the governor agreed with it.
"At this point, we've done every single piece required of us so that we could reach across the table and shake hands," he said, with a surly bite to his words.
Sen. Kevin Mullin (R-Rutland) posed an innocent question. "Should one attempt to find housing for tomorrow night?" he asked, wondering whether the legislature would spend the weekend in session. "Is the goal to be out of here tomorrow night?"
"That's a problem of other people's making," Ashe snapped back. "Other people can answer how and if it will be solved."
Minutes later, WCAX-TV reporter Kyle Midura asked Ashe which plan the Senate would vote on the next day, given that Ashe had been unwilling earlier to share details. "You're asking for too much transparency, Kyle," Ashe said sarcastically as he walked out of the Senate chamber.
The statements were an example of Ashe's unwillingness to share information — with the public or his own members — especially when he's under pressure. The net effect: He isolates himself just when he should be seeking allies.
The next morning, Ashe came to the Senate with a revised proposal, responding to some of Scott's criticisms. His new plan would require school districts to save $13 million next year. It encouraged them to do so through health insurance negotiations but also allowed them to reduce noninstructional funding to meet their targeted cuts.
After the Senate voted 20-9 to back his plan, a calmer Ashe was more willing to talk. He suggested he wasn't all that fond of the plan himself. "I take no great pleasure in being up here and having to deliver this amendment today," he said. "The driver for our action is that there's a veto threat."
Ashe had managed to win support for his plan in the Senate, but he'd done nothing to bring along the House and still couldn't reel in the governor. As the Senate adjourned for the weekend, his proposal increasingly appeared to have no future.
As lawmakers returned to Montpelier this week, Ashe's best hope seemed to be to work with a new plan Johnson was offering.
After meeting with the speaker in her office Tuesday afternoon, Ashe ducked reporters and slipped away. Near the end of the day, his chief of staff, Peter Sterling, issued a cryptic written statement.
"As frustrated as Sen. Ashe is that a solution to the impasse with the governor hasn't been found yet, he doesn't want to say anything publicly that could preclude an agreement being reached," Sterling wrote.
The New Speaker
Last Thursday afternoon, word spread around the Statehouse that House and Senate Democratic leaders were preparing to hold a press conference to announce a new bicameral agreement: the Ashe proposal. It appeared lawmakers were ready to move on, with or without the governor.
But when the time came to talk, Johnson stood alone in the hallway to explain and defend the plan before a phalanx of microphones and cameras. Ashe was nowhere to be seen.
"This is the only plan on the table that guarantees a 3-cent reduction in property taxes this year, right now," Johnson said. "Every other plan nibbles around the edges."
The former chair of the House Appropriations Committee is in her element talking policy. Politics don't come as naturally.
What was the game plan for passing the proposal? Were the House and Senate going to vote on it? Were legislative leaders presenting it to the governor? Johnson couldn't say.
"I'm not sure who votes first and exactly how that all plays out, but I feel this is the thing that gets us closer," Johnson said.
Suddenly, this bold stance by the legislature didn't look very bold at all. As House members absorbed the proposal, including Ashe's Friday morning tweaks, its future grew even less certain.
"I don't think we have the votes," Rep. Sam Young (D-Glover), who is vice chair of the powerful House Ways and Means Committee, said Friday.
Young was prepared to vote for the plan, but only to support his speaker.
"I don't think it's a good piece of policy," he said, citing concerns that it would cost districts dissimilar amounts. "But I don't have to worry about it becoming law."
Not having the votes to pass a bill has become a common theme in the House under Johnson's leadership, despite the strong Democratic majority. Marijuana legalization lingered in her chamber for months before finally passing last week. Scott's teacher health plan nearly won approval earlier this month as an amendment while Johnson struggled to find the votes to kill it.
This time, she had worked out a deal with Ashe that her own members couldn't back. Friday afternoon, Johnson took out her frustration on her Senate counterpart, citing "concerns" with the changes Ashe had since made. She spoke of coming up with a different plan.
By Monday, she had one. Crafted over the weekend with input from all parties — including Ashe, the union, school boards, the governor and some of her members — this revision almost immediately earned Johnson the wrath of the Vermont-National Education Association.
Johnson proposed setting narrow parameters around health insurance negotiations, forcing school districts to stay within confines that would save $26 million a year. She refused to share a written document detailing the plan, which she said was still in the works.
Vermont-NEA president Martha Allen, whose union has fought Scott's original proposal for weeks, called the speaker's new plan "an anti-worker intrusion into the collective bargaining process."
Johnson disagreed. "I don't see it to be a drastic step," she said.
The drastic step was for the Democratic House speaker to champion a plan abhorred by a union that is one of her party's strongest allies. It may be a step that leaves her standing, once again, alone.