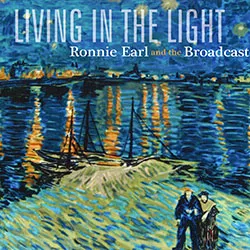 (Stony Plain, CD)
Blues is a lifestyle; a boozy, bittersweet ride that rocks and rolls and never really ends. It's seldom seen — or truly heard — this far north. So, when a gunslinger of Ronnie Earl's caliber surfaces, you'd better prick up your ears. Touring for nearly a decade with Roomful of Blues, Earl settled in Massachusetts and has lately produced solo joints hotter than Texas asphalt. On Living in the Light, the 56-year-old again proves that style and swagger are ageless. This is music you can feel in your bones.
Joining Earl's court for the first time is Montpelier soul man Dave Keller. No stranger to the mic, Keller guests on two tracks, first bringing his own bluesy range to the opener, "Love Love Love." His gospel is infectious, but ultimately bows to the slow Delta crawl imposed by Earl and pianist Dave Limina. Their moody turn erodes some of Keller's kinetic buzz, perhaps serving as a metaphor for the pitched ride to sobriety Earl's been taking these 20 years.
"S.O.S." pits Earl's Stratocaster against Limina's B3 organ in a duel that's as desperate as its name. Backed by the Broadcasters' swinging rhythm, it's the kind of reckless, emotional eulogy you'd expect to hear at a Mississippi funeral. These aren't short songs, but healing takes time. And with dirty numbers like "River Charles Blues," you won't want the record to end. Earl runs his signature riffs like a current through each instrumental, crafting solos smoother than a Champlain sunset.
Peppered with vocal cuts, Light is surprisingly accessible and smartly paced. Its rich cast of players — such as Kim Wilson of the Fabulous Thunderbirds — help energize standards that might otherwise serve as filler. From Wilson's blistering harp on "Take a Little Walk with Me" to Keller's spiritual rendition of "What Can I Do for You," it's all rather compelling. Still, it is Earl's stirring guitar that lingers. Purists will swoon over his plaintive "Recovery Blues" — as intimate a jam as you'll find in this genre. And the classic "Ain't Nobody's Business" is so expressive that lyrics are abandoned altogether; Earl's axe evokes more than words ever could.
There are breathless highs and brooding lows throughout Light. Not to mention the scattered ghosts of Buddy Guy, Jimmy Smith and Stevie Ray Vaughan. If this elixir doesn't put a fire in your belly, chances are nothing will. Earl's inspired touch is undeniably affecting; he's a New Englander whose blues compass points due south.