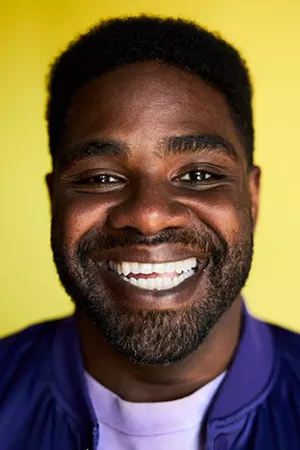 Courtesy Of Ron Funches
Ron Funches
Ron Funches is one of the most positive people in comedy. His bits and jokes consistently punch up, deriving humor from relatable observations and anecdotes without tearing anyone down or crossing into a negative space. To be clear, his material isn't squeaky clean. He can be as raunchy as the next comic. But any vulgarity heard in his routines serves his greater mission of positivity.
Funches does standup, writes for television and hosts a podcast. He also acts, with an emphasis on voice acting. Some may know him from his frequent appearances on the fast-paced Comedy Central game show "@midnight," which ended in 2017, while others may recognize his writing credits on "The Eric Andre Show" and "Kroll Show."
Anyone who's seen the 2016 animated comedy Trolls should recall Funches as the voice of Cooper, the endlessly upbeat, harmonica-playing sidekick. Even younger viewers than that film's target audience may recognize the charismatic comedian's voice from children's programs such as "Final Space" and "Home: Adventures with Tip & Oh."
The father of a teenage son with autism, Funches talks openly about the nuances of rearing a child who has special needs. Listen to the segment "Autism Parenting" on his 2019 album Giggle Fit to hear a particularly sidesplitting cautionary tale.
In spring 2020, Funches will unveil his new game show, "Nice One!" — part of the initial block of programming on Quibi, a forthcoming short-form video streaming service. The comedian likens the show to "@midnight," but with a positive twist.
Funches performs on Friday and Saturday, November 8 and 9, at the Vermont Comedy Club in Burlington. Seven Days caught up with the comedian by phone and email to learn more.
SEVEN DAYS: What can you tell us about your new game show, "Nice One!"?
RON FUNCHES: Like "@midnight," it's a panel show with three comedians; I'm the host. We ask them to talk about topics. Some of them are situations that people would normally look at as bad, like man buns or Crocs. Or perhaps the Titanic sinking. And then we force the comedians to say something positive about them.
It's just kind of a fun way for people to showcase their humor without having to burn through their jokes. And it's the type of humor I enjoy creating, which is looking at the bright side of bad situations. And it just breaks down to this compliment battle between the comedians. I really enjoyed that part, because a lot of comedy tends to be about tearing down other people or saying that you're better than someone else. This is a show that, at the very end of it, is about praising your peers and talking about their accomplishments and what you like about other people.
SD: Speaking of "@midnight," I understand you're the show's most decorated contestant of all time.
RF: Yeah. Why did you say that with hesitance? Say it proudly!
SD: Well, I said it hesitantly because I only saw an oblique reference to that in an article from the A.V. Club, not ronfunchesisthemostdecorated@midnightcontestantofalltime.com.
RF: [Laughs.]
SD: I was wondering if appearing on that show was as stressful as it looks. Having to come up with anything on the spot is stressful to some degree.
RF: Well, you get a little bit of time, like an hour or so, to look at the topics. But I thought it was a great mental exercise, having to write jokes about topics that I didn't cover in my act. I really loved it, and I liked how it showcased so many people's different talents and types of humor. Since it went away, I feel like there's been a major hole in that style of show and of introducing people to new comedians.
SD: Your podcast, Gettin' Better With Ron Funches, is all about positivity. How did you arrive at that concept?
RF: I just wanted to make a podcast talking about the things I like talking about that I wasn't hearing from other comedians. Self-help and the act of getting better is full of missteps and hilarious situations. I wanted to talk to my friends about their respective journeys.
SD: The shelves you're sitting in front of in the first episode are covered in what appear to be graphic novels and professional wrestling collectibles. If you could pick one graphic novel character and one wrestler to square off in a duel, who would win?
RF: Hulk Hogan versus the Hulk. The Hulk destroys Hogan, and he knows why.
SD: What happens when a joke bombs? Do you retool it, or kick it to the curb?
RF: Both. Work on it for a while if I love it. But if it doesn't work, it just doesn't work. Like any bad relationship, it'll be more painful to keep trying.
SD: You voice Cooper in the Trolls movie franchise. How was the character developed? Is there any Ron in there, or do you just show up and act?
RF: It's a great job and a fun collaboration. I get to do my fair share of improvising. I am really excited about his role in the sequel and series. It's just enough but doesn't dominate my time.
SD: By its very nature, voice acting seems less stressful than acting in front of a camera. What's something that's difficult about voice acting that people might not realize?
RF: Having to be extremely open and silly, and sometimes singing in a room with just you and producers can be kind of daunting. You really have to tap into your inner child.
This interview has been edited and condensed for clarity and length.