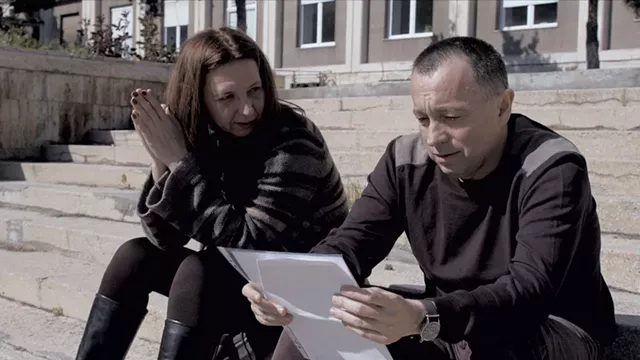 Courtesy Of Magnolia Pictures
COLLECTIVE ACTION Journalists from a sports newspaper track down the story of a lifetime in Nanau's acclaimed documentary.
Our streaming entertainment options are overwhelming — and not always easy to sort through. This week, I watched the Romanian documentary Collective, which has racked up a string of accolades and could be an Oscar contender. It's available to stream through the Vermont International Film Foundation's Virtual Cinema portal, now through December 17 and from December 28 to January 21. (In the interim, VTIFF will offer four classics set in Vermont as part of the ongoing Split/Screen series.)
The deal
In 2015, a fire at the Colectiv nightclub in Bucharest killed 27 people and injured 180. The club had been allowed to operate without fire exits, and the resulting outrage brought down the nation's ruling political party.
But the grieving wasn't over, nor was the exposure of government malfeasance. During the months after the fire, 37 more victims died in state hospitals, many of seemingly treatable burns. Tipped off by a doctor who reported rampant bacterial infections in burn units, journalists from the Sports Gazette newspaper investigated the pharmaceutical company that supplied disinfectants to hospitals across Romania.
They discovered that the company was diluting those disinfectants, some to just 10 percent of their recommended strength. During the ensuing scandal, the health minister resigned, and the company's head died in a mysterious car crash. And the revelations kept coming.
Will you like it?
For an illustration of how private grifting eats away at public institutions and trust, you couldn't do much better than Collective. The movie demands active viewership, though, because director Alexander Nanau belongs to the "You can use Google, so why should I explain it to you?" school of documentary filmmaking.
There are no talking heads and almost no on-screen titles; we know the names of key players such as everyman reporter Catalin Tolontan only from glimpses of their bylines. We don't get a primer on Romania's turbulent history or its Communist-era legacy of corruption. If you blink, you might miss the casual revelation that Romanian patients routinely bribe their doctors for better treatment. (The New York Times' ongoing coverage of Romania is helpful here, especially a 2017 piece called "In Romania, Corruption's Tentacles Grip Daily Life.")
But why should the director spoon-feed us facts that we can find elsewhere when he can use that screen time to put us right in the room with the journalists and a whistleblower, or in their car during a stakeout, or inside the burning nightclub itself? Cellphone footage of the fire, which opens the film, is harrowing but necessary — it shows how quickly something can escalate from a weird night out to a national tragedy.
Nanau's level of access makes the film immersive, whether his camera is stalking an official with possible mob connections or simply witnessing the maddeningly complicated efforts to reform a corrupt bureaucracy. About halfway through the film, newly appointed health minister Vlad Voiculescu becomes the de facto protagonist. A young patient advocate brought in to cleanse the rot from the system, he encounters resistance at every turn in a real-life scenario reminiscent of "The Wire."
Given the specificity and intricacy of the institutional breakdown unveiled in Collective, some may ask why American viewers should care. Consider, though, how easy it is to take public institutions for granted until an unforeseen disaster puts them to the test. A few burn victims dying here or there didn't suffice to expose horrifying neglect in the Romanian health care system. Thirty-seven victims dying in a short time frame did.
Right now, the pandemic is putting many of our institutions under enormous strain, exposing cracks we did our best to ignore. Nanau's uncompromising doc forces us to wonder whether those institutions will emerge better, worse or at all.
If you like this, try...
4 Months, 3 Weeks and 2 Days (2007; Criterion Channel, IFC Films Unlimited, AMC+, Sling, rentable): A landmark of Romanian cinema, Cristian Mungiu's drama follows two women seeking an illegal abortion at the end of the Nicolae Ceausescu era. Its chilling portrait of Communist Romania offers historical context for the corruption we see in Collective.
City Hall (2020): The labyrinthine workings of civil institutions may not always be gripping, but, as Collective reminds us, our lives could depend on them. In another current offering of VTIFF's Virtual Cinema, documentary doyen Fred Wiseman takes us inside Boston's municipal government to examine the health of those institutions in the U.S.
Spotlight (2015; Netflix, rentable): For a Hollywood take on journalists rooting out institutional corruption, it doesn't get much better than this fact-based drama about the Boston Globe reporters who exposed a cover-up of sexual abuse in the Catholic Church.