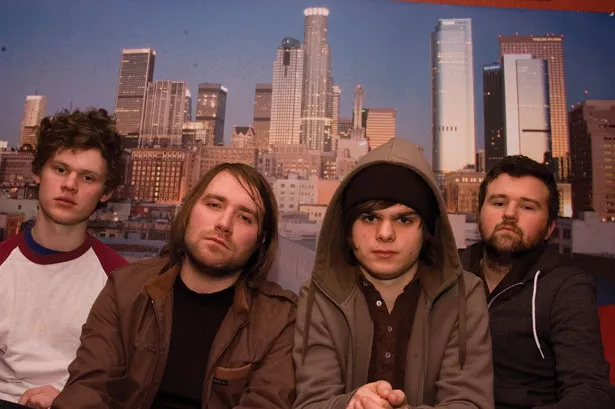 Matthew Thorsen
Left to right: Sean Martin, Tom Kelly, Kevin Savage, Justin Gonyea
The rumor has been floating around Burlington's underground circles for months: "Dude, did you hear Romans signed to Metal Blade?"
Guess what, dudes. It's not true. Well, OK, it's sort of true. But not really. Actually, it's kind of complicated.
Last week, Boston-based heavy-music imprint Black Market Activities announced it had indeed inked a deal with the local post-hardcore/metal/whatever quartet. Predictably, the Internet buzz started right away. "Our MySpace page got, like, 1500 plays in six hours," says bassist Sean Martin, 21, about the barrage of interest suddenly aimed at the band.
And with good reason. BMA is one of the most respected hardcore labels in the business. It's not, as is often mistakenly assumed, a subsidiary of Metal Blade - arguably the most influential heavy-metal label on the planet. But its releases are produced and distributed through the metal magnate, whose U.S. distribution, in turn, is handled by major-label monolith Sony Records. In short, that's a very big deal.
So what happened to this little-known Vermont hardcore band, barely a year in existence? (Romans formed in winter 2006.) How did they go from selling a few hundred discs at live shows to having their music on the brink of availability at mega-marts like Best Buy? Would you believe . . . serendipity?
"We focused most of our energy into the record, so it would be more appealing to people," says drummer Kevin Savage, 17, adding, "so that it would be immediately impressive." He's talking about the band's 2007 release All Those Wrists, which quickly drew positive attention from numerous media outlets, including Seven Days. Punknews.org called the record "immediately impressive" for its genre-bending mix of sludge and melodicism.
Bucking conventional struggling-band wisdom, Romans recorded and produced All Those Wrists before even playing its first show. "We were well prepared going into this," says vocalist/synth player Tom Kelly, 24. While most bands are all too eager to release demos and EPs - often of questionable quality - Romans holed up in guitarist Justin Gonyea's home studio in Lincoln in winter 2006 to record the album. It was based on demos Gonyea had recorded with Savage and original co-founder and guitarist Ben Lee, who would leave the band for college shortly before the All Those Wrists sessions began. Kelly and Martin came on board, rounding out the lineup.
"One of the first things we talked about was getting a recording set before we even did anything," says Gonyea. "Because if you start going out and playing shows, and you have nothing for people to take from it other than just seeing you, it's like . . ." He trails off with a shrug as Martin interrupts, saying, "Everybody has a demo." Adds Savage, "But the fact that we have this professional-looking thing - people instantly take you more seriously."
"But it wasn't just for other people," chimes in Kelly. "I think it was for our own confidence. It's like we're a few steps ahead of people."
That air of professionalism would pay the band huge dividends - especially when combined with the polish they gained from immersing themselves in their material through the often-tedious recording process. Romans spent much of the following summer on the road, playing virtually any venue that would have them. As they traveled from nightclubs to basement shows to VFW halls and even roller rinks, they began to share bills with established acts. And those acts started paying attention - most notably future BMA labelmates Ed Gein and Architect. The latter met Romans at a show at Wasted City, Gonyea's recording studio/performance space in Colchester.
"It's funny," says Guy Kozowyk, BMA's owner and founder. He was the guy Architect contacted immediately after seeing Romans' set. "Those dudes like what they like, and they're not quick to give praise to just anybody," he points out. "I got this message from them saying, 'You've gotta work with these guys; they're unbelievable.'"
Romans had sent CDs and press kits to labels around the country, including BMA. But it wasn't until the Architect show that the group saw a return on their efforts. "I'd heard the band before and liked them, but was kind of sleeping on pursuing them," says Kozowyk. "But if you're getting compliments from Architect, that means a lot, because those guys are all about live devastation. That definitely won me over and got me curious. The CD hasn't really left my CD player since."
Kozowyk is perhaps best known as the lead singer of innovative deathcore outfit The Red Chord, one of the more influential crossover acts in aggressive music. "The genre that we had started in a lot of ways has been somewhat bastardized by the fact that there's a million and one of these deathcore-style bands out there right now," he says. "Every label is just oversaturating the style that we kind of spearheaded in the beginning. So I've reverted to seeking out different avenues with the bands I'm willing to spend my time with. I want to be working with bands that are doing things for the right reasons."
One of those bands turned out to be Romans - who, while certainly heavy, are hardly deathcore. "A lot of my roots are in that Converge punk-rock world. I like a lot of the turmoil-style hardcore," says Kozowyk, then adds, "Romans, to me, definitely have a good combination. It's very punk-rock-based. And as much as it's comforting and it's familiar, it doesn't sound like anything. It's a breath of fresh air, that in the midst of so many of these bands doing the same thing, these guys come out with this, like, back-to-basics, punk-rock-rooted, hardcore-style record. It hit me in a way a lot of bands hadn't in a long time."
The Internet age has brought a seismic shift away from labels, large and small, as more and more artists seek their fortunes on their own. In that sense, Romans have made themselves something of an oddity with their choice to sign on the dotted line, particularly at such a tender age. But Romans are not your typical band, nor is BMA your typical label.
Says Kozowyk, "I stand by all my bands, and I stand by all my releases, and I've been able to make ends meet by working with stuff that I truly love. I do everything I can to expose my bands to bigger audiences and legitimize what they're doing - as opposed to [their] just being another good band with, like, a MySpace site. It's a tough world right now, and there's more competition than there's ever been."
BMA is essentially a specialty label - albeit one with some pretty hefty friends - that has earned respect and brand loyalty in the heavy music scene. Those are assets you can't buy - a fact not lost on Romans. "It solidifies the perspective towards your band from both angles," says Savage. "From the label's angle, it's having a good, solid band on the label. And they can see that we want to be in it for the long haul."
Adds Gonyea, "We have the validity of having a label. And people who know the label and know the bands realize that we're still doing it all ourselves. They'll help us with promotion and distribution. But ultimately, we control our own future."