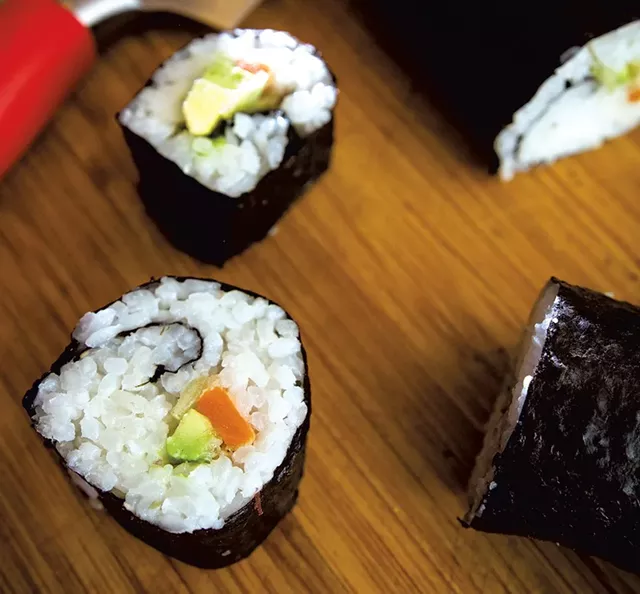 Recently my 12-year-old son, Eli, picked up a lovely graphic memoir I'd been reading called Relish: My Life in the Kitchen. In it, author Lucy Knisley chronicles her childhood traveling the world with her chef mom and each chapter ends with an illustrated recipe. Eli flipped to a two-page spread with instructions for making huevos rancheros, studied it for a moment, then asked, "Can we make these?" I immediately said yes.
These days Eli is a busy middle schooler, so when he suggests something we can do together I jump at the chance. We made the huevos for dinner that night, and they were delicious. Eli felt really good about cooking a meal for the family — so good that he immediately wanted to try another recipe. He read even further in the book, and when he came to the recipe for vegetarian maki — "roll" in Japanese — he decided it would be our next project.
We don't do a lot of traveling as a family, but I like to think we're adventurous in other ways. Eating is one of them. All five of us are usually up for tasting new foods and flavors, so we couldn't wait to try the maki recipe. It uses rice, avocado, cucumber and carrot sticks and, to our delight, thin strips of batter-dipped, fried sweet potato, all wrapped in nori, or seaweed sheets. In preparation, we made a trip to Homeport to buy bamboo sushi-rolling mats and chopsticks.
At home, we assembled our ingredients, following the recipe to the letter. I prepped Eli by reminding him that this was a tricky process and that our first attempts might not come out perfect. While I painstakingly smoothed the sticky rice to the edges of my nori sheet, Eli studied the illustration, laid out his rice and vegetables, flipped up the edge of his mat, and rolled a nearly perfect sushi roll. "Boom!" he said, holding it out for me to inspect. We kept on rolling until we'd used up all the nori.
Everyone loved the maki, especially with the salty-sweet unagi sauce we prepared. And Eli and I had so much fun that we're already planning our next recipe adventure.
Maki rolls
(from Relish: My Life in the Kitchen by Lucy Knisley)
Makes about 10 sushi rolls, enough for 4-6 people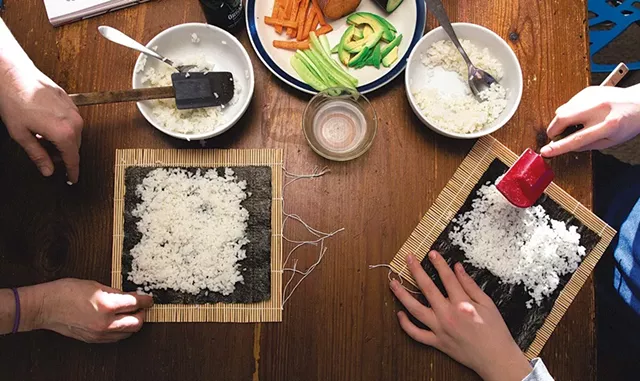 Ingredients:
About 2 cups sushi rice (located in the Asian food section of the supermarket), which yields three cups cooked
Vegetable oil for frying
A little flour to make the batter for frying
Half a sweet potato, peeled and cut into long strips about ¼-inch wide
1 avocado, peeled and cut into thin strips
Half a medium cucumber, peeled and cut into thin strips
1 carrot, peeled and cut into thin strips
1 package of 10 nori (seaweed) sheets
Tamari or soy sauce and/or unagi sauce (you can make your own unagi by mixing equal parts soy sauce, sugar and rice wine, also called mirin)
Wasabi and pickled ginger for garnish/extra flavor (optional)
You'll also need: a bamboo sushi-rolling mat (I recommend getting two or three so that several people can roll the sushi; $2.99 apiece at Homeport in Burlington) and a sharp knife.
Cook the rice according to package directions. When it's done, spread it on a baking sheet to help it cool quickly.
While you're waiting, heat about an inch of oil in a skillet. Mix a few tablespoons of flour with a few tablespoons of water in a small bowl until you have batter with glue-like consistency. When the oil is hot, dip the sweet-potato strips in the batter, then fry them in the oil in batches until crispy, about a minute or two per batch. Place the strips on paper towels to drain excess oil.
Set up your bamboo mat, a bowl of cooled rice, your prepped veggies, a sharp knife, a large spoon or spatula and a small bowl of water in a clean area. We used our dining room table so we could spread out.
Lay a sheet of nori in the center of your bamboo mat. Spread rice evenly in about a ¼-inch layer, leaving a little space at the end nearest you and 1 ½ inches of space at the end farthest from you. Arrange your veggies in a horizontal line at the midway point of your rice.
Wet your fingers with the water in your bowl, and run them over the exposed sections of the nori so it will stick together when you roll it.
Flip up the end of the mat closest to you and use it to roll the end of the Nori over the rice a bit.
Roll the mat back so it doesn't get rolled up in your sushi, then use your fingers to roll a bit more.
Next, roll the mat up behind the sushi roll and use it to sort of push the roll along. This is surprisingly easy to do, but hard to explain. You have to roll a bit, then roll up the mat behind the sushi roll, and repeat until you're at the end. When your sushi roll is finished, use the mat to squeeze it gently, which will seal it up.
To portion the roll, use a damp cloth to wet the blade of your knife, then cut it into 1-inch slices. One roll makes 7-8 slices of sushi.
Use chopsticks or fingers to dip your maki into tamari, soy or unagi sauce.