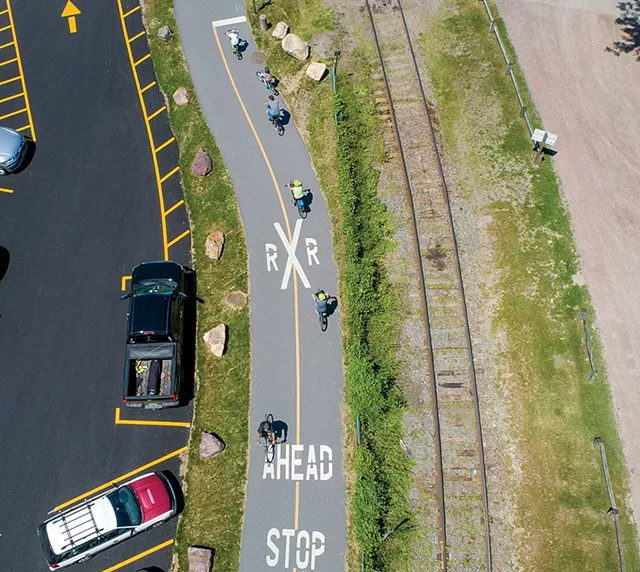 With its steep hills and deep winter snowdrifts, Burlington may not, at first, seem like a cyclist's paradise. But bikes, trikes and the even occasional unicycle (because hipsters) can be found on blacktops all over the Queen City and beyond. And not just in warmer months: A sizable number of crazy people — er, enthusiasts — cycle in the winter, too, which should give you an idea of the city's vibrant bike culture.
Indeed, bike lanes line streets throughout the city, and bike racks are roughly as common as parking spaces, and usually easier to find.
To get you roadworthy, we've assembled a collection of tips and tricks — no wheelies, please — for making the most of biking in BTV.
Find Your Path
Jeb Wallace-Brodeur
Colchester Causeway
Any discussion of biking in Burlington has to start with Burlington Greenway, the city's waterfront bike path. Built atop old railroad beds, the eight-mile paved trail runs the length of the city, from Oakledge Park in the south to the Winooski River in the north, threading through numerous parks, beaches and other lakeside attractions. The Greenway is part of the Island Line Rail Trail, which runs north along the Colchester Causeway three miles into the lake. It practically feels like biking on water and offers one of the prettiest rides, well, anywhere on Earth. A seasonal bike ferry will connect you to the Champlain Islands — just be sure you're back in time to catch the last boat.
Other notable BTV bike paths include the 127 Bike Path, which follows the Burlington Beltline from the Old North End to the Ethan Allen Homestead and connects to dirt trails along the Intervale and at Ethan Allen Park. The Riverside Bike Path provides an easy route from the Old North End to Winooski along Riverside Avenue.
Road Rules
Excluding the interstate, bicycles have as much a right to roads as cars in Vermont. They also have to follow most of the same laws. Not feeling that stop sign? Blowing through it could cost you a $162 fine. And make sure to brush up on your hand signals before biking — failure to signal is also illegal. (That's true for cars, too, Massachusetts drivers!)
Unlike cars, however, cyclists are allowed to ride on the sidewalk in most of Burlington, excluding the city center and the inner fire district. That said, it's generally safer to ride in the street where other vehicles can more easily see you. And if you ride on the sidewalk, know that pedestrians always have the right of way — hence sidewalk, not sidebike.
Other rules to know and love: Don't ride against traffic. Stay as far right as is safe. And only ride two or more abreast when and where it doesn't impede traffic — so nowhere in Burlington, basically. Failure to follow that last one could net you a $100 fine.
Safety First
No, wearing a helmet isn't required by law when biking in Vermont. But it's a good idea anyway. Not to get all mother hen on you, but protecting your dome greatly reduces the risk of brain injury or death in a crash.
Another news flash: You are legally obligated to be illuminated when riding after dark. Vermont law requires a white light on the front of your bike that is visible from 500 feet. You also need a red reflector on the back — though a red light is even better. Dim cyclists face a $76 fine for lack of proper lighting.
Outward Bound
Burlington isn't the only great place to ride. The Lamoille Valley Rail Trail, New England's longest, meanders 93 miles across the entire state, from the Connecticut River in the east to Lake Champlain in the west. Meanwhile, the Missisquoi Valley Rail Trail runs a near-marathon 26.1 miles in northwestern Vermont, from St. Albans to the Canadian border.
Feeling really adventurous? The Lake Champlain Bikeways comprise a more than 1,600-mile network of some 35 loops of varying lengths throughout the Champlain Valley. The crown jewel is the Champlain Bikeway, a 363-mile loop that encircles the entire lake, dipping from Vermont into New York and Québec.
Share a Bike
COURTESY OF CATMA/ARIELLE THOMAS
Greenride Bikeshare
Need a ride? New to Burlington in 2018, the public Greenride Bikeshare program, overseen by the Chittenden Area Transportation Management Association, allows users access to a fleet of some 80 green and blue bikes parked at 15 hubs throughout Burlington, South Burlington and Winooski. Riders can pay an annual or monthly membership fee or rent the seven-speed bicycles hourly.
For more traditional rental options, try Local Motion. The bike-advocacy nonprofit rents an array of wheels from its waterfront store and is an excellent resource for all things cycling in Vermont. Local Motion also operates that aforementioned bike ferry.
Pop a tire or drop a chain? Bring your bike to the techs at Old Spokes Home — they also maintain the Greenride fleet, BTW. If you're in the market for a new-to-you ride, the Old North End nonprofit sells a vast selection of used bikes and also operates a nifty bicycle museum.