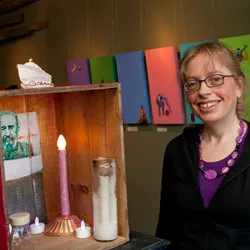 The portrait of Vladimir Putin nuzzling an extremely fluffy puppy comes straight from a posed photograph of the Russian prime minister. The painting of Sarah Palin in the Alaska governor's office shows her surrounded by dead animals — a slain grizzly stretched along the back of the couch and a huge crab adorning the coffee table. Daisy Rockwell doesn't make this stuff up.
Rockwell knows an iconic image when she sees one. Perhaps it runs in the family — the artwork of her grandfather, Norman Rockwell, is practically synonymous with idealized American life. But Daisy Rockwell's paintings are much darker, inspired by "political leaders, current events, war, torture, terrorism and politicians snuggling with animals," she writes in her artist statement. Her sometimes grim topics do not prevent her use of brilliant color, however. Rockwell's show "Political Animal" is at White River Junction's Main Street Museum through June.
Rockwell, who lives in New Hampshire, grew up in a family of artists. Even as a child, she had a clear focus: She loved drawing women dressed in elaborate clothing and accessories. But as a young woman, she lost interest in art and dived instead into academia; she studied and taught Hindi literature at the University of California, Berkeley, until 2006.
When Rockwell began painting again, it was under a pseudonym — Lapata, which means "anonymous" in Hindi. She didn't want her work to be judged by her grandfather's name. "I was kind of in hiding," she says. So she uploaded images of her work to a friend's blog, Chapati Mystery (where she still blogs). Most of its readers assumed she was a Pakistani artist. "In the absence of any information about me, people created a story," Rockwell says. After a while she realized, "Maybe I'd prefer my own baggage."
Rockwell's show at the Main Street Museum includes portraits of politicians as well as images of the recent uprising in Egypt's Tahrir Square. "I'm a newshound," Rockwell says. She consumes a massive amount of Al Jazeera and especially loves sites like Gawker and Perez Hilton for their photographs of politicians looking ridiculous.
Putin is one of Rockwell's favorite subjects because "he's really into posing with animals," she says. "I actually had to narrow down the animals." In addition to the puppy portrait — which Rockwell embellishes with a pink, glitter-dusted background — she painted the P.M. swimming with dolphins, petting a tiger cub and riding topless on a horse. Beside the Putin portraits are a series of paintings of his alleged mistress, former rhythmic gymnast Alina Kabayeva. In each of these images, called "Flexy," "Bendy" and "Foldy," her body is contorted and flying through the air.
"When you paint somebody, you learn about them," Rockwell says. When she painted George W. Bush out for a walk with Condoleezza Rice and his dog Barney, for example, she saw something gentle in the president. "If there's one thing I learned about Bush, it's that he really, sincerely loves Barney," she says. "That's where his humanity lies."
Her paintings of the Egyptian uprising have a darker palette and are focused on small groups of protesters. "It's a leaderless revolution," says Rockwell, though she highlights her images' central characters by coating them in varnish. In one, a protester throws rocks at security forces, holding a cracked bucket over his head for protection. In another, a man holds his head in despair while listening to overthrown President Hosni Mubarak's final address to the nation. In "Pièce de Résistance," a couple are wed amid the protests. The crowd is dark around the bride, who wears an elaborate white veil, a sparkly gown and a look of disbelief on her face.
It's clearly one of Rockwell's favorites. In her artist statement, she says of the painting, "We see at last a seamless marriage between the drawings of the artist as a young girl and the recent paintings by a hardened political animal."