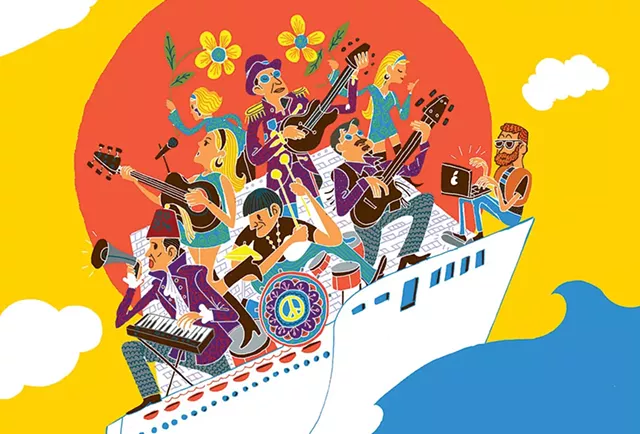 Earlier this month, my girlfriend, Sarah, and I joined the Burlington band Mellow Yellow on the Norwegian Pearl for the Lebrewski Cruise, a four-day music and beer cruise from Miami to the Bahamas (see related story). What follows is a running diary of that trip, based on the best of my rum-addled recollection.
Monday, February 29, noon, Miami International Airport
We touch down in Miami after hopping an early-morning flight from Burlington. On our way to the baggage carousel, we pass the queue for transport to a Carnival cruise. It's not our cruise line, but, being new to cruising, I'm curious.
A suited cruise rep is futilely attempting to organize the shuffling throngs of frumpy tourists with massive bags. It looks like a cattle call with particularly sweaty, confused cows.
I've never considered myself the cruiser type — I don't like crowds or tourists or confined spaces, or crowds of tourists in confined spaces. Not for the first time, I wonder what I've gotten us into. Sarah sees the Carnival line, too. I hear her mutter, as if giving voice to my own uncertain thoughts, "Oh, wow..."
After collecting our bags, we step outside for the first time since leaving Vermont. This is always one of my favorite moments of a trip to more temperate climes: that first rush of somehow unexpected warmth as you exit the airport. When we left Burlington, it was fairly mild, about 40 degrees. Still, the 75-degree air mixing with bus and taxi exhaust brings a smile to my face.
Monday, February 29, 1 p.m., Calle Ocho, Little Havana, Miami
We have a couple of hours to kill before we can check into our room in Little Havana. So, after stumbling around Calle Ocho a bit with our bags, sweltering, hungry and looking every bit like clueless tourists, we follow the siren song of a sax blown through the open windows of the Ball & Chain, a once-famous jazz club that now caters mostly to tourists.
We belly up to the bar and order two Coronas and some food from the tapas menu. In the far corner, a tight trio is playing slick Cuban jazz. It strikes just the right chord, and I can feel myself uncoil for the first time. I'm relaxed. I'm warm. I'm working on a nice buzz, and a beautiful woman is sharing my company. Beyond the open windows are palm trees and cool art deco buildings. Across the street, old Cuban men play dominoes. I lose myself in the moment and the music. Then I remember why we're here: the fucking cruise.
"Baby," I say. "There is a good chance this will be the best music we hear all week."
Sarah nods in solemn agreement and swigs her Corona.
Tuesday, March 1, 1 p.m., Terminal B, Port of Miami
Dan Bolles
Norwegian Pearl
After lunch at El Exquisito Restaurant on Calle Ocho, we head to Port of Miami. The Norwegian Pearl is the only cruise ship in port today, and it's a beast — at 15 decks, taller than the tallest building in Burlington. Also, it's a boat.
We clear security quickly and make our way to the cruise check-in. I'm expecting a redux of the Carnival hellscape from the airport. But this, too, goes smoothly. After signing some paperwork that we don't read, we're given keycards to our room. These, we're told, double as credit cards on the ship. You use them to pay for anything not included in the cruise — booze, basically.
I've been advised by a cruise-savvy friend to activate the card with cash, not a credit card, thus giving myself a fixed amount to spend. Which is preferable to being surprised by a bill for 257 $9 Bud Lights at the end of the trip. This will prove to be good advice.
Tuesday, March 1, 3 p.m., pool deck, Norwegian Pearl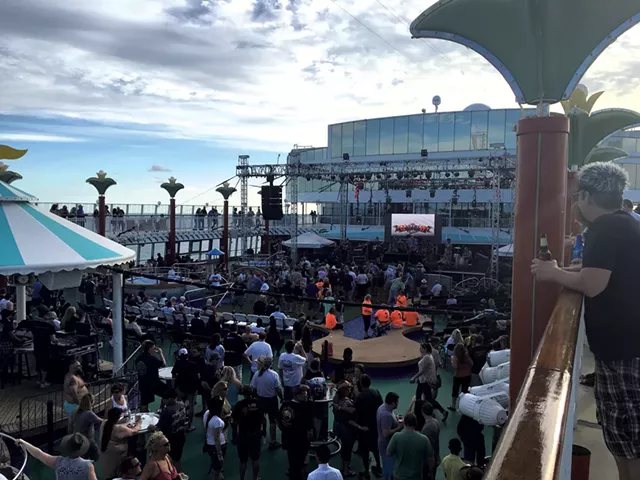 Dan Bolles
Pool deck, Norwegian Pearl
After checking into our room — a cramped and windowless inside stateroom — and sitting through a remarkably unhelpful safety demonstration, we make our way to the pool deck.
So far, the scene on the ship has been pretty tame. But this, now this is the shit show I've been both dreading and kinda craving. People are everywhere, and most of them are already obscenely hammered. The cruise won't even leave for another hour.
We grab beers and find a table with a decent view of the action. Apparently, each day on the boat has a theme. Today's is band T-shirts. The cruise is nominally hosted by Kyle Hollingsworth, so String Cheese Incident shirts abound. We also see some Phish, Bon Jovi, New Found Glory, Def Leppard. I note a disturbing number of shirts and hats featuring Confederate flags. It won't be the last time.
I spy an Iggy Pop-thin, heavily tattooed and shirtless guy nearby and wonder if he got the memo about the band shirts. Then he turns, and I see he's sporting a Lynyrd Skynyrd tat at the small of his back. A Skynyrd tramp stamp? Touché, sir. Also, he's wearing a coonskin cap.
"You know, Sarah," I say. "Somehow I feel like that guy's a metaphor for this whole trip."
Tuesday, March 1, 9 p.m., pool deck, Norwegian Pearl
Dan Bolles
Molly Hatchet
Cruise ships and county fairs are where rock bands go to die. The lineup for the Lebrewski Cruise is a strange brew of washed-up southern rockers, blues bands and jam bands, with a couple of younger indie acts thrown into the mix. I'm not excited about any of them, except Mellow Yellow and former locals the Samples, for obvious hometown rooting interests.
So far, most of the bands have done little to prove my apathy unwarranted, especially a certain group whose groovy cover of "Ramble On" was particularly gruesome. When Molly Hatchet — co-headliners with Hollingsworth, the Fabulous Thunderbirds and O.A.R. — take the stage, I stick around more out of morbid curiosity than anything else.
And they don't disappoint. They're almost embarrassingly bad. But they've still got hillbilly swagger to match their flowing mullets — and flowing "Don't Tread on Me" flag. Singer Phil McCormack enthusiastically saunters around the stage, leading mostly with his swaying, denim-covered beer gut, and I can't look away.
But then I see a familiar face: Mellow Yellow's Linda Bassick. She wraps me in an enthusiastic bear hug.
"Dan!" she shouts. "Isn't this awesome?"
I pause for a minute, take a look around and sip on my beer.
"You know what, Linda?" I say, nodding. "It really is."
And I even think I mean it.
Wednesday, March 2, 4:30 p.m., the Great Outdoors, Norwegian Pearl
The ship docks in Nassau, Bahamas, in the morning. Sarah and I spend the day at Cable Beach, a long strip of white sand a couple of miles outside the ramshackle downtown. It's a hike but worth it. We have the place pretty much to ourselves. On the way back in the afternoon, we stop at Junkanoo Beach, which is about as far as most cruisers get, as it's within spitting distance of the ship. We rest for a bit, sipping on Kaliks bought from a beachside shack for a fraction of what beer costs on the boat. They're cold and delicious.
Back on the Pearl, Sarah retires to the room for a nap, and I head to the Great Outdoors, an outdoor bar and buffet on the aft of the ship, to write some notes. I've barely cracked my laptop when I hear a familiar voice.
"DB! There you are. I was wondering when I'd run into you."
It's Frank Zammiello, Mellow Yellow's drummer. I've known Frank for years, though we don't much run in the same circles these days. He settles himself at the next table with a plate of food. It's good to see him.
Mellow Yellow played the Pearl's previous cruise with the Moody Blues. So Frank has been on the ship for a week already.
"Dude, get me off this fucking boat," he says with a laugh. I don't think he's joking.
We shoot the breeze for a while and make plans to meet up after Mellow Yellow's set that night. As he leaves, Frank offers some advice.
"One thing, though," he says. "Whatever you do, don't get hungover on this boat. Trust me."
Wednesday, March 2, 9 p.m., the Atrium Stage, Norwegian Pearl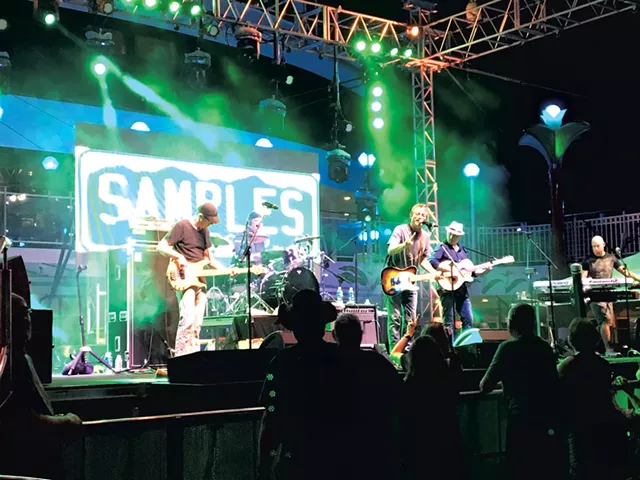 Dan Bolles
The Samples
I opt for a short nap before dinner; drained from the sun, I'm out cold the moment my head hits the pillow. Because the room has no windows, I have no idea what time it is when I awake two hours later. I'm disoriented but refreshed. My back is on fire, which will no doubt displease my dermatologist. But the burn feels good.
After dinner we make our way to the ship's atrium, where Mellow Yellow have just started. I've never seen them before and typically don't care much for tribute acts. But these guys are aces. In particular, Linda's voice is stronger than I've ever heard it. Her rendition of Janis Joplin's "Me and Bobby McGee" is great. A week of hard gigging has roughed up her normally smooth tone. It's not quite a Janis growl, but it's close.
The crowd is eating it up: This is one of the largest and most enthusiastic audiences I've seen on the boat so far. When I spot a group of older fans wearing Mellow Yellow T-shirts, I assume they must be with the band. I'm surprised to learn later that they're not even from Vermont. They're fans from previous cruises.
After the set, I hang out with the band. It gets boozy fast in that vacation way; you don't realize it's happening until it's too late. Also, today's theme is St. Patrick's Day, so the "power-drinking tools," as Frank aptly calls the other cruisers, are in rare form. They're also in a lot of green. Cruisers, I learn, take theme days seriously.
We finish the night in a circle of chairs on the balcony overlooking the pool deck, drinking band beers out of a bucket. It's late, and we have the whole deck to ourselves — a rare quiet moment on the ship. I lean back and take a deep breath of the ocean air. As I look up at the sky, I see the stars twinkle. Then they begin to spin.
Thursday, March 3, 9 a.m., fifth circle of hell, Norwegian Pearl
"Whatever you do, don't get hungover on this ship."
You were right, Frank. To be hungover on a cruise ship, especially on a day at sea when there is no escape, may not be the seventh circle of hell, but it's at least the fifth or sixth. SOS.
Thursday, March 3, 4:30 p.m., pool deck, Norwegian Pearl
Dan Bolles
Mellow Yellow fans
My recovery, if not swift, is at least steady, thanks to the curative power of salt air and the free craft-beer tasting on Deck 12. Every day brings a mini brew fest featuring beers from the likes of Stone, Lagunitas and even a couple of Vermont breweries — Magic Hat, von Trapp and another I'd never heard of. Though the tastings tend to be a clusterfuck at first, they're pretty relaxed once the initial wave of drinkers subsides. Also, the value of free beer increases exponentially when you're otherwise paying $9 a pop for Bud Light.
Sarah and I make our way to the bar overlooking the pool deck, where O.A.R. are playing. Below us, a pair of hot tubs flanks a tiny swimming pool. The pool is vacant save for two very large men. They take turns doing cannonballs and belly flops, their extreme mass creating tidal waves as they hit the water. They're laughing hysterically. So am I.
I watch them for a good 30 minutes before turning to Sarah and saying, "You know, Sarah, those guys are kind of a metaphor for this whole trip, aren't they?"
Sarah sips from her Bud Light Lime and shakes her head slowly.
Thursday, March 3, 8:30 p.m., pool deck, Norwegian Pearl
After dinner, we return to the bar above the pool deck and settle in for Roger Clyne and the Peacemakers. Clyne was a member of the 1990s band the Refreshments, whom I faintly recall. Turns out they performed the theme song for the Fox cartoon "King of the Hill." The band plays the Refreshments' 1996 album,
Fizzy Fuzzy Big & Buzzy, front to back. I'm not familiar with it, but being a product of quirky 1990s alt-rock, I actually dig it quite a bit.
The pool below is now empty, but the hot tubs aren't. In one, a group of about eight drinks and splashes. A couple occupies the other. I notice throughout the Peacemakers' set that the pair is getting increasingly amorous. I tap Sarah on the knee and nod toward the tubs.
"Are they...?" she whispers. "Oh, my God. Yes, they are."
The woman in the tub, now seated on her partner's lap, loses her bikini top. There's no mistaking the couple's subtle gyrations.
"You know, Sarah," I say, as a stern-faced cruise staffer approaches the tub, "those guys are kind of a metaphor for this whole trip, aren't they?"
Friday, March 4, 11 a.m., Great Stirrup Cay
We spend the day at Great Stirrup Cay, a small private island owned by Norwegian Cruise Line. We find chairs a few hundred yards down the beach, away from most of the crowd but still within earshot of the beach stage, where a series of bands play island-y versions of pop hits.
In the afternoon, I go to get drinks from a beach bar, where I'm told my spending account has been maxed out. The bartender gives me the drinks anyway. I decide not to reload the account, grateful that I heeded my friend's advice about using cash.
We catch the last tender — cruise slang for water taxi — back to the Pearl. It's overcrowded with boorish, sun-bleached drunks. I find my patience wearing thin as one particularly hammered couple loudly discusses the etymology of Italian surnames for reasons that are unclear to everyone within earshot. Even the most blissed-out cruisers are beginning to get annoyed. Then something funny happens.
It turns out that one of the bands from the beach is also on the ferry. From the deck below, I hear a rhythmic rattle of drumsticks on fiberglass. A trio of horns begins to blat the familiar strains of "When the Saints Go Marching In." The whole boat joins in, singing jubilantly. Just then, I recall the day's theme: Mardi Gras.
"You know, Sarah," I say as the boat cuts through the chop, "this is kind of a metaphor for the whole trip, isn't it?"
Sarah nudges my rib cage and puts her head on my shoulder as we sail away. It's back to the boat for now. And in the morning, finally, home.