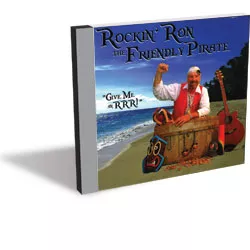 (Self-released, CD)
In my three and a half years as the music editor for Vermont's most prominent arts and culture publication, I have reviewed hundreds of local albums. I've mused on the best music our state has to offer, critiqued its worst and generally riffed on everything in between. But in all that time, and for all of that work, I have never, ever encountered an album quite like Give Me an RRR!, the debut release from Vermont-based swashbuckler Rockin' Ron the Friendly Pirate. Yes, you read that correctly.
Pirate Ron's port of call is Smugglers' Notch. This is notable because, as anyone who's been to the northern VT ski town knows, it's landlocked. One imagines that makes quite a commute for a seafaring sort. But here we begin to raise an eye patch on the enigmatic conundrum that is Rockin' Ron. He's a sea raider who lives on a mountain. He's a pirate, notoriously among history's most bloodthirsty, murderous characters. But he's also a friendly rapscallion. You're blowin' my mind, man.
Rockin' Ron — aka Ron Carter — attempts to shed light on this seeming dichotomy on the album's first track, "FP Rap (Pirates on Board Go RRR!)." Over slickly produced beats and a meandering acoustic guitar line, Ron raps with the flow one might expect from a middle-aged man who dresses like a pirate, which is to say, awkward and cornball. But there is an undeniable, campy appeal to his ruminations.
"I'm the Friendly Pirate, you can call me FP / I'm the friendly pirate of the Seven Seas. / I talk like a pirate on 09/19, and every other day in between," he informs. Then comes this surprising one-liner: "I don't have a sword and I don't have a knife / I roll like a pirate, but I roll real nice. / I got me a crew of family and friends / they roll so deep, they give me the bends." Yarrr.
As any parent knows, the best family entertainment is just subversive enough to hold the interest of moms and dads while providing an appropriate amount of whimsy and silliness to satisfy the kids. It's the reason franchises such as Toy Story and Shrek do so well at the box office. While Ron's collection of 18 shanties, reels and raps occasionally borders on groaning schmaltz — "Welcome Aboard," "Twinkle, Twinkle, Little StaRRR" — just as frequently, he infuses enough clever wit to straddle the fine line between pandering and pleasing. Particularly on the Devo-ish "Buccaneer Bounce," the punky "Cranky Pirate" and "Scurvy Dog and Scaredy Cat" the Friendly Pirate proves just goofy enough to delight young scalliwags and roguish enough to keep Raffi-weary parents from walking the plank.
Just so you know, Sunday, September 19, is International Talk Like a Pirate Day.