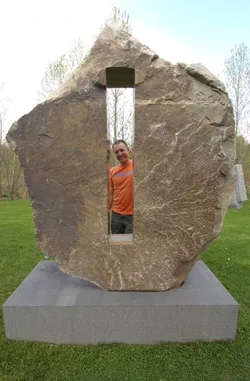 Jeb Wallace-Brodeur
Chris Curtis
When opposites reach out, they often merge: male and female, yin and yang, East and West. And where they come together, a remarkable alchemy occurs. Something like that is evident at the West Branch Gallery & Sculpture Garden in Stowe. Its owners are Chris Curtis and Tari Swenson, 56-year-old husband-and-wife artists whose creative endeavors could hardly be more different, yet occasionally entwine.
Curtis works in stone and steel - some of his massive, elegant sculptures sit in the gallery's garden like lords of the punier river rocks just beyond the lawn. Swenson channels calligraphy and Asian-inspired brush painting in her delicate, yet powerfully expressive, works on rice paper or canvas. Her paintings sometimes contain words, but often bypass language with a primal swish of black ink. All around the gallery, this couple's parallel works and influences create a subtle, seductively charged sense of balance. Call it a harmonic convergence. Or a double whammy.
And then there are all the other artists. The 4-year-old West Branch exhibits some 25 of them at any one time, including the sculptors whose weighty works reside outdoors. Each month, one or two artists are featured in exhibition space near the front door. Actually, make that the inner door. Before arriving there, visitors must park outside the large, square former indoor tennis court, cross a small footbridge to the outer door, pass through a well-lit hallway lined with artworks, and then a dimmer anteroom with more, larger-scale art. Whether intentional or not, this room offers a sense of sanctuary, a place to transition from the outer, noisier world.
And finally, the main gallery: High-ceilinged and airy, it looks bigger than its 1200 square feet of floor space would suggest. Suspended panels provide movable exhibition "walls" for two-dimensional works. And at the north end of the gallery, a large glass overhead door, open in nice weather, lures visitors into the sculpture garden. Indoors or out, the West Branch does exactly what a gallery should: provoke "an exchange of energy with the viewer and the artwork," as Swenson puts it. "I love it when people come and spend time with a piece." Sculpture in the round, particularly, she adds, "almost forces you to walk around it and interact."
*************
For Curtis, the interaction begins the moment he spots a worthy boulder - at a quarry, a gravel pit, a farmer's field - and hauls it home. Around the side of the gallery's building, hulking pieces of stone await their eventual transformation into art. Curtis admits some of them wait a long time; he likes to "mull" until their possibilities suggest themselves - or until he works up the courage to cut them. "Some stones I think are just fabulous for one reason or another, and I fear messing them up," he explains. "One stone I've had for 12 years - I just don't dare to blow it."
Accustomed to a glacial pace, his rocks are clearly in no rush. Meanwhile, Curtis likes to escort a visitor here, caressing the stones like a fond parent, telling their stories. He's particularly enamored of quartzite right now, he says, spitting on his finger and rubbing a rock - cut in half like a geode - to reveal its patterning. "It's really hard and polishes up beautifully," he says, "but it's not used much commercially."
Some of his earlier stones have been turned into architectural features such as fountains or benches; others have become "pure art" - sculptures that retain their natural shape except for a high polish here, an incision there. Or a rectangle astonishingly removed from its middle. One of his public sculptures, the vaguely heart-shaped "Venus," sits in front of One Main Street in Burlington. In all his works, Curtis leaves intact the essence of "rockness." He says, "My particular approach to many things is not how much but how little I can do."
Born and raised in Stowe, Curtis has been a mountain man his entire life. He spent summers exploring Mt. Mansfield, where his father managed the Summit House hotel. In winters he skied the mountain; as a young adult he went hang-gliding off its edges. And always, he brought home rocks. "I was probably in junior high when I discovered drills," he notes. "I discovered you could actually drill stone, fabricate it in some small way. You could take this seemingly impossible material and interact with it.
"The natural boulders I use, that's a really important part of the process - finding them, collecting them, meeting the people who own them," Curtis adds. "I love the obvious connection with the natural world. Society, by and large, doesn't have enough connection with it."
It's hard to imagine anyone more, well, grounded in stone than Chris Curtis. Yet his path to becoming a full-time sculptor was circuitous. At the University of Vermont he earned a degree in zoology. Though he "continued to make stuff" after college, he opened a chimney-sweeping business when the woodstove craze came along. He even wrote a couple of books about it - "There was a great desire to understand wood-burning," he explains. The warehouse he purchased to accommodate his former enterprise now houses the West Branch Gallery.
Though Curtis first exhibited his sculpture in 1974 - the year, coincidentally, that he met Tari Swenson - he didn't begin making larger-scale pieces until 1993. "It's a challenge when you don't have any place to park them," he says.
Similarly, the tools available dictate what a stone sculptor can try. "You obviously can only consider a technique you have access to," he says. And, of course, there's the matter of lifting the boulders in the first place. Curtis has a crane on his truck that can hoist upwards of 3 tons, though he confesses to pushing the limit on occasion. He does some of the fabrication at his capacious studio adjacent to the gallery, and leases a space in Barre for stonecutting and polishing.
"How do you cut a rectangle out of a boulder?" Curtis asks rhetorically, then answers himself: "Part of the reason I can tackle that is, I have a diamond contour saw - it's like a giant bandsaw, but it's a wire with diamond beads, a very large tool." Though this machine has had "a major computer upgrade," Curtis confesses it offers a limited range of options. But that works just fine with his "less is more" approach to sculpting.
"I've had some very good luck with circles - they're universal icons, like suns, cross-cultural archetypes," he continues. "Rectangular shapes are noble as well." These elemental forms also "are recognized for what they are rather than what they represent," Curtis offers. "People don't have to ask, 'What's that supposed to be?'" Still, he hopes the stone works raise awareness: "Human consciousness of our place in the natural world is going to be required for the survival of the species," he muses.
Chances are nobody's thinking any such thing about the 3-ton "sculptural table" that Curtis installed this month in the Red Rocks Casino in Las Vegas. "It was pretty surreal carrying this through the casino with all the machines going," he says, showing pictures of men in hard hats wrestling the 10-by-4-foot hunk of granite. The table is installed - probably for all time - at a Japanese restaurant on the perimeter of the casino, resting on chunky stainless-steel legs.
"It's kind of tough to spend all this intense energy on something and then send it off," Curtis confesses.
**************
"Energy" is a word that Tari Swenson likes to use, too, but she's not referring to the earthy kind that emanates from stone. Her brush paintings have the fluid spirit of water or air. In person, she is sweet and gentle, and good at managing the "Dark Lutheran." That's what she calls herself, only half-facetiously. And it's a term she applies to her especially dramatic artworks. Born in Minnesota, Swenson grew up in the kind of Scandinavian family Garrison Keillor spoofs on "A Prairie Home Companion" - stoic, emotionally distant, silent. Her father's job with the FBI compounded the sense of privacy: "Dad couldn't talk to us about what he was doing," Swenson says. "I find it fascinating, at this stage of my life, to realize there's an aspect of non-communication fueling what I do - I chose to make words, to become a calligrapher."
Swenson tried writing first; turning the words into art came much later. Her path, like her husband's, was roundabout. Her family moved a lot and Swenson was frequently uprooted, but she grew up mainly in Detroit and Pittsburgh. Though she "wasn't a city person," Swenson says, she stayed in Pittsburgh for college, earning a BS in "health-related professions."
Longing for a sense of connection, Swenson summoned her courage after college and set off across the country. "I decided to find the place that made me happy," she explains. "But I was also passive; I would [go to a place] and wait for someone to come up and talk to me." No one did - from Boulder, Colorado, to Eugene, Oregon, and all the way back across the northern states. Swenson made one last effort, in Vermont. "As soon as I drove into Stowe, I saw the old Food for Thought health-food store," she remembers. "The owner, "Big John," said to me, 'You look like you're from out of town - let me buy you a cup of soup.' And so I decided to stay."
Within days, Swenson realized she'd found the place that would make her happy. She also found the person: Chris Curtis. "This bleach-blond ski bum had been hitting on me and invited me to go hang-gliding. I decided to go with him, and there [on the mountain] was Chris. He was the handsomest man I'd ever seen!"
The two began dating and, eventually, Curtis persuaded her to go hang-gliding in tandem. "I thought, if I can trust this guy enough to jump off a mountain, I can trust him to marry him."
In their first years together, Swenson and Curtis had a roommate who did calligraphy. "It absolutely ignited my desire to get back into doing something to express myself," she recalls. "I was pregnant and 26 years old, and I just went at it full-bore." She began to do calligraphic works commercially. But eventually she abandoned the pen and took up the brush. And that's when Swenson found her medium. "And I didn't even know there was a tradition of one-stroke brush painting," she confesses. "I thought I'd invented it."
Last Monday, Swenson returned from a weeklong residency at the Vermont Studio Center in Johnson. The works she completed there demonstrate how far she's come from the careful, elaborate lettering of her past. The Zen-like simplicity of the paintings - on rice paper glued to canvas - is deceptive. Gaze at the bold, jet-black brushstrokes long enough and you can feel the passion behind them. "There's an energy coming through the person to the brush onto the paper, and that energy makes the painting come alive," Swenson suggests. Dark Lutheran, indeed.
Paradoxically, Swenson's artistry - and Curtis', too - found new life after a tragedy: a January 1995 fire that destroyed their house and everything in it. Except, happily, their two children, teenagers home alone at the time. In the spring, when the couple went back to the house "to clear out the rubble," Swenson found a remarkable thing lying on the ground in "a brilliant patch of green grass," she recalls: a charred remnant of a painting on rice paper she'd done 15 years earlier. "When I was first learning to do them, I did a whole bunch with this Robert Henri quote." She recites, "The main thing is to feel emotion, to love, to laugh, to hope, to quiver, to live." Swenson had the piece of paper framed, a meaningful reminder of things lost and re-found.
"There was this immediate freedom being out from under this big house we'd built," Swenson says. "Chris felt this weight off his shoulders. He decided to be a full-time sculptor, and I decided to pay a lot of attention to my kids. And that's when I started really doing artwork . . . It was very scary, having the freedom to make these choices."
Swenson admits she continued to be fear actually exhibiting her work, but a recent successful solo show at the Amy E. Tarrant Gallery in Burlington helped her get over that. "If you can't show your work when you're 56 years old," she says with a laugh, "when can you?
"If you don't say what's true for you, you don't have the ability to reach out to others who may be ready," Swenson adds. "I'm going to try to do that more often."